Videoconferencing solutions such as Zoom, Microsoft Teams, Webex, Google Meet and others became household names over the last two years as organizations adopted – at first – a remote work environment that morphed into hybrid work as employees began coming back to the office.
The collaboration industry and the hardware and software companies that provide the innovative solutions that make remote and hybrid work possible have adapted to make those transitions possible while keeping employees productive – regardless of where they are.
TechDecisions saw this on full display at InfoComm 2022, where some of the biggest names in unified communication and collaboration were showing off their newest solutions.
Zoom, now a world-famous brand that has become synonymous with videoconferencing, was showing off its newest Zoom Rooms features, including its Workspace Reservation tool that enables users to book meeting spaces via an interactive map of the office.
Hybrid work, meeting equity and all-in-one devices
However, the name of the game at InfoComm was hybrid work and meeting equity, and Zoom was also highlighting its intelligence video technologies, such as Smart Gallery, a feature that displays multiple video feeds from a single conference room camera, making it easier for remote meeting attendees to see everyone clearly.
During a demonstration at Zoom's booth, Smart Gallery displayed three video feeds: the whole room and one each for myself and Mark Barragan, Zoom's manager of Zoom Rooms for the Americans.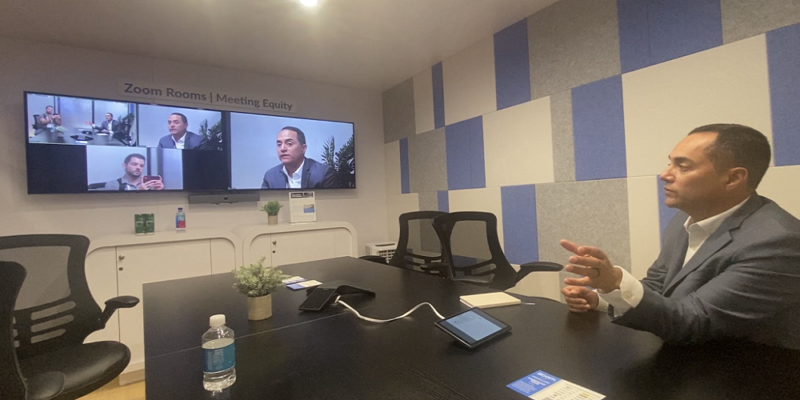 Zoom has struck up countless partnerships with makers of videoconferencing cameras, such as Poly and Logitech, both of which were showing off their devices and highlighting their relationships with the world's largest software providers and their purpose-built devices for collaboration platforms.
Poly, in addition to their suite of videoconferencing cameras and speakers, recently released the R30 USB video bar for small conferencing spaces that combines enterprise-grade video and audio tools into one small, easy-to-deploy form factor. The device features intelligent audio and video technologies for speaking framing and noise reduction to ensure all in-room participants are heard equally.
Logitech, a longtime videoconferencing hardware market leader, was also showing off its lineup of all-in-one Rally Bar devices, in addition to its full suite of remote and hybrid work essentials, such as headsets, personal conferencing cameras.
Also highlighting its newest all-in-one conferencing device was Bose, which is marketing its decades-long expertise in audio as the reason its VideoBar VB-S stands out from its competition with six beam-steering microphones that filter out unwanted noise and intelligent video-framing capabilities.
For advanced conferencing experiences where hybrid work meeting equity is a must, Crestron — a brand ubiquitous in enterprise conferencing spaces and other audiovisual installations — debuted its new Sightline technology that tracks the active speaker and displaying the view of the entire room while simultaneously framing individual speakers.
While designed with hybrid workers in mind, Sightline also makes it easier for in-room participants to follow along with remote participants by keeping their video in the line of sight.
For enhanced audio intelligibility, Shure displayed its MXA920 Ceiling Array Microphone featuring the company's Automatic Coverage technology, the microphones pre-configured audio capture with minimal set up required, dramatically reducing the time and cost of deployments. The conference room microphones include the onboard IntelliMix DSP for noise and echo-free performance.
Collaboration displays
Building on the idea of all-in-one videoconferencing bars, display manufacturers such as LG, Avocor, Sharp NEC Display Solutions, Samsung and others were showing off their enterprise-quality displays with built in cameras, speakers and microphones to take the complexity out of conferencing spaces.
Among LG's new lineup of impressive DVLED displays, the company was showing off its videoconferencing displays, including the One:Quick series, which features the 55-inch One-Quick Works and the 43-inch Flex model. Both are running on Windows 10 and are compatible with a wide variety of videoconferencing apps.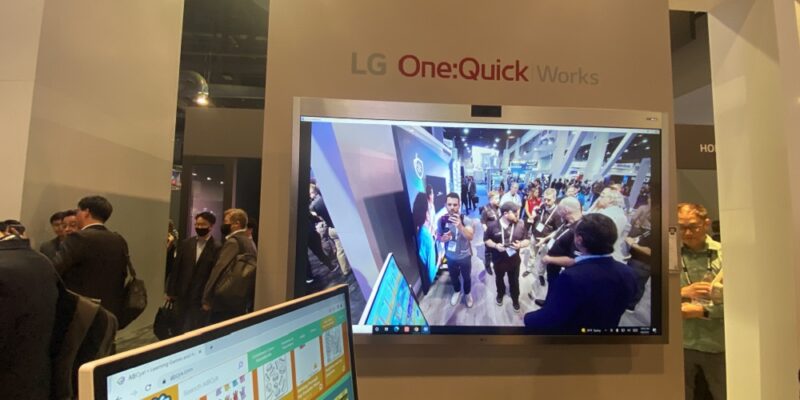 Like other hardware providers, collaboration display manufacturer Avocor is also looking to partner with leading conferencing software companies, evidenced by its new Google Meet Series One displays being highlighted on the show floor.
Read Next: My TechDecisions Podcast Episode 162: What IT Can Learn About Audiovisual Systems at InfoComm
The family of products, developed in partnership with Google Workspace, includes the Series One Board 65 and Series One Desk 27. While optimized for Google's flagship business collaboration and conferencing platform, both can run any videoconferencing app.
Both include an integrated camera, microphone and speaker, as well as whiteboarding capabilities and intelligent audio and video features designed to reduce unwanted noise and keep on-site and remote participants engaged.
Similarly, Sharp NEC Display solutions showed off its PN-L2B AQUOS BOARD Smart Interactive Display, which it says it designed for hybrid meetings and classrooms. THe displays feature a single USB-C connector for easy startup and built-in wireless connectivity, among other visual features for which this brand is known. Several operating systems are supported, including Windows, Android, iOS, MacOS, iPadOS and Chrome OS.
Samsung, meanwhile, combines its impressive, interactive display technology with tried-and-true conferencing solutions from providers such as Logitech to provide all organizations need to collaborate with remote workers.
For educational settings, Samsung highlighted the Flip Pro, an interactive whiteboard that enables simultaneous collaboration for up to 20 people.
Monitoring and management tools for IT
However, what IT professionals have been calling for as they struggle to monitor and manage their organization's new conferencing technology and spaces is visibility into those devices, many of which are deployed on the network. To address that need, Logitech highlighted its device management and deployment software, Sync and Logi Tune.
Poly offers similar a similar solution, Poly Lens, to help IT keep tabs on its conferencing devices.
Moving away from brand specific monitoring tools, companies such as software provider Utelogy and global AV integration firm AVI-SPL offer their own monitoring and management tools to help IT ensure conference room systems continue to run without disruption.
Utelogy CEO Kevin Morrison told me that as organizations continue to embrace hybrid work and are building out new conferencing spaces, IT professionals are lacking visibility and management capabilities. The Utelogy platform aims to solve that problem by providing a combination of monitoring, management, control and testing capabilities.
The platform currently supports 2,800 devices, which provides an invaluable tool for IT professionals to manage conferencing systems from the growing ecosystem of hardware vendors.
Meanwhile, AVI-SPL showed off the newest version of its Symphony platform for management and monitoring of multi-vendor collaboration systems and meeting environments.
The new version of the Symphony platform, 6.0, provides a revamped user interface that provides clarify and efficiency for IT administrators and analysts to easily see and understand what is happening across their collaboration technology ecosystem.
What IT can learn from InfoComm
Aside from those vendors, the InfoComm show is becoming heavily tailored to IT professionals, with over 20 sessions this year focused on IT and networked audiovisual systems. That included a panel session focused on the point of view of IT and end users of these products being showcased.
Other sessions explored cybersecurity implications for IoT, AV and workplace technology in enterprise environments, while a three-day course on networked AV systems looked at the impacts of AV systems on networks.
Visit the InfoComm show's website or AVIXA's website to learn more about these technologies.
If you enjoyed this article and want to receive more valuable industry content like this, click here to sign up for our digital newsletters!