In the digital age, organizations from enterprise to education are utilizing technology in new and exciting ways. TechDecisions helps you better understand how to implement the right technology. We cover all kinds of tech you need to install:
IT: Networking, Cybersecurity, Unified Communications, Cloud, Data and Analytics, Storage and Backup, Mobility and BYOD, VoIP, PoE, Hardware, Software, Platforms and more
AV: Digital Signage, Projection, Videoconferencing, Audio, Presentation, Collaboration, and more
Security: Surveillance, Access Control, Campus Safety, and more
You're likely in the IT department at your organization, overseeing aspects of IT, AV, and Security because all that tech is connected to the network nowadays. But whether you're IT, HR, Marketing, Sales, C-Suite, Facilities, Security, or something in between, you'll find all of the information you need to make technology decisions for your organization.
You could be the tech decision maker – submitting final approval and overseeing the installation. You could be an influencer – giving input and making recommendations. You might be a stakeholder – listening to pitches and approving budgets. You might simply be an end user employee – down in the trenches using the technology day-to-day. Whatever the case, TechDecisions is for you.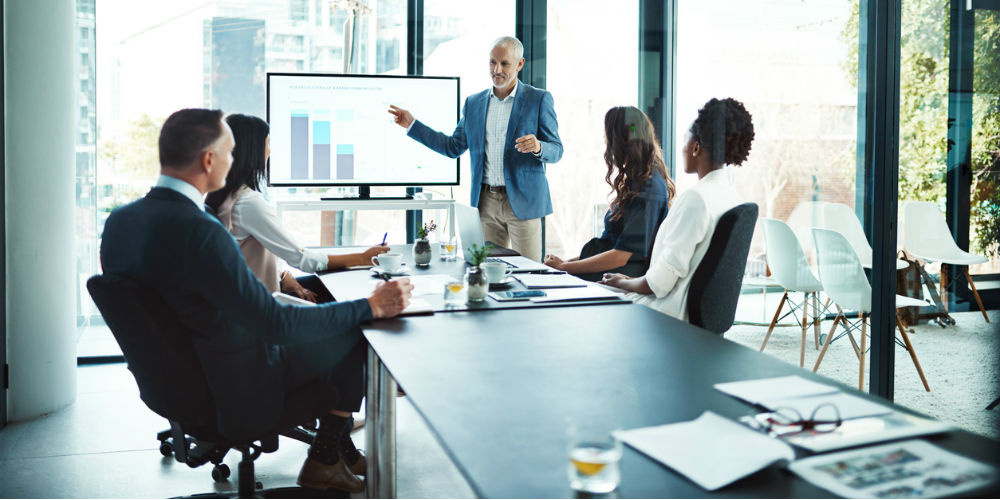 What Does TechDecisions Provide?
We provide information on technology, with the added benefit of going the extra mile to provide the business case for technology along with it.
Let's be honest – stakeholders rarely understand the true need for certain technologies. Head into your CFO's office and explain that you need new boxes in the data center so you can increase bandwidth capacity for your employee base and you're likely to get a blank stare. Make a case for the same technology with a presentation that shows it will eventually lead to a 6% increase in profit over the next three years and you'll gain instant approval. The same goes for AV tech – a digital signage display just looks like a TV until you start utilizing it for dynamic presentations during sales pitches to potential clients. Security as well – doors that stay locked allow money, equipment, and proprietary information to stay in the organization's hands.
Tech management isn't just about managing technology. It's about advocating for technology, demonstrating the Return on Investment for that technology, and improving the company. That type of thinking is what earns promotions and bonuses for tech managers, and that type of information is what TechDecisions provides.
That's not all, though. We'll also help you manage the process. From lessons on how to provide Project Management best practices to your tech project, to advice on how to hire and work with the right technology installation partner, to templates for creating your own Request for Proposal, we'll help you manage the management of technology.
And, of course, we have the day-to-day info you need to improve – product announcements, expert interviews, thought leadership penned by the very industry veterans you work with, and more.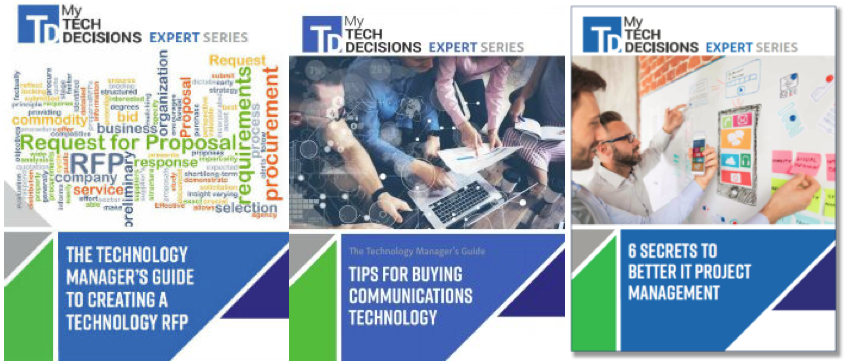 What Will I Find on TechDecisions?
All of the information you need to manage technology and make the right technology decisions.
One day you might learn about how the International Hotel Group incorporated artificial intelligence into it's IT stack. The next you could learn how to choose the right managed services provider to host your Unified Communications suite. You'll find product announcements for commercial IT, AV, and Security technology. You'll get expert advice from bylined thought leaders all across the commercial technology industry. Podcasts, videos, infographics – everything you need to learn more about commercial tech. Plus some fun blogs and our weekly Project of the Week to get you excited about what others are doing with technology.
When you read TechDecisions you'll learn about the lifecycle of technology implementation – how to gain budget approval, choose the right solution, hire installation partners, and get the greatest possible return on your investment. We'll teach you about the present of technology and prepare you for the future.
So save the site and check in every day. You don't want to miss the next great technology that puts your company at the top of the industry – and gets you that promotion you've been working toward.
Thanks for coming!
Zachary Comeau, Editor, TechDecisions