Hilton recently spent more than a year renovating the first floor of its global headquarters in McLean, Virginia into what many liken to a full-service hotel lobby.
The Tech Decision
Diversified was introduced to the Hilton project through the project management firm leading the effort. The initial technology design had already been established by another party and the design was sent out for bid. Having a long standing relationship with the general contractor, HITT, Diversified was quickly shortlisted as the preferred solutions provider and eventually won the project based upon our bid on the original designs.
Once the project was awarded, Diversified took great care to comb through the space and complete its due diligence process to ensure the best solution was provided to meet Hilton's goals. Once Diversified engineers were able to fully understand the scope of the space and what Hilton was trying to accomplish, the AV design took a different path with a higher quality audio distribution solution, digital content strategy and video walls, while allowing for scalability and ease of use for the client.
The Solution
Hilton recently spent more than a year renovating the first floor of its global headquarters in McLean, Virginia into what many liken to a full-service hotel lobby. The new space, referred to as "The Social," is not only a perk for Hilton employees who work in the building but it's also open to the public as a source of relaxation and amenities with a food hall, co-working spaces, a Starbucks and an outdoor terrace.
Covering 12,000 square feet, the space also includes a reception area and gathering spaces, all of which required state-of-the-art AV integration. Having provided Hilton and general contractor, HITT Contracting, with design consult prior to the project's ground breaking, Diversified was contracted to deliver two two-by-four panel video walls as well as a 98-inch Brand Wall in the reception area, all with custom digital signage capability to provide important Hilton corporate messages as well as every day information to its customers such as the weather. Local transit updates are also provided via three additional 79-inch displays. Diversified made sure to keep in mind the function of these displays and video walls in addition to the form and aesthetics.
Digital content is created via signage software that pushes unique 4K content to each of the flat screen displays from anywhere on the network. The selected digital signage solution offers an intuitive interface, advanced features and the flexibility to freely arrange dynamic layers, schedule different messages and time playlists. Finally, the space was equipped with distributed audio for background music and large presentation capabilities. Large presentation events are supported by a wireless presentation device that allows users to send graphics presentation from a laptop or mobile device via the wired or wireless network.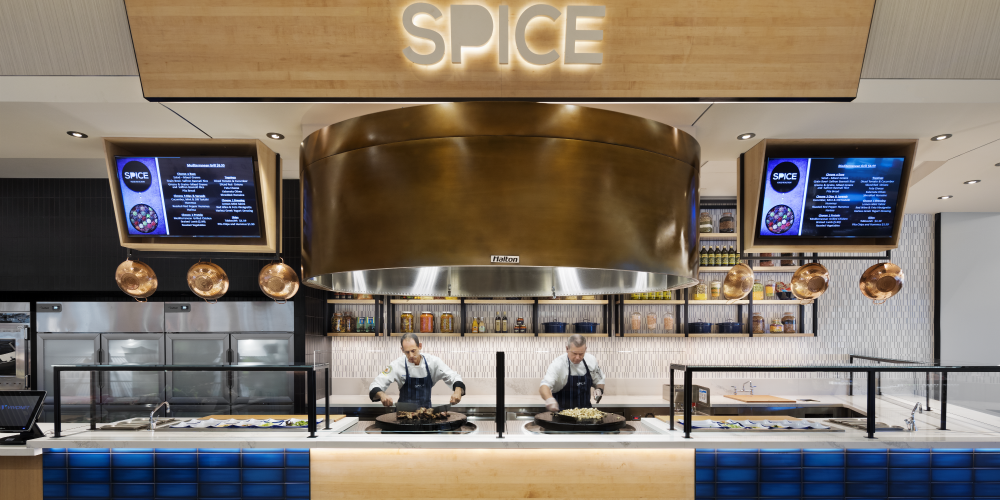 Over the course of six months, the Diversified team installed the redesigned AV solution in conjunction with construction of the space and the required work of many other trades. As a standard, Hilton uses only one company to run cable throughout the entire building, meaning Diversified wasn't allowed to touch a single one. For this reason, Diversified's drawings had to be flawless and easy for another company to understand in order for everyone to be able to execute properly and on time. Additionally, Diversified was not allowed to put any of our gear on the Hilton network, requiring us to stand up our own network circuit in order to attach anything to the internet.
Lastly, although all trades worked very well together on this project (Hilton said it was the best project team they have ever worked with), it is always a challenge to deliver on time when having to wait for other trades to finish their part. Still, everyone banded together and got the job done in time for Hilton's grand opening of the Social in November 2017.
The Impact
Hilton is now able to use the space not only as a gathering spot for its employees and guests but also for employee meetings and important corporate events. The Hilton CEO is known to use the space quite a bit and is very pleased with the outcome of the technology solution provided.
Because of the positive impact that the Social has had on Hilton's Headquarters location, the company is looking to mimic this space in two of their other locations. Additionally, the company has engaged Diversified for an additional content creation contract and has committed to a managed service agreement to manage their digital signage network and maintain all existing hardware.