Without making a gross understatement, conversational AI has been catapulted into the limelight as global tech firms compete to win the AI race. It seems that every day there's a breaking story on the ways AI will change our world as individuals, citizens and workers.
Technology has been a passion of mine for a long time, so I have personally found it fascinating to watch the variety of opinions and perspectives unfold as technologies mature. It has challenged my thinking and preconceptions, and I recognize that as a leader and a human I need to address them.
I've covered everything from fundamental ethics and whether it is good or bad, through to more specific considerations like 'what do I want from AI?', and therefore 'what might others want from it?'.
Naturally, it's been hotly debated by my colleagues. The leadership team is considering how today's and tomorrow's versions of AI should shape our own role in AI creation and adoption.
We already know that artificial intelligence for IT operations (AIOps) is poised to take advantage of the benefits. At Avantra, we've long evangelized the value of automation to offset risk, better utilize skill and boost productivity and innovation. But the debate that surrounds AI has helped us understand that our next phase of technical development must be underpinned with even greater pragmatism and responsibility.
The latest numbers I saw suggest that every day, 100 million people are experimenting with the likes of ChatGPT and other Large Language Models (LLM), such as Bard. Numbers like this highlight the popularity and allure that machines still have. Just like the washing machine, if it makes life easier, why would you not use it?
Download: ChatGPT and Generative AI in the Workplace
Proceeding with Caution
However, even though world renowned university colleges are condoning the use of conversational AI tools, leading experts are urging caution — legalities, politics, economics and ethics are top of the list of concerns.
It was eloquently summed up by The Future Life Institute, which is made up of over 1,000 experts, in an open letter asking the industry to pause AI development, or risk humanity and society. LLMs are learning so much so fast, that we, as a species, haven't had time to truly process the long term impact. Ethics are at stake.
Taking Responsibility is Urgent
I think it's a responsible challenge. As I said before the headlines have provoked my own thinking to evolve and prompted me to consider whether such a warning could, should or even will stop our own industry from forging on.
This is where I think the application of AI must be balanced against the dilemma. Take the example of producing project documentation or new product technical summaries. Is using ChatGPT to create the first draft irresponsible or a boon for productivity, freeing up time for innovation in other areas? Similarly, with the introduction of 'copilot' tools, like Microsoft assistant, people can increase their productivity and have more time for other things, even just going to the gym. I can see how it could make a sustainable argument for a four day week and happier colleagues.
Can Conversational AI Help Our Industry?
Of course, in my world, the real advantage of introducing ML and AI is the ability to help customers find answers to the problems they face. Using conversational AI to mine a database of known and defined errors other businesses have encountered — be that on SAP or Google — would help practitioners arrive at answers far sooner and avoid a degradation in productivity.
The process would augment the value of the intelligence we aggregate and own and, as it's a trusted source, accelerate decision making and the time to resolution (TTR). No human can realistically (nor would they want to) hold in their brain all the common problem scenarios and fixes.
I've tried to do this in my professional career, and though possible, it is exhausting. That's why I believe, applying conversational AI to the common challenges our customers face would help highly qualified and skilled humans validate and implement the decisions they take.
I'd advocate that automating the interrogation of vast knowledge banks makes complete sense, especially when it helps skilled people get on with doing what they do best — running, managing, and developing world class ERP.
I should be clear that I am wedded to the notion that it's important the wider industry runs the AI race in tandem with the ethics that protect humanity. We must thoroughly understand the implications at every point in development and put in place the checks, balances and regulation to ensure the values we hold dear are protected and enhanced, not obliterated.
In the world of AIOps there is real value to its adoption not least to ensure mission critical systems related to food supply or energy stay online. We must therefore consider the broad view of AI technology as well as our narrower domain. Only with a balanced view and appreciation of the accountability we assume as leaders, can we make the right choices.
---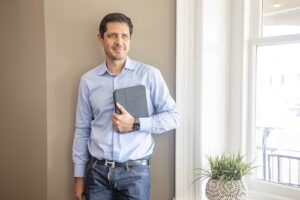 John Appleby leads Avantra as the Chief Executive Officer. Before Avantra John served as the Global Head of DDM/HANA Center of Excellence at SAP and as the Global Head of SAP HANA solutions at Bluefin Solutions, subsequently acquired by Mindtree. John is a recognized thought leader in the SAP market and was part of SAP's Mentors Group. John holds an MA in computer science from the University of Cambridge.
If you enjoyed this article and want to receive more valuable industry content like this, click here to sign up for our digital newsletters!