Today's IT landscape is characterized by fierce competition, intense pressure to drive higher margins, and sweeping scale increases. All the players within this landscape are working to establish predictable and recurring revenue streams, as well as highlight their competitive differentiation. This is true for vendors as well as for the channel of cloud service providers.
When it comes to the IT channel, there is an evolution towards providing cloud-based managed services. This is because all channel players need to drive reliable sources of recurring revenue and move upwards in the value chain in order to remain competitive. Services such as infrastructure or email hosting have become basic commodities, and it's become increasingly more difficult to differentiate from global vendors like Microsoft and Google.
However, there is one particular core area in which the channel has historically been able to carve out a unique presence: desktops. Desktop — also known as workspace — management has transformed from its classic, on-premise contract form to an outsourced, cloud-based solution. This shift has enabled IT resellers to realize the recurring revenue and margins model, as having greater control of the technology drives better differentiation, competitiveness, and opportunity.
Within the channel ecosystem, there are three identifiable partner archetypes, each of which faces its own unique challenges:
Classic System Integrators are used to driving 100% of their revenue and margins from project-based sales and on-premise installations. These guys typically have the required networking, security, and outsourcing skills, but lack the standardization necessary to afford them operational efficiency across the board, which includes optimizing their internal organization.
Classic "web hosting" providers are the second type of partner. They are typically heavily automated and set up for scale. However, they typically need to invest in solution sales and operations skills to move further up the value chain.
Finally, there are the new kids on the block – the native cloud service providers, who aren't hindered by any internal "legacy." When setup correctly, they are often primed to grow rapidly, and typically position higher in the value chain with a strong recurring revenue model.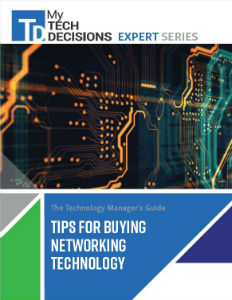 Looking to purchase the perfect networking technology for your organization at the best price? Download our FREE guide to learn how to write a network technology RFP, choose network technology partners, and implement network technology.
Tips for Buying Networking Technology
Regardless of archetype, all Cloud Service Providers across the board can benefit from platform agnostic tools. In this context, platform agnosticism means the partner doesn't have a vendor lock-in. He or she can choose which type of cloud infrastructure to use, create hybrid deployments, and move workloads along the way.
When it comes to a workspace solution, platform agnostic also means that the workspace can run on any (end-user) device: a Windows 10 laptop, an Apple iPad, a Google Chromebook, etc. Browser-based workspace solutions are the future, in this respect, as by definition they provide all benefits of platform-agnostic working.
Platform agnostic also implies the partner has the ability to manage their own environment, and create their own unique value propositions. They can rise above the noise of simply reselling a packaged SaaS service at a low margin like everyone else on the market, and stand out from the crowd with a game-changing option.
This also means that platform agnostic solutions afford superior control for the partner. Better control means that they can also build a more competitive and differentiated solution, with their choice of technology building blocks. This type of control also brings a greater ability to influence the margin.
A lot of Cloud Service Providers are defining and shaping their offerings to their end-customers as we speak. Our recommendation is to focus on platform-agnostic solutions that can offer greater control, empower you to differentiate, and driver better margins.
Walter Van Uytven worked as Director of Cloud & ICT channels for the Belgacom Group and as CEO of Belgacom Bridging ICT before joining Awingu as CEO. Walter first started working with the Belgacom Group in 2009 to help bring entrepreneurship and business development expertise to the group. Before that, Uytven was President & CEO of the Belgian Informatics Association and owned an IT integrator company. In 2014, Walter received the "ICT Channel Personality of the year" award.