Founded in 1908, Harvard Business School in Boston, Massachusetts, is known worldwide for educating the next generation of business leaders through its MBA and doctoral programs.
The Tech Decision
With a faculty of over 200 experienced professors and entrepreneurs, the school recently opened Klarman Hall, a state-of-the-art lecture auditorium. Designed by the architectural firm William Rawn Associates, Architects, Inc., the hall needed a lighting solution that could meet strict acoustic and performance criteria, so they worked with the design firm Theatre Projects who specified PHX 150W LED profile luminaires from Altman Lighting.
"This was a new construction project and our first time working with the Harvard Business School," says Steven Rust, Theatre Projects' Lighting Designer. "In an atmosphere where people needed to hear each other clearly throughout the hall, the criteria from the acoustician was that the lighting had to be ideally convection-cooled, or near-silent. One thing we have learned over the years is that there really is no such thing as a silent fan, so we needed to find a solution that was completely convection-cooled."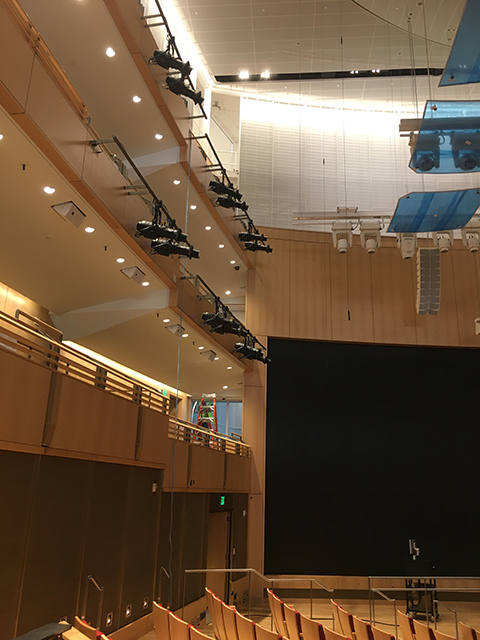 The Solution
Located on a the 40-acre campus, the 120,000-square-foot Klarman Hall would be asked to host variety of events, from intimate MBA discussions to podcasts and other online educational opportunities.
"Another challenge to the design was that the room needed to be able to function in many different configurations and be able to accommodate multiple audience sizes," says Rust. "First and foremost, it's a lecture hall, but then it can also be set up in five different configurations, so the lighting needed to be able to adjust as well. I have been aware of the PHX 150W for a few years now, and the convection-cooled aspect of its design, along with its performance capabilities, really made it stand out from other fixtures on the market."
As one of the only convection-cooled LED profile fixtures available today, the PHX 150W LED profile is ideal for venues desiring superior, energy-efficient lighting in an acoustically sensitive environment. With a standard fixed beam, zoom ranges from 15-35 or 30-55 degrees, a 360-degree rotating barrel, and a die-cast aluminum frame, the PHX 150W LED profile is also available in a diverse line of LED choices including RGBA, RGBW, 3000K, 5600K, and tunable white versions.
The Impact
Now open, the new 1,000-seat lecture hall at Harvard Business School recently hosted a dedication ceremony and its inaugural educational symposium. In a room filled with University faculty members, journalists, and other distinguished guests, the technical design stood ready to support an elegant learning experience.
"Klarman Hall is a place where a speaker can feel comfortable giving a lecture to a room full of people while also being able to easily interact with those in attendance," says Rust. "It was imperative that both the presenters and audience members be able to hear in the space, and this was a large part of why the fixtures were chosen. As far as we could find, the PHX 150W LED profile is the only convection-cooled LED profile on the market, which allowed us to meet the critical criteria of the design."