Energy management is a key pillar of projects these days. Not only does it serve the environment we all live in, but it can also have a significant, positive effect on the cost of ownership once the projects are completed. The benefits of installing energy management systems are undeniable, however, they are most effective when they are the right fit for the given facility.
Energy management is the development, application, and enhancement of energy use practices to reduce resources, climate impact, and operational costs of an organization. By designing and implementing an energy management plan and system, an organization will be able to accomplish its goals while protecting the environment and keeping costs down. Energy management systems consist of connected electronic devices.
Operational Energy Management
Energy management should be a critical part of an organization's operations since the use of such systems has benefits beyond energy efficiency. Effective energy management can lead to increase in operational efficiency, space utilization, increased productivity, and occupant engagement. Consequently, all of these improvements will lead to significant operational costs savings.
Once a system has been installed, optimization can begin. All of the data collected from the various energy uses and draws can be analyzed and acted upon. The modern systems provide managers with a wealth of data that can be easily extracted and visualized for easy reporting.
Access this FREE guide to learn how to purchase the perfect energy management technology for your organization at the best price. Plus, unexpected (but welcome) benefits of becoming energy efficient!
The Technology Manager's Guide: Tips for Buying Energy Management Technology
Another advantage of these systems is that they provide managers with warnings and detect any faults in the systems early on so that maintenance becomes more of a planning task rather than a disaster recovery type chore. By taking the time to analyze this data, an energy plan can be created that reduces energy usage while still maintaining effective day-to-day operations. The key is to keep optimizing the system and tailoring its features to your organization's needs.
Typically, different systems in a building are in siloes, which creates inefficiencies in management since more time is spent on training, maintenance, energy use monitoring, and troubleshooting. In this case, the managers have to contact multiple vendors, which results in high fees impacting operational ROI. When an energy management system is deployed, an organization benefits from more efficient streamlined operations with a single point of data access.
Analytical Energy Management
One key aspect of energy management is analysis. By analyzing the data behind energy in operation, the organization can identify where further improvements can occur. Products to consider for energy enhancement will depend on the operations and goals of the organization. When considering the facility that an organization occupies, the following building systems should be considered:
Renewable energy sources (wind, geothermal, solar, etc.)
Insulation materials (window glazing, wall/ceiling insulation, building envelop materials, etc.)
Reduced consumption products (LED lighting, water saving fixtures, etc.).
According to Navigant Research, "a building energy management system is an IT-based solution that extends the capabilities of sensing, control, and automation hardware to direct automated and/or manual improvements to system operations utilizing the data from multiple data streams."
The following systems are usually integrated for efficient energy management:
HVAC
Fire
Lifts
Lighting
Power
Electrical Distribution
Security
IT infrastructure
Telecommunications
Energy Management ROI
Energy management is one of those products that sells itself. The inherent positive effects are stated by its definition to "reduce resource usage, climate impact, and operational costs." It is hard to argue with those benefits when planning a space.
The heartbeat of business is to generate the most revenue with the lowest cost while providing the best possible product or service. If an organization can reduce their operational costs, it will only make it easier to operate and result in more money to help the business grow and advance. The return on investment will depend not only on how many energy management strategies are employed but on how each one will be managed in order to increase the cost savings. The challenge is to deploy system management standards that will support the proper maintenance of all systems such as protocols on system alarm response, system overrides, and sensor locations.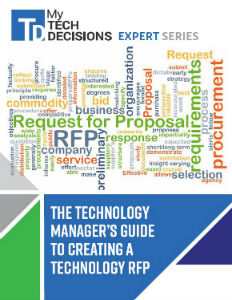 This new guide will show you how to structure your RFP so you get the maximum return on investment for your budget.
The Technology Manager's Guide to Creating a Technology RFP.
Energy management systems are not as costly as years ago and are used in properties of all sizes. The owners should look at them as a way of making their facilities more attractive to end-users gaining an additional competitive advantage in the market. Plus, the systems have been long in use and multiple case studies and examples of real savings achieved by pioneers exist.
Generally, energy management strategies are designed to reduce costs. However, if an organization's energy management plan includes incorporating renewable power sources that generate more power than is required by the organization, the additional power produced could be sold back to the energy company for additional revenue. Although it may require additional costs for advanced building materials and systems initially, that investment will be repaid easily with an effective energy management system and plan.
Installing Energy Management Technology
The duration of energy management system installation is the same as the time required to install any other system of that kind. It largely depends on whether this system is installed in a new construction or being added to an existing building.
Energy management installations follow the typical building construction process. The difference lies in the integration of systems and the materials used. By starting energy management conversations early in the process, the design team can put together a plan to apply energy management strategies throughout the whole process and avoid any unnecessary challenges during installation. These strategies can start reducing energy usage from the first day on the job site through the last day the building is occupied.
Applying energy management through the construction process as well as the building operations will reduce environmental impacts and costs of the owner and tenants. The process is easy when a project is a new construction. The strategies are implemented in the design phase and the systems can be chosen specifically to integrate.
Retrofitting an existing space with energy management can be more challenging due to the possible mismatch in equipment. In this case, the strategies must be evaluated based on the needs of the organization as well as the capabilities of monitoring the existing hardware. The existing systems should be fully researched to ensure they can be effectively monitored and the data can be collected and synthesized for analysis. Once the systems have been outfitted with proper equipment to monitor the energy usage the organization must take the time to review the data and optimize operations.
Nicholas Valauri is an Audiovisual Designer and Project Manager for The Clarient Group.