Sony chose InfoComm 2019, held last week in Orlando, as a launching pad for several new products and technologies.
AI-Based Video Analytics
A first for the company was the introduction of an Artificial Intelligence (AI) based video analytics solution. The REA-C1000, allows users to create video content in real time, without the need for specialized training, additional staff or equipment.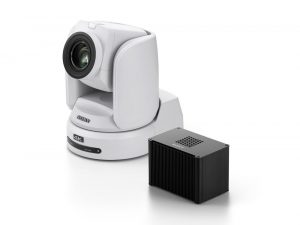 The compact and lightweight REA-C1000 uses AI-based video analytics technology to analyze the input it receives from connected cameras and automatically extract the object in focus to combine it with other images in real time. This technology uses motion/face detection and color/shape recognition, enabling the REA-C1000 to be the brain of any connected camera and AV setup. Optional features include handwriting extraction and presenter overlay, chroma keyless CG overlay, PTZ auto tracking, focus area cropping and close-up by gesture.
PTZ High-Def Cameras
Following the recently announced 4K BRC-X400 camera, Sony introduced the SRG-X400 and SRG-X120 as part of its range of FHD (full high definition) PTZ cameras. The cameras, which feature a wide viewing angle, support IP and are equipped with NDI|HX capability through an optional license. The NDI|HX option presents flexibility in simple and cost-effective IP-based live production systems when combined with other NDI-compatible hardware or software anywhere on the network. Both new models are available with a 4K upgrade option – a first for PTZ cameras.
Laser Projectors
Sony's new VPL-FHZ75 (6500lm) and VPL-FHZ70 (5500lm) cater to the increased market demand for high brightness projection in midsize environments such as universities, corporations, churches, museums and entertainment installations.
Offering WUXGA resolution, both use a newly developed 0.76-inch LCD panel with an incorporated optical compensator to deliver bright and vibrant images with stunning contrast, offering true blacks and accurate-to-life color reproduction. Both models come with a new, innovative 'intelligent setting' feature that simplifies the installation process by automatically selecting the best configuration based on the projectors' environment.
Other Products Demonstrated by Sony at InfoComm:
BRAVIA 4K professional displays, ranging in size from 43 to 85-inches. The BZ35F series incorporates  Kramer Control BRAINware.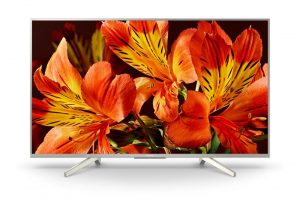 Vision Exchange enables BYOD wireless sharing, improved communication and distance learning through Skype for Business, and smart Personal Note Taker and annotation capabilities. The latest version of Vision Exchange—Version 1.3— adds the ability to power on and off both the main unit and each pod simultaneously, as well as the ability to save snapshots automatically to a USB drive inserted into the main unit or pods.
Sony and UbiCast's Miris Netcapture software and Miris Video Platform network-based lecture capture and enable interactive learning experiences. The UbiCast solution can also integrate with Vision Exchange to create more engaging video content.
Sony's immersive Crystal LED display system features a 99 percent black surface area for enhanced contrast.
Sonic Surf VR audio technology combines multi-channel speakers, displays and specially developed software designed to simulate placing, moving and partitioning sounds in one space.
The VPL-GTZ240 2,000 lumen native 4K projector incorporates the latest Sony native 4K SXRD imager
Sony's CMS for healthcare helps manage surgical videos and still images from one central location.
NUCLeUS is a smart digital operating room platform for today's ORs.