Absen and Trans-Lux Corporation have teamed up to provide the Prudential Center, home of the New Jersey Devils, with a 4K LED scoreboard that produces 29 million pixels.
The newly installed scoreboard now helps the National Hockey League (NHL) team's fans keep abreast of everything hockey with the team currently sitting in fourth place in the NHL's Metropolitan division.
Elaborating on the partnership between Absen and Trans-Lux, Jean-Marc Allain, president and CEO of Trans-Lux, says that when the company examined the market, Absen met all of its partnership goals.
"For the LED component, Absen proved to be the perfect partner to work with as we designed a fully integrated Trans-Lux solution," says Allain.
"The Absen team attended to our every need, especially on the delivery side, from start to finish."
4K LED Scoreboard Shows Every New Jersey Devils Play
When the Prudential Center first approached Trans-Lux in May about developing a 4K LED scoreboard that improves the fan experience, the company ultimately arrived at a design that dwarfed other teams' scoreboards.
The 88,401 pound UltraHD 4K LED scoreboard, which was introduced to Devils fans during the team's home opener this past October, covers more than 9,500-square feet through its 60-foot 4.8125-inch width and 38-foot 1.625-inch height.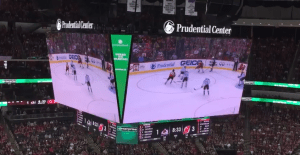 Absen and Trans-Lux point out the scoreboard's main display measures more than 49-feet wide and 27-feet tall to enable fans across the arena to see the score, penalties and replays.
In addition, the two companies collaborated to develop a custom LED display that uses 10mm LED ribbons circling the Prudential Center.
"This simply wouldn't have been possible three years ago," notes John C. Hammock, executive vice president of global sales and marketing, Trans-Lux.
"Thanks to recent technology advancements, smaller pixel pitches, and more competitive price points, we were able to provide an LED solution with far richer imagery and higher definition than ever before."