It's no secret that the world is becoming increasingly digital and connected, so it should be incumbent upon your business to follow suit and adapt with the latest cutting-edge technologies.
Those technologies, like digital signage, can help your business in a variety of ways, including cost savings, branding and reducing perceived wait time.
Used the right way, digital signage technology can bring incredible value to nearly every organization and application, whether it be in a corporate office, retail store or campus.
The return-on-investment strategy for digital signage is not a one-size-fits-all approach and calculating hard dollars spent and hard dollars earned can be difficult. Instead, companies should focus on both return on objectives and return on investment.
According to Alan Brawn, principal of AV consulting firm Brawn Consulting, the return from digital signage is different across a variety of verticals, but business should first identify the objectives behind installing digital signage and figure out how the technology can meet those goals.
Those goals are countless, Brawn said. They include marketing, branding, engagement and sales increases.
However, returns on digital signage investments can also include saving money by using technology to do things differently.
Higher impact experiences & branding
Companies are always looking for ways innovative marketing strategies, and that practice has now evolved into branding. Although these installations can be relatively subtle, digital signage can be one of the most effective tools to accomplish that high-level branding that enterprises are always seeking.
Julian Phillips, executive vice president of integration firm Whitlock, used the Amazon Spheres as an example. The integration performed the AV installation of digital signage displays in the Spheres, which are ball-shaped buildings at online retailer Amazon's headquarters in Seattle.
Digital displays tell visitors about the company's commitment to environmental sustainability and biodiversity and offer employees and visitors alike an alternative office setting.
"A lot of people would say Amazon is only about transactions on their website," Phillips said. "What Amazon is trying to do in that case is get people to care about the fact that Amazon cares about the environment and sustainability."
Phillips used another example of spice maker McCormick & Co.'s corporate lobby, where Whitlock installed a massive NanoLumens display to create an immediate branding impression.
No matter who you are or how you enter the building, the first thing someone sees are high quality images and videos of spices.
However, the company isn't trying to sell anything in the lobby or do anything other than represent the brand that McCormick stands for.
"If you're a customer, employee, investor, partner or supplier — when you go into the headquarters, you're left with absolutely no doubts about what their business is and what they're passionate about," Phillips said. "The customer gets that very emotional connection when they see that particular display."
Savings on cost, time and insurance
Perhaps the most important function of digital signage are the savings realized — both financial and time.
Think about all the man hours it would take to redo a static or analog billboard, change a campus map to add a new building or reflect a reshuffling of departments, or replace static advertisements in a retail setting.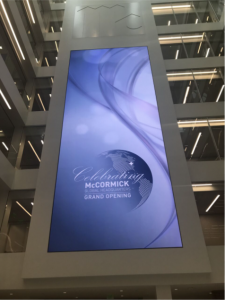 It can take hours and even days for installations to be overhauled, and it costs significant money to print and install advertisements and signage every time.
With digital signage, advertisements can be seamlessly changed via a subscription to digital signage software to reflect the season or big-ticket item that the company wants to sell.
Digital kiosks can be used to take customer orders or for point-of-sale transactions saving payroll and time spent training and onboarding employees.
According Phillips, digital signage can also be used to lower insurance premiums on a college or corporate campus. Some insurers require campuses to take positive action to minimize risk, and digital signage meets that criteria in many cases.
"Clearly they do make it very clear that health and well-being of students — and the image (digital signage) presents to students and parents —is another aspect of that," he said.
Digital signage data & analytics
According to Brawn, analytics and data are becoming vital to measuring the success of digital signage.
"A tech manager must show the 'bean counters' among other stakeholders that the digital signage and investment will meet their objectives and replay the investment," he said.
Thanks to other AV technologies, the effectiveness of digital signage can be measured with sensors that track foot traffic into a certain area where a display was installed. Cameras can also be installed on or even in some monitors to track how long someone views the message.
Read Next: Start Thinking About Your Business's Digital Signage as a Verb
A simpler method of calculating ROI or ROO of digital signage is comparing the outcomes after the display goes live to before. Are more people buying the product advertised than before the display was installed? Are you saving money and finding more time to grow the business?
"The old MBA phrase states, 'You cannot manage what you cannot measure," Brawn said.