TechDecisions closely monitors the communication and collaboration requirements of enterprise decision-makers and their teams. Recently, we became aware of the Yealink MeetingBar A10, which delivers high performance and exceptional value. Thus, TD sought an expert to share his opinion. 
We turned to Danny Hayasaka, senior director of marketing and emerging technology with Call One, Inc., and Hello Direct, Inc., who has developed a reputation as a product tester for various devices. Today, he oversees a YouTube channel with 10,700 subscribers and well over five million views. One major reason for its popularity is his fierce independence. "I test solutions across multiple brands," Hayasaka explains. "No one pays me to talk about these devices." 
So, when Hayasaka praises Yealink's MeetingBar A10, it's because the product truly deserves it. "The goal is to help people and businesses make more informed purchasing decisions," he explains. Discussing his early interactions with Yealink several years ago, Hayasaka recalls the company's desire to attain excellence and its appetite for candid feedback. "They really are huge into creating the best product for people," he attests. Those initial conversations, spurred by Yealink looking to break into the headset space, evolved as video blew up during the pandemic. Hayasaka immediately knew Yealink was a natural fit with the solutions Call One and Hello Direct provide to their customers. "They have so many ideas and solutions that they've passed my way," he marvels. 
The Yealink MeetingBar A10: Price and Performance
Hayasaka is truly excited about the MeetingBar A10, an all-in-one video bar that includes microphones, speakers, a 4K camera and more. It's designed for smaller meeting spaces, including dedicated offices, small focus spaces and huddle rooms. Leveraging the Android 11 OS, the MeetingBar A10 is remarkably flexible, running Microsoft Teams and Zoom Rooms natively and permitting BYOD. Hayasaka praises the framing modes, which include manual PTZ, auto-framing and speaker tracking. He compliments the MeetingBar A10's transitions, saying that, if a speaker being tracked moves from one location to another, it'll do a fade effect.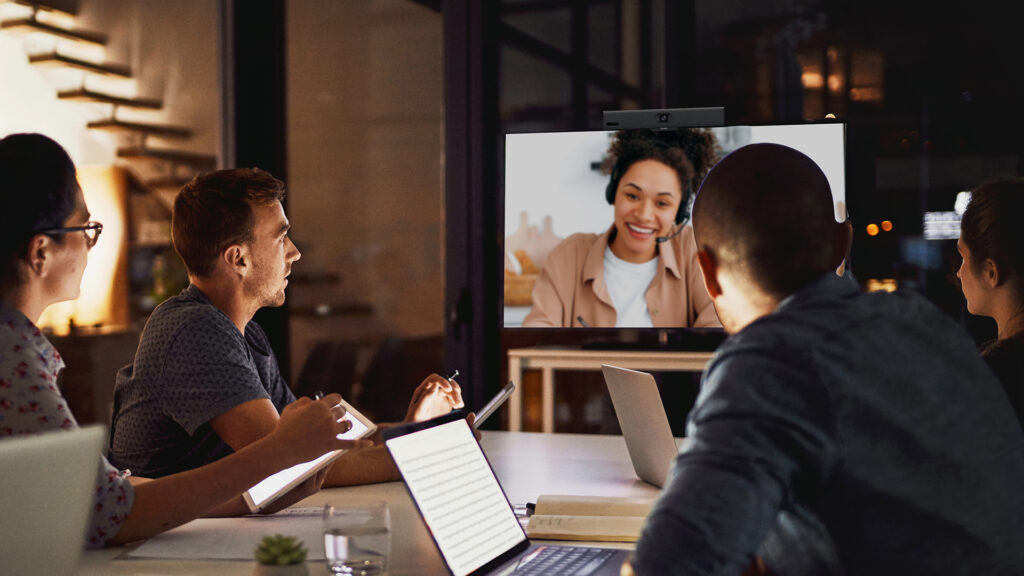 With the rise of soft-codec solutions and the shift to the cloud, it's now possible to video enable many spaces across corporate campuses. Hayasaka recalls, "It [used to] cost anywhere from $25,000 to $50,000 or more to outfit one of these spaces" with bulky, hardware-centric solutions. But with soft codecs, the cost per room has plummeted. Hayasaka praises the MeetingBar A10's price point ($899), saying, "It's actually one of the least-expensive options that's going to be available." He adds, "Having all the capabilities, features [and] functionality of the MeetingBar A10 for less than $900 is outstanding." 
The Yealink MeetingBar A10: Simplicity and Wireless Sharing
Hayasaka praises the simplicity of the MeetingBar A10. Defining "simple" from an end user's perspective, he explains, "I don't need to pay some installer to come in and install every room." Instead, any team member can do it. After all, Hayasaka says, even the most tech-phobic among us can plug in an HDMI cable or plug in a network cable. And users get a familiar-feeling experience because the MeetingBar A10 is certified on Teams and Zoom. 
The MeetingBar A10 truly stands apart in its wireless sharing capabilities. Consider this typical scenario: Someone walks into a collaboration space with their laptop, and they want to not only share content but also take over the hardware that's in the space — without having to connect anything. Competitor products, Hayasaka says, require a third-party wireless conferencing solution. By contrast, with the MeetingBar A10's Device Mode and the WPP30 Wireless Presentation Pod (an inexpensive accessory), Yealink achieves true wireless flexibility. Users simply plug the WPP30 into the video bar, get a message indicating successful pairing and disconnect it. Then, they can plug the WPP30 into any laptop (via USB-C or USB-A) to drive the MeetingBar A10. "Within seconds, now you're sharing," Hayasaka enthuses. After that initial pairing with the MeetingBar A10, the WPP30 can stay in the room, ready for whoever wants to connect wirelessly. 
Tech Must Adapt to
Us
Device Mode aligns well with our expectation for technology solutions to adapt to our own workflow and preferences. These days, many companies are making an organizational commitment to Teams or Zoom, but the MeetingBar A10, via Device Mode, offers much greater flexibility. "[People] want that wireless capability and the ability to join whatever meeting platform they want, when they want," Hayasaka propounds. "I can join whatever meeting I want right from my laptop and utilize the MeetingBar A10 as my audio and video device, wirelessly." It's just another way Yealink's MeetingBar A10 stands apart. 
Watch Hayasaka discuss Yealink's MeetingBar A10:
To get more information, visit https://www.yealink.com/en/product-detail/microsoft-teams-rooms-meetingbar-a10. 
If you enjoyed this article and want to receive more valuable industry content like this, click here to sign up for our digital newsletters!