Our homes have become our workplaces before we even realized it. Now, technology solutions providers like Crestron, Logitech and Zoom are beginning to realize this and bring us products to help truly transform our homes into workspaces.
Crestron, a giant in audiovisual and integration equipment, is collaborating with remote work providers Logitech and Zoom to help merge work and home with an all-in-one videoconferencing, home control and unified communications experience.
The solution, dubbed Crestron HomeTime, is designed for working from home, remote learning and socializing. It's a unification of Logitech's MeetUp conference camera with the Crestron UC Engine that integrates with Crestron control to deliver the Zoom Rooms experience that many corporate offices enjoy.
The high-end home solution merges videoconferencing, home control, and unified communications (UC) into a single system to allow clients to socialize, remote learn, and work from home.
Read Next: 10 Inexpensive Home Office Products That Make Working from Home Easier
Crestron HomeTime Includes 4K Camera, Full-Range Speaker
Crestron HomeTime is an HD video and audio conferencing system that allows users to host and join Zoom meetings without a laptop. Control can be via the Crestron remote or mobile app. With Crestron HomeTime, homeowners can use the television in the living room to see participants in much larger video windows; and the MeetUp 4K camera with a wide-angle lens captures everyone comfortably in the frame. The full range speaker delivers high-quality, intelligible audio, and the full-duplex, advanced beamforming microphone enables natural conversation among everyone in the group.
The system can either configured to connect directly to the display or through a Crestron DM NVX as a single-room or multiroom solution. With the multiroom configuration, groups of people can gather in the living room, kitchen, family room or wherever there is a MeetUp camera and a display.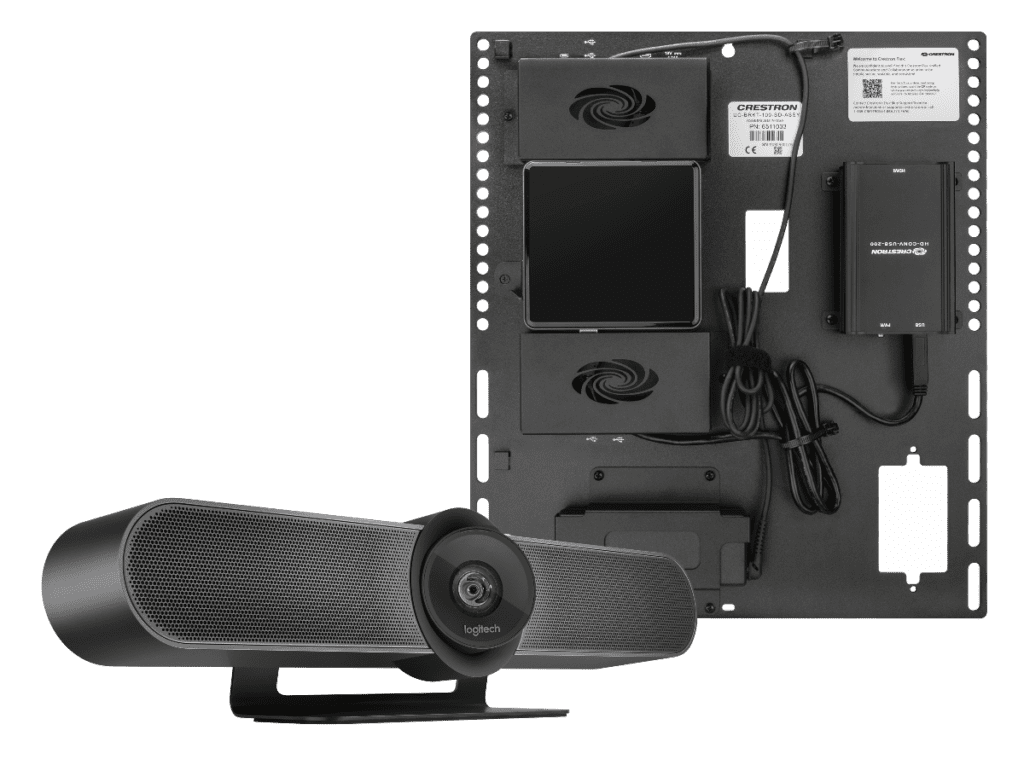 The core of Crestron HomeTime is the $6,100 (MSRP) HT-CAM Kit which includes the UC Engine running the Zoom Rooms app, the Logitech MeetUp camera, and a one-year subscription for the Crestron Xio Cloud service. In addition, dealers can tack on the HT-CAM-AUX Kit for $3,100 for additional rooms. That kits requires the DM-NVX-350.
Currently, the system integrates with Crestron custom controls, but drivers for Crestron Home are being written. With the XiO Cloud subscription, integrators can perform reboots or remote diagnostics on the system.
'Lifesize' Images for Videoconferences
"When the Zoom images are projected on a large home display versus on a tiny laptop screen, it makes the videoconference much more engaging. The faces are almost lifesize," comments Crestron's VP, Residential John Clancy.
"It's time to end the awkward conversations. No more crowding around a laptop and talking over each other because you can't follow who is speaking. The idea for HomeTime was created from the challenges experienced by families trying to socialize, learn, and work from home. We, at Crestron, knew we had a convenient solution that every living room deserved," says Clancy. "By integrating Logitech MeetUp and Zoom Rooms software with the Crestron platform, we can help homeowners prepare for anything, whether that is working in the home office, remote learning in the playroom, or virtual happy hours in the family room."
"Crestron shares our commitment to seamless collaboration with high-quality technology," says Jeff Smith, Head of Zoom Rooms, Zoom Video Collaboration. "Crestron HomeTime raises the bar, bringing the conference room into the living room."
"We've seen an exponential increase in videoconferencing from home as people and families shelter in place, not only for business use, but for personal use as well," says Scott Wharton, general manager and vice president, Logitech Video Collaboration. "Crestron is a leader in AV and residential systems for high end homes, so this partnership is ideal for providing quality videoconferencing experiences and Logitech solutions people need right now as they continue to connect from home."
Crestron HomeTime will be available on June 1, 2020 exclusively through Crestron residential integrators.
If you enjoyed this article and want to receive more valuable industry content like this, click here to sign up for our digital newsletters!