"We're entering this next era of collaboration and technology," says Jonathan Rosenberg, VP and CTO for the Collaboration Technology Group at Cisco. He's onstage in front of thousands, giving a keynote on Cisco Spark at this year's Enterprise Connect.
Today's challenges are too complex for one mind to solve. The number of single inventor patents is on the decline. The Nobel Peace Prize committee has trouble each year finding an individual for the award.
Meanwhile, organizations are no longer focused on finding the best talent within commuting distance of their office. They want the best talent period. Jonathan Rosenberg himself works remotely in his New Jersey home while most colleagues are in Cisco's California office. Teams span cities, states, and even countries in today's connected world.
Cisco recognizes this trend and plans to help usher in the era of team collaboration through Cisco Spark – a platform for team collaboration and communications. In order to do so, the company focused on solving four problems that plague team collaboration.
This new guide walks you through choosing the perfect collaboration technology for your organization at the best price.
Tips for Buying Collaboration Technology
1. Stop Data Breaches
Teams are sharing content that is the most crucial and confidential lifeblood of your business. That content exists in your collaboration and communications tools, as well as the cloud. It cannot be stolen.
At this point, encryption in transit and at rest is the standard. However, that strategy was designed when things were primarily on-premises. In the cloud, data is exposed when processing. The cloud is filled with thousands of hardware units, and if the data moves unencrypted through the cloud then each of these units is a spot for data to be stolen.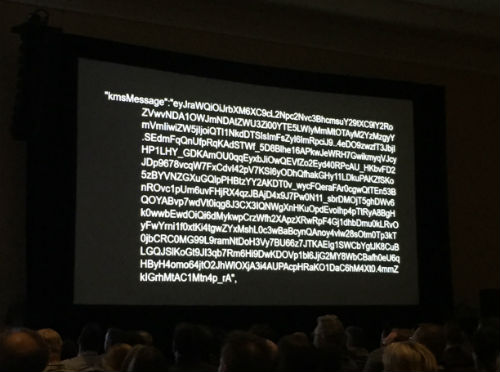 Cisco stopped worrying about preventing data breaches and decided to let them happen. Instead of prevention, Cisco has made the stolen data useless to the thief.
Their new security protocol is called "Breach Lock" – it uses end-to-end encryption that occurs when data leaves the client into the cloud, and decrypts when it reaches the client. This means that when data is stolen from the cloud it is useless to the attacker, as it's still encrypted. Many said this strategy was impossible without disabling features like search and more, but through years of research Cisco has figured it out.
Jonathan Rosenberg went so far as to demonstrate breaking into Cisco's database live onstage, and dumped the information onto a projection screen for the audience to see. The onstage demonstration, while accelerated for purposes of the keynote, was no less real than a true data breach. The code onscreen was useless.
2. Enable Ad-Hoc Meetings
The biggest problem with ad-hoc meetings is the game of chicken played by all the remote employees that might join. People receive invites, but are hesitant to join until they see that others are joining as well. They don't want to waste time sitting in an empty digital meeting while everyone else decides whether they can attend.
Jonathan Rosenberg demonstrated the ad-hoc meeting on Cisco Spark. It starts with a chat group where people are engaged, and one participant decides to start a meeting on the fly. A green button pops up to enable you to join, while photos at the top of the screen show you who has joined the meeting, even when you haven't yet joined. A drop down menu allows you to take the meeting on the device of your choice, whether your computer or a Cisco collaboration device.
Related: 22 Solutions, Software, Platforms, and Products at Enterprise Connect 2018
3. Make Remote Work that Works
Humans are visual creatures. Social media trends prove this (there is a 150% increase in sharing when tweets on Twitter include an attached image). Likewise, video is the premier form of communication for remote employees.
The hard part is getting people to use video all the time. Video is essential for remote work, so what does it take to deliver pervasive video? First you need video in the office covered. Then you need to connect them to remote workers. Premise video has great quality, but doesn't scale and isn't cheap. Cloud video is easily scalable and affordable, but lacking in quality.
Cisco therefore introduced "Video Mesh" – a technology in the cloud that deploys media nodes on-premises and in the cloud. Remote participants join the nearest media node, and the technology connects the nodes together for optimal quality. Any amount of capacity can be put on-premises, while any overflow is sent to the cloud nearest to where the users are joining in from. This ensure quality, and with infinitely large clusters there is infinite scalability.
Management is simple as well. Just log in, put in the Spark credentials, and you're all set. Updates occur automatically in the cloud. For the user, it's invisible – they just push the green button to join and Video Mesh does the rest.

4. Multi-Vendor for Real
The hardest part of team collaboration is deploying it within the reality of your network. Most enterprise networks have multiple zones, sites acquisitions, products, endpoints, etc. It is increasingly rare to find a company with a single vendor for its entire IT stack.
Cisco's philosophy is better together, but not only together. You need interoperability. That's why Cisco enables spark to work with the competition so customers don't suffer. Jonathan Rosenberg demonstrated how easily Cisco's platform works with a direct competitor, Skype for Business, onstage to prove this point.
Finally, Jonathan Rosenberg mentioned that we'll be hearing much more from Cisco next month, and leading up to InfoComm 2018. We're excited to find out what new innovations the company will bring, and we'll be sure to let you know as soon as we find out.