Specializing in delivering world-class corporate events and conferences, Illinois-headquartered Sardis Events provides services from staging and set design to multi-camera image magnification (IMAG) and live webcasting for Fortune 500 companies as well as a variety of professional associations.
The Tech Decision
A flagship on Sardis' calendar was Advisors Excel's 2018 World Series of Sales event. Each year, the gathering brings together the financial specialists' top producers to share ideas, acquire strategies designed to enhance their business, and pump them up for the rest of the year. Held in Orlando, Florida in January, the 2018 edition of the event hosted over 1,000 attendees for sales sessions and a banquet night with entertainment including celebrities Howie Mandel and Michael Phelps.
With the 2018 World Series of Sales looming on the schedule and a rapidly expanding overall project volume, Sardis Events needed to expand its roster of video equipment. "We owned 1080i cameras from a different manufacturer, but as we got busier our jobs started overlapping a lot more," said Nate Aguilar, technical director at Sardis Events.
"We found ourselves renting additional cameras and equipment a lot, and it reached the point where it made sense for us to 'go big' and build a second camera, switcher and routing system of our own. We wanted fiber connectivity to go longer distances, and we wanted to upgrade to 1080p so it would look great on big screens and for webcasting."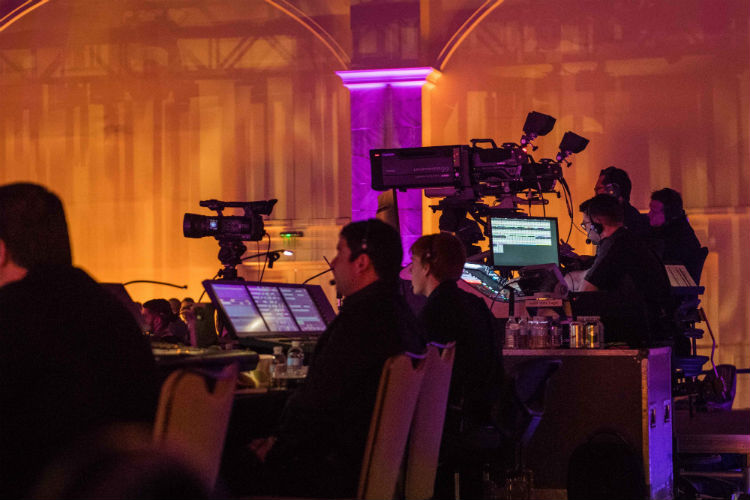 The Solution
In evaluating new cameras, the ability to cleanly handle LED-based backgrounds was critical to Aguilar. "We do more and more LED video walls as backdrops on stages, which can often lead to flickering when captured by a camera," he said. "We needed cameras with global shutter sensors to acquire video without the visual artifacts that LED displays can cause."
After careful research and evaluation, Sardis Events purchased three HITACHI Z-HD5500 studio and field productions to provide the exceptional image quality they were seeking.
"We read that the HITACHI Z-HD5500 was optimized for challenging LED environments and natively 1080p, so it sounded like a great fit," said Aguilar. "Then we saw it in person in front of an LED wall, and it looked unbelievable."
The cameras are connected via fiber to HITACHI CU-HD1200 camera control units mounted in one of two pre-wired racks that Sardis moves between events for easy setup. One rack houses the CCUs, camera shading controls, shading monitor, recorders, scopes, and Ross Carbonite Black Plus switcher frame, while the second rack hosts the Ross switcher control surface and primary monitoring.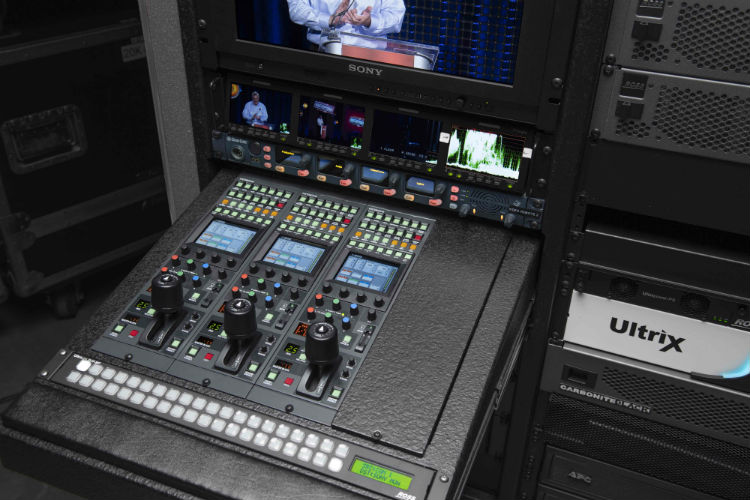 The Impact
For the 2018 World Series of Sales' awards show-like format, Sardis acquired portrait-oriented video for image magnification on massive screens on each side of the stage. Two of the HITACHI Z-HD5500s were stationed with box lenses at the back of the room while the third Z-HD5500 was used on a cinema jib, which has a platform so the videographer goes up on the jib with the camera. A Christie Spyder powered vertical projection to the side screens, with impressive results.
"Instead of flipping the cameras, we did a center-third cut of the image," said Kurt Hafferkamp, project lead and video technician for Sardis Events. "Compared to previous times we did that with other cameras, you could definitely see the quality difference – even though we weren't projecting the full possible camera resolution, it still looked great."
The Z-HD5500s' ease of deployment, dependability and fiber connectivity also proved valuable for the quick-turnaround setup requirements of the 2018 World Series of Sales event.
"Sometimes we have just a few hours between when we arrive and when we need to be ready," said Hafferkamp. "On that event, there were so many people doing so many different things, there simply wasn't time for anything not to work. I never have to worry about the Z-HD5500s – I know we can just plug them in and they're going to work. They've proven themselves time and time again, and that's exactly what they did for the World Series of Sales."