Completed and opened in 2019, the Rosewood Bangkok features a striking modern architectural design that evokes the image of two palms pressed together in the traditional wai greeting.
The Tech Decision
The 30-story tower in the heart of downtown Bangkok contains 159 guest rooms, including four deluxe suites and three multilevel 'houses,' each with a private terrace and plunge pool.
The complex also features two elegant spaces for events and functions: the 3,400-square-foot Pavilion, which can accommodate up to 300 guests or be divided into two separate spaces, and the 1000-square-foot Ploenchit Boardroom.
To deliver high-quality audio and video throughout the entire building, the Rosewood Bangkok deployed a range of JBL Professional loudspeakers, Crown amplifiers, BSS signal processors, AMX AV and control systems and Martin Professional lighting solutions.
"A venue such as the Rosewood Bangkok Hotel requires the finest audio, visual and lighting systems," says Pongsakorn Kanchanachayphoom, Director of Project, Mahajak Development Co. Ltd.
"The equipment we selected from HARMAN was a perfect fit for the venue, as it offers pristine, high-quality sound and visuals during hotel events, corporate meetings and high-end conferences."
The Networked AV System Solutione
A range of JBL Professional loudspeakers serve specialized roles throughout the hotel. For general background music and announcements, JBL Control Series ceiling speakers offer pristine sound and even coverage with a discreet appearance.
In outdoor areas, the ground-mounted Control 88M offers a weather-resistant solution. In the building's multiple restaurants, JBL CBT 100LA-1 line array column speakers employ Constant Beamwidth Technology to deliver precisely targeted coverage.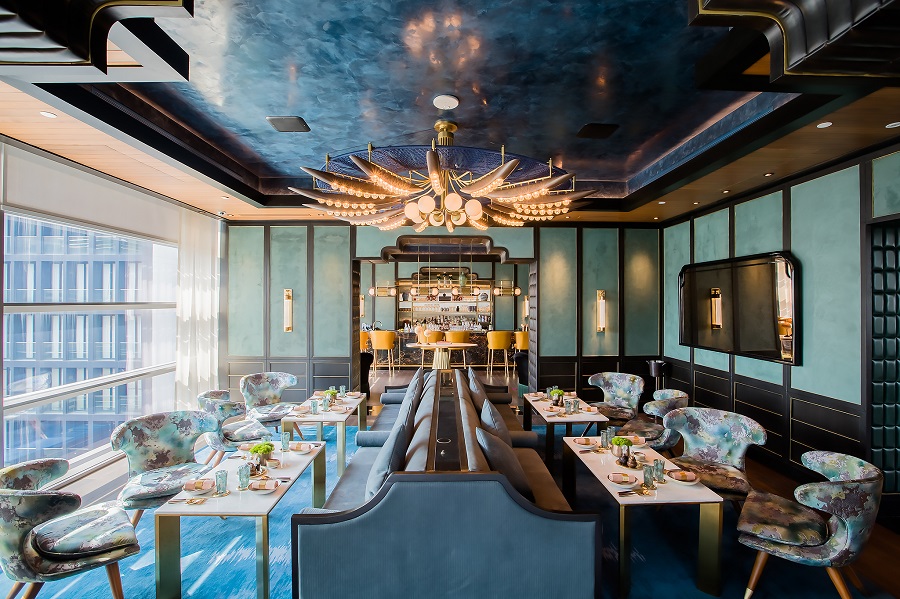 In the hotel's top-floor whiskey bar, guests can listen to over 6,000 vinyl records on 10-inch JBL AC195 loudspeakers.
Finally, the Pavilion room is equipped with JBL CBT 200LA-1 line array column loudspeakers supplemented by ASB6115 subwoofers and 12-inch Control 321C ceiling speakers for clear, full-range sound reinforcement.
The loudspeakers are powered by highly-efficient Crown DCi 8|300N amplifiers, which connect via BLU Link to a network of BSS BLU-100 signal processors located on each floor.
The BLU-100 provides flexible signal routing and processing via a low-latency digital audio bus carried over standard Category 5e cabling.
Using HiQnet London Architect software, the audio system can be easily configured into multiple zones for precise control, and any endpoint in the networked AV system can be accessed remotely from a computer.
The Pavilion room features AMX media switchers and controllers to facilitate multimedia presentations and remote meetings.
The AMX DGX800-ENC digital media switcher supports 4K and ultra-high definition (UHD) content, accepts input and output expansion cards, and features redundant power supplies for maximum reliability.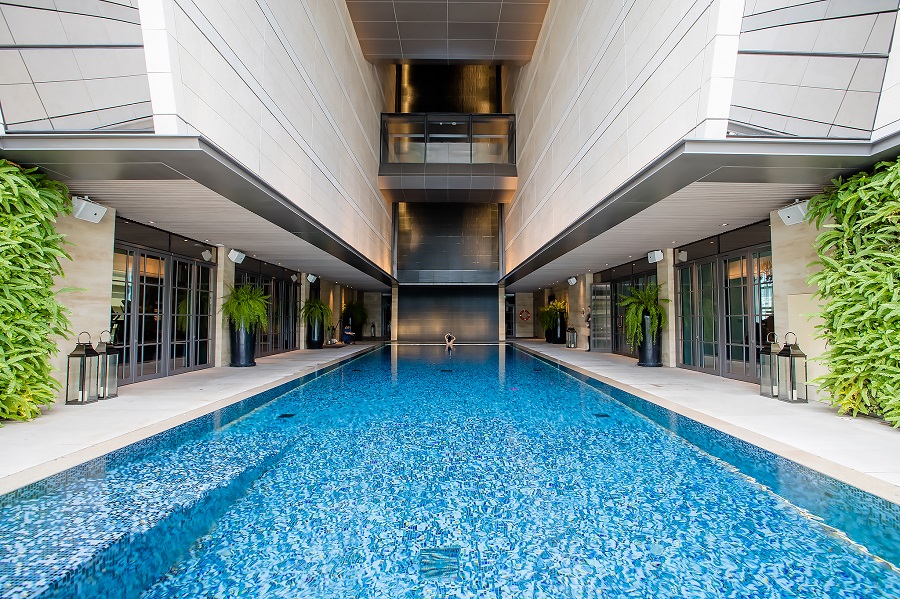 AMX DX-TX-WP wall plates located throughout the room connect to the DGX800-ENC and accept all common digital and analog inputs, including HDMI, VGA, analog audio and USB.
An AMX NetLinx NX 3200 integrated controller offers intuitive switching via a wall-mounted Apple iPad Mini for remote use.
Additionally, the Rosewood Bangkok selected Martin Professional RUSH PAR 2 RGBW Zoom lighting fixtures to illuminate weddings, conventions and other events.
The Impact
"The hotel management selected HARMAN AV equipment due to its proven reliability," says a spokesperson from Rosewood Bangkok Hotel.
"The brand created an assurance that the facility is fit to host corporate meetings, high-end events and conferences. The end goal was to create a collaborative space for the guests, and that goal was realized with HARMAN products."
Related: Sir Francis Drake Hotel Sound System
"HARMAN is privileged to be associated with the Rosewood Bangkok Hotel, and creating an engaging space for their guests was a delightful experience," says Ramesh Jayaraman, VP & GM HARMAN Professional Solutions, APAC.
"The integrated HARMAN networked AV system perfectly complements the refined atmosphere of the hotel and creates an inviting environment for guests."