With five levels, three stages, two kitchens, and Nashville's biggest guitar-shaped roof, brothers and singer-songwriters Joey and Gavin DeGraw set out to transform Lower Broadway nightlife with the grand opening of the Nashville Underground Bar & Restaurant, which opened in January.
The Tech Decision
When they first purchased the 40,000-square foot space in 2017, they knew that in addition to great food and beverages, entertaining musical performances, and unbeatable rooftop views, technology would play a huge role in the bar's overall atmosphere.
After speaking with Mae West, owner of the Famous Saloon in Nashville and satisfied ELAN customer, they asked national industry veteran Tour Supply Integration to design and install an ELAN automation system of their own that would give them complete control over audio, video, and lighting both indoors and outdoors, across all five floor.
The space is truly massive, as is the scope of the installation. Nashville Underground wanted to control and automate all of the major subsystems, while distributing audio and video to over forty televisions and two video-walls. With ELAN at the helm, Tour Supply was able to satisfy the customer's needs.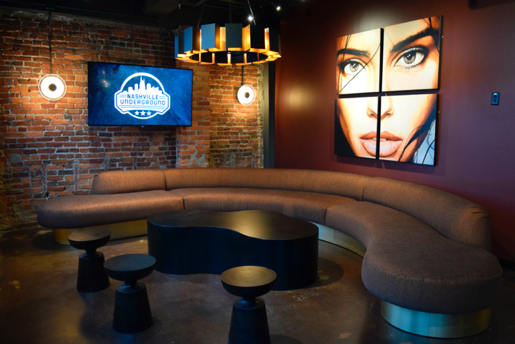 The Solution
During the renovation process, Tour Supply Integration installed two ELAN controllers, plus 4K HDMI over IP Transmitters and 60 HDMI over IP Receivers for seamless, latency-free signal distribution to all 40 of the bar's televisions, a 15-panel LCD Philips video wall, an Aurora LED video wall, and an Aurora LED video-wall embedded in the dance floor.
To entice patrons across all levels of the bar, Tour Supply Integration installed five static cameras to point at the stage, penthouse dance floor, and rooftop. The footage was then configured to be sent to displays throughout the venue. The tactic essentially lures people on the first floor to the rooftop, and vice versa. They also use these cameras to market to the outside passersby on Lower Broadway with audio, sending content to outdoor speakers. They are able market themselves from inside, using their own technology.
ELAN also controls and streams content to one of the bar's most spectacular features – a 14 foot by 10-foot high-resolution LED video-wall dance floor embedded into the floor. They also integrated Lutron dimmers and Martin Rush stage lights into the ELAN system for seamless control and automation throughout the bar, with specific event scenes configured for lunch, dinner, cleaning, and early morning opening. Staff can control any of the lights around the stage during a live performance at the touch of a button.
Two Furman Uninterruptible Power Supply and Voltage Regulators with BlueBOLT remote energy management functionality backup the entire AV system to protect against spikes and surges.
The Impact
The ELAN system has streamlined processes for his staff, and the technology has set it apart from its competitors since its launch in January of 2018. The technology really does 'wow' people. Using displays, audio, and lighting to impress Nashville Underground's customers has become a staple of the hospitality experience.