Elite Multimedia Productions created a full audio, video, and lighting design for the high-energy, in-game atmosphere inside the Nashville Municipal Auditorium, home to the Nashville Knights.
The Tech Decision
As part of the Los Angeles-based Legends Football League, the Nashville Knights are a 7-on-7, tackle football team that incorporated into the league in 2018. Playing their inaugural season in the Nashville Municipal Auditorium, the Knights wanted to offer an in-game experience that would create a lasting connection with their fans. Needing to supplement the production gear inside the multi-purpose event venue, the Knights worked with Elite Multimedia Productions who oversaw a complete game-day audio, video and lighting design.
The Solution
As with many sporting events, video is an extremely important aspect in connecting the fans with the game. Knowing they wanted to implement an HD video system of their own, they worked with Elite Multimedia Productions to develop the ideal design for maximum viewing exposure in the arena.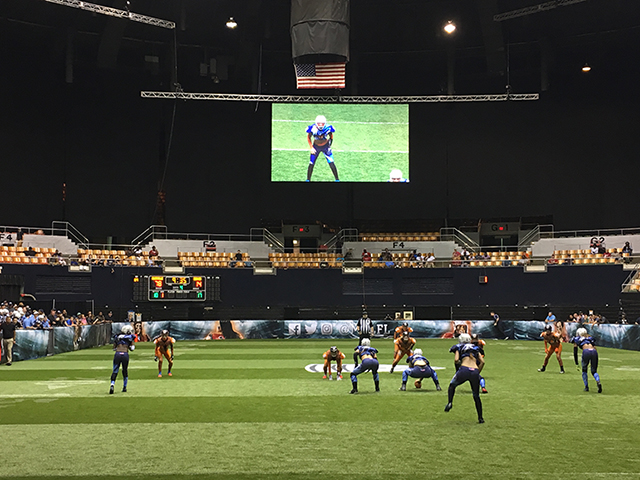 With the LED video displays in place, the remaining elements of the production design still needed to be brought into the action. Needing cameras, lighting and audio as well for the live, game-day atmosphere, a full production rig was created to complete and enhance the fiery environment inside the arena.
Now complete, the expanded production design for the inaugural season of the Nashville Knights was ready to light up the Nashville Municipal Auditorium. In this new, high-energy and fast-paced environment, the fans excitedly responded creating both the experience and connection that the team desired.
The Impact
"The best thing about working with the team at Elite Multimedia Productions is that they stand behind you the whole way," says Candice Leisengang, Nashville Knights Operations Manager. "They were able to work within our budget while providing a high-quality production environment, and their knowledge and efficiency makes everything absolutely seamless. With all of the video, lighting and audio equipment they brought in, the experience of working with them was incredible."