Holder Construction was looking for a way to collaborate more effectively on projects between offices and to have everyone feel united together on the project. In the past, one person had to be the central point of control through which all aspects of the meeting had to flow.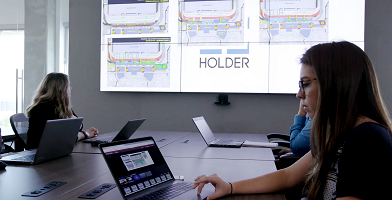 The Tech Decision
Holder Construction needed a way to bring teams together and build team culture, staying united despite its geographic distribution across 6 states. The company needed increased visibility of team members and the ability to truly collaborate across distance in order to form better bonds.
Holder Construction needed the teams to be able to form highly informed and engaging collaboration sessions that solve complex problems far faster than before. What is normally a five-week process needed to be turned into a five-day effort through the use of a new collaboration system.
Holder chose Oblong Industries' Mezzanine to deliver on their goals.
The Solution
Mezzanine delivers advanced collaboration to teams in spaces of all sizes—from small-to-medium-sized teaming rooms to large executive briefing centers. Mezzanine creates a content-rich meeting environment for teams to do their most important work. The dynamic multi-screen workspace commands attention and provides the canvas for multiple streams of information contributed simultaneously by meeting participants.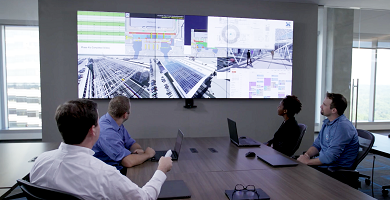 This real-time content- sharing from multiple sources makes key information accessible to all, and with multiple modes of simultaneous control (via laptop, tablet, smartphone, or gesture-based wand) new and more dynamic workflows are born. Because Mezzanine is a device agnostic software solution (with that proprietary hardware component for gestural control), it supports multiple OS platforms and mobile devices, works with almost any display screen and popular video teleconferencing codecs such as Cisco, Polycom, and Lifesize. Mezzanine also integrates into popular workplace ecosystems such Microsoft Exchange and Skype for Business.
For Holder Construction, this means that Preconstruction teams working in six offices can share information such as architectural plans, mechanical drawings, cut sheets, building codes, timelines, and budgets simultaneously with Mezzanine. With no need to switch between presenters or switch between content sources – all the data is immediately accessible and zoom-able to dive in on the details – collaborators can surface issues and resolve them more easily.
Further, because Mezzanine supports remote participation, team members working off-site also have access to contribute and control the workspace and workflow. In addition, the Preconstruction and Virtual Design and Construction teams use Mezzanine to meet with clients. Sessions for brainstorming, or for reviewing different projects, proposals and plans, are facilitated by the multi-stream visual workspace. Working through iterations of an architectural detail for example, and arriving at solutions together, happens swiftly. This accelerates project delivery and improves customer relationships.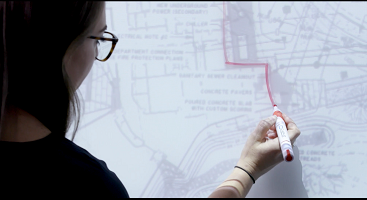 The Impact
Mezzanine has clearly improved the efficiency of Preconstruction teams and accelerated project timelines for clients, transforming processes that used to take weeks into a matter of hours. Engaging clients and prospects in a deeply immersive and visual way is impressive, but to deliver on top of that a platform of collaborative efficiency elevates customer satisfaction and retention. Mezzanine is the solution that can take a business to new heights.
With Mezzanine, Holder Construction – one of the nation's top 100 contractors with offices across six cities – brings its project teams the ability to view and gesturally orchestrate multiple steams of data and information simultaneously on a room size canvas of pixels. The result is highly informed and engaging collaboration sessions that solve complex problems far faster than before.
The distributed team is connected not just with videoconference, but also with Infopresence: an ability to seamlessly share multiple pieces of content and streaming applications at the same time, including drawings, timelines, budgets, live data sources, and project bids. With the pixel-rich, multi-screen, and multi-stream data visualization capabilities of Mezzanine, large files can smoothly scale and render with fine resolution. Screen captures are easy, whether of content streaming from a whiteboard camera or an individual laptop. So, for example, when looking to value-engineer a major project for a client, multiple versions can be assessed in vivid detail and simultaneously by the team, wherever they are located.
"We had a client who was very early in the conceptual phases of putting a project together," says Chad Douglas, Director of Pre-Construction at Holder Construction. "Our Virtual Design and Construction department sat in the Mezzanine room with the Revit file up on the screen and started making adjustments on the fly—what if we stretched this building a little bit taller, what if we made it a little bit wider. The ability to use Mezzanine and bring everyone into one place, in real time, meant that it was a five hour effort as opposed to a five week effort, because we had the technology to solve the problem quickly."
If you enjoyed this article and want to receive more valuable industry content like this, click here to sign up for our digital newsletters!