When Dell and EMC, two of the largest global technology leaders, joined forces, they asked HB Communications to design an AV solution strategy for their new Executive Briefing/Customer Solution Center, a state-of-the-art meeting place for the newly combined company and its customers.
The Tech Decision
HB Communications had just eight weeks from start to finish on this large project. Consulting, planning, designing, and installation at an accelerated pace—all while keeping on the budget—was no small task. HB Communications worked with STG and Novo Construction to stay in lockstep as all the pieces fell into place. Teamwork and collaboration was the key. With the exceptional project management supervision of Dell's Joan Pirragila, all the moving pieces were well coordinated, and the right teams were established to complete the expedited plan.
John Clifford, Dell's Vice President of the Global Executive Briefing Program, made the renovation of the client-facing Executive Briefing Center a priority. He wanted a space that reflected the future but was easy to use today and backed up by a solid support strategy. HB Communications partnered with the Executive Briefing Center staff, Dell IT, Dell Facilities, and the architectural and design teams to see the concept through and create rooms and spaces that are easy to operate and manage.
HB Communications' Kyle Frazier collaborated with Dell to find ways to reflect the company's "Workplace of the Future" transformation within the Executive Briefing Center space. Because Dell hosts clients representing potentially billions of dollars in deals, it was crucial to make the space as sleek and modern as possible down to the last detail, even concealing every possible cable to create a clutter-free environment. The inclusion of centrally managed digital signage was another way to bring the future into the present. As Michael Dell notes, clients need spaces where they feel free to express themselves.
"We are a company with big ears. We like to listen. We like to solve the problems of our customers. We need to listen to our customers and solve their challenges," says Michael Dell, Chairman & CEO of Dell Technologies.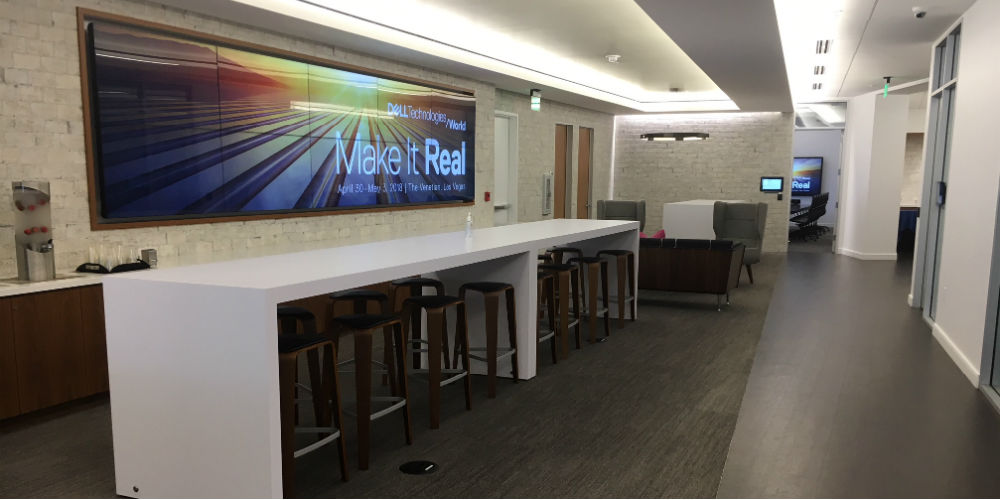 The Solution
The Executive Briefing Center renovation project at 5450 Great American Parkway in Santa Clara, CA consists of nine meeting rooms, a product display area, 10-panel and 16-panel LG video walls, room schedulers, and wayfinding displays. It is all powered by AppSpace and features a clean modern design that suits Dell's style.
Dell Technologies' products and the solutions of their partners were included in the design specified and used wherever possible. Each video-enabled room includes Polycom-powered conferencing with Biamp, Shure, and Crestron devices controlled in a centrally dedicated AV rack room full of Dell servers. 75- and 80-inch Dell Professional displays are installed in many meeting rooms to showcase the range of Dell's display offerings. While some rooms are designed to facilitate more traditional meeting experiences, others are built for hands-on immersion in Dell Technology's family of products.
The Executive Briefing Center is a living technology lab that reflects the innovation and cross-pollination of technology companies across Silicon Valley and the world. That is why HB Communications put a special focus on enabling simple interactive collaboration for global sales or engineering briefings via Skype or other video platforms. The goals: to enable collaboration and communication that ultimately improves productivity and inspires innovation and to help the Dell executive staff engage with
clients, partners, and vendors to drive new business.
The Impact
Because this new space is shared between salespeople reliant on traditional presentation-style meetings and the technical hands-on Customer Solution Center team, which demonstrates products in test or mock-up situations, it must be well-equipped, easy to operate, and as flexible as possible.
In fact, Dell had the clear expectation that the installed AV technology had to be so simple to use that it would never become a focus of the meeting. Ten minutes of fumbling around to get the room up and running were unacceptable. That is why HB Communications brought in tools such as Barco's ClickShare wireless presentation systems and Shure's MXA-910W microphone ceiling arrays to remove clutter from the ceiling and the conference room table so the presenter can focus solely on the client.
Most rooms are powered by the Polycom Group 700 video conferencing codec and equipped with an Eagle Eye Director IV camera that can automatically zoom in on the active speaker. A Crestron Touch Panel is placed at the far end of the table for control of phone conversations including conference calling and a single button push for Skype for Business activation.
The lobby area includes a 16-panel video wall and space for a second video wall to be installed in the future. Outside each briefing and conference room is a 15-inch interactive touch-enabled room scheduling display either flush-mounted or attached to the clear glass at the entrance. In the hall between the reception desk and the waiting area, a custom cabinet encloses an 86-inch wayfinding display that directs guests to their meeting locations.
The partnership between Dell and HB Communications has resulted in two additional new Executive Briefing Centers, one at company HQ in Round Rock, TX and another at EMC's former HQ in Hopkinton, MA.