Hendrick Lexus of Pleasanton, California is the premier Lexus dealer in the Northern California Bay Area. This 2019 Elite of Lexus dealership award-winner is part of the Hendrick Automotive Group, one of the largest privately held automotive retail organizations in the U.S. Headquartered in Charlotte, North Carolina, the company has automotive operations in 14 states.
The Tech Decision
In the highly competitive automotive industry, dealerships need to provide an elevated in-dealership experience with an environment that immediately grasps customer attention and entices them to purchase.  Hendrick Lexus looked to enhance its showroom with a dazzling new video wall and recently did just that.
The impressive 4K video wall is comprised of twenty-four Samsung 55-inch LED displays in a 3 by 8 array. The showroom video wall engages and captivates customers from the moment they walk in. Its vibrant content and vast size command customer attention, engage customers in the luxury Lexus brand, and drive buying interest.
Dynamic 4K resolution videos present the latest Lexus models and industry-leading vehicle features, helping to guide customers through their decision-making process.
The Solution
The Galileo processor from RGB spectrum powers the video wall. It supports both conventional baseband and IP stream inputs at up to 4K resolution. The processor works with all types of video walls, whatever display technology is chosen.
The processor offers the flexibility to display content in any size, anywhere on the video wall surface. Display layouts can be changed instantly to enhance viewer attention and interest. Operators can select preset display layouts, switch and route sources, and size and position windows on the fly.
Related: The Business Case For Buying Video Walls

Advanced features include a unique "wall mimic", whereby the entire wall display or any region of interest can be encoded and streamed for live viewing elsewhere, HDCP content protection, and automatic IP stream discovery for RGB Spectrum's Zio AV-over-IP encoders.
Hendrick Lexus has been very pleased with the results of its Galileo-based showroom video wall.
The Impact
The new video wall reinforces the dealership's culture to provide an exceptional customer experience, as well as improving customer engagement, enhancing Lexus brand loyalty, and generating customer purchase interest.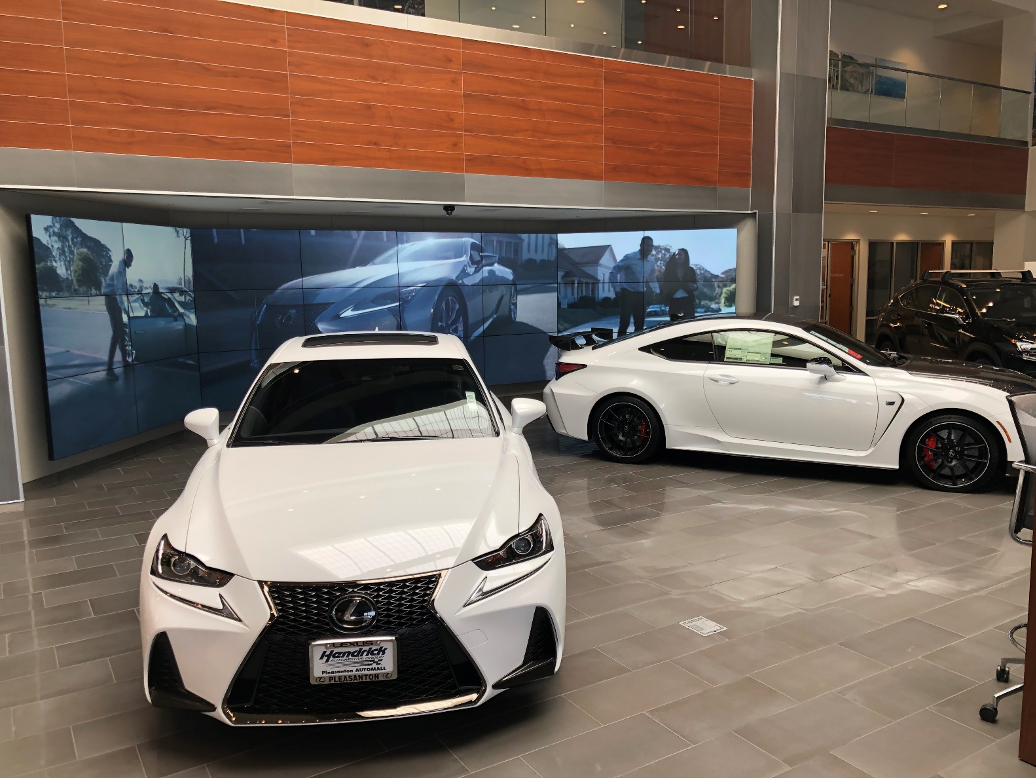 The Galileo processor from RGB Spectrum receives feeds from multiple media servers and cable boxes, depicting a variety of Lexus promotional videos, dealership promotions, sporting events, and local and national television broadcasts.
In addition, the video wall offers a novel immersive driving experience for prospective customers.
It mimics a test drive road test when a customer sits inside a vehicle.
A customer can see a vehicle in action, highlighting its performance and features, as it maneuvers through winding mountains or challenging desert sand dunes.
The immersive video wall visuals help customers imagine themselves in the car and encourages them to take a test drive.
The dealership group will be implementing this showroom video wall in its other locations.