Dakota State University (DSU) is among the nation's most technologically advanced campuses and was named a National Center of Academic Excellence in Cyber Operations by the NSA. The university recently unveiled a new $11.4 million, state-of-the-art facility to provide students hands-on experience with cybersecurity technology.
The Tech Decision
Dakota State University approached HM Cragg Sales Representative Scott Missling and Account Manager Ryan Fonder of High Point Networks to work on the project. Missling and Fonder visited the facility to discuss the university's vision, and as a result recommended the Eaton solution for the project.
"Most vendors are just focused on the tech specs," says Dr. Kyle Cronin, assistant professor of cyber operations at DSU, "but we told Ryan the story of what our facility was envisioned to be, and he brought Scott in to hear the requirements. Everyone sat down with us to really understand what we were trying to do and why this wasn't just another data center," he says. "Wheels started spinning about how we could make this installation set itself apart. Aside from the functionality of a regular server room, it had to look cool—and provide the protection we needed."
The personalization and level of support didn't end after the order was placed. "When the racks arrived, Scott was here to help with the entire install," Cronin says, "and everything was all tricked out with LEDS glowing in our school colors. This team certainly went above and beyond. It's amazing how much time they put into this project with us."
The Solution
Through a unique partnership with Eaton distributor HM Cragg and IT solutions provider High Point Networks, DSU was able to deploy a comprehensive Eaton power solution in the new facility. The solution provides a comprehensive IT lab environment where students gain proficiency in power-related aspects of the IT world and gives them a leg up in preparing for a future profession in IT networking and security.
Eaton installed eight Eaton rack enclosures in the server room and the university outfitted each with an Eaton 9PX uninterruptible power system (UPS), both a metered and a managed ePDU, an environmental monitoring probe, and a Network Card-RS communications card. The solution safeguards dozens of servers, switches, routers, firewalls and other network gear within the server room, which has become a focal point of the building behind impressive glass walls. Eaton also designed the setup to the include power cables and LEDS that glow in the school's colors of yellow and blue.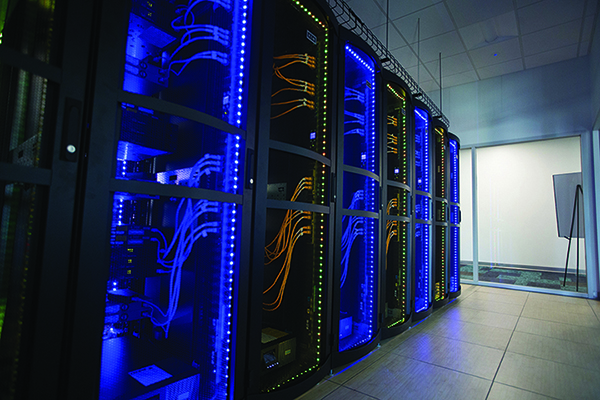 "The only challenge we faced was a shipping delay beyond our control," says Fonder. "The equipment arrived later than expected, so we had to install the solution on a very tight turnaround. Thankfully, we worked quickly and the room was ready to go in one day ahead of the opening."
South Dakota also experiences frequent adverse weather, such as thunderstorms. The Eaton 9PX UPS is designed to keep the facility running in instance of hazardous weather conditions by maximizing availability with extended battery runtime options, hot-swappable batteries, an internal bypass and an optional maintenance bypass. In addition to exceptional reliability, the UPS also provides more real power (watts) to protect equipment, while leaving room for expanding IT systems.
The Impact
Eaton's solution has allowed students to gain invaluable experience, completing a wide range of tasks such as deploying and provisioning equipment, running cable, monitoring power conditions, and viewing live power metrics with the ePDUs. Based on the lab scenario, students can assess power requirements and learn what to expect in a real data center.
"Our big claim to fame is that we offer a super hands-on academic experience; our students are immersed in it," says Cronin. "The Eaton equipment allowed us to go this next step."
Additionally, the solution protects the facility's sensitive electronic devices which require a high level of shielding against South Dakota thunderstorms and other hazardous weather conditions.
"The biggest takeaway is that we have equipment in the room that we can use in an academic setting, which gives us tremendous value," Cronin says. "And we can also depend on the solution to protect our equipment from the good 'ole South Dakota power challenges."
In the near future, DSU also plans to install Eaton's power management software, which will enable students to engage with a variety of UPS monitoring and management tools.