Bellatrix Exploration was expanding and required seven floors of meeting rooms and two field offices tied into an easy to use solution. It required a clean, easy to use and properly integrated solution for its business. It wanted a uniform interface layer so that every meeting room experience was the same to use even though equipment could be different.
The Tech Decision
Teatrx talked with Bellatrix about the use cases for each type of meeting room, boardroom, emergency response room, town hall room and field location rooms.
It connected Bellatrix with other Teatrx clients and allowed the company to collaborate and speak about the experience dealing with Teatrx. This allowed Bellatrix to see working solutions and how Teatrx integrates multiple manufacturer products into a unique Teatrx solution.
As some of the technology was new and couldn't be shown, Teatrx came up with a plan to fly to manufacturer facilities to see and speak with engineers from various manufacturers.
Then using the experience, Teatrx was able to start with a solution design and go forward with a plan. The idea was to keep it simple, and make sure everything related to this project was about the user experience.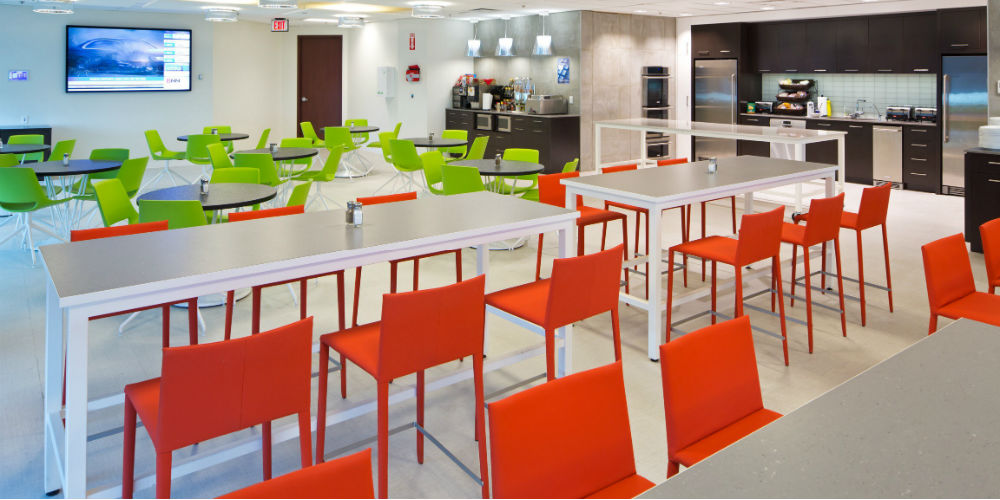 The Solution
The project started with 7 office floors and many different types of meeting rooms. Challenges were getting various trades, engineers, clients and interior designers to buy into the technology design. People simply had not seen an AV footprint of this size and magnitude, so building central rack rooms on each floor was challenging.
The project was executed over a multi-year timeline and required many stakeholders to come together, including but not limited to: Mechanical engineer, structural engineer, electrical engineer, interior designer, IT department, HR department, Operations, Senior leadership within client, Furniture provider, and many different Manufacturers. Once everyone bought into the concept it was an excellent collaborative experience for all parties in a joint team effort.
The Teatrx solution encompassed the following:
Infrastructure procurement and installation
Solution Design
Uniform Interface for a consistent user experience across all spaces
The following spaces make up the solution:
Cafeteria – 200 person
Small boardroom – 8 person
Training room – 15 person
Mid-Size meeting room – 18 person
Large Executive Meeting Room – 28 person
Field Safety Location – 50 person
Field Meeting room – 8 person
Integration with Crestron DM in centralized rack spaces, the office solution brings together room booking panels, lighting, motorized blinds, in table spring loaded omnidirectional microphones, additional wireless microphones, in table retractable input cable access, ceiling speakers zoned for optimal sound distribution dependent on input and space, in room PCs and other media sources, video conferencing and SIP telephony integrated into corporate unified communications. The Crestron touch panels delivered ease of use with an elegant graphic interface while tying in corporate branding.
Planar commercial displays were used as a standard for display and video walls. Proficient speakers with Clock Audio and Revolabs microphones in tandem with Biamp DSP create the backbone for sound tied into the corporate Cisco unified communications infrastructure.
Teatrx IP employed a state of the art user interface that is uniform across the spaces, creating an exceptional user experience and ease of use with little to no training. Centralizing infrastructure into climate-controlled rack rooms will increase the life expectancy of equipment, meets the client's stringent security requirements and offers streamlined access for maintenance and support.
The Impact
The solution has been received extremely well in the company and has turned heads in the industry. The client use of the installation is high, and Bellatrix consistently praises the ease of use.
Often the client tells Teatrx about vendors coming in to present, how easy the experience was and how surprised they are that things work properly. The company feels the installation lends to improved employee engagement and satisfaction levels while supporting digital workflows in its collaboration spaces.