Video surveillance systems are used to monitor productivity, improve accountability (of employees, students, and staff), deter criminals and collect information. They can also be used to aid law enforcement, verify compliance with government regulations (PCI, HIPPA, SOX) and possibly reduce insurance costs.
The Pieces of a Video Surveillance System
Video surveillance technology is virtually comprised of the same primary components – a sensing device, and a recording mechanism and a human interface device; from there the variables are seemingly limitless. The intended use of the technology will often drive variables like camera function, resolution, frame rates, storage capacity and actual camera selection.
The components of a video surveillance system are broad and can include some of the following items: structured cabling, client stations, digital recorders, VMS software, network or cloud storage, edge recording and SD cards, network cameras, high definition or analog cameras, illuminators, network and PoE switches, midspans, power supply's, video analytics, microphones and speakers and analog encoders.
Video surveillance technology is one of the more rapidly evolving technologies available, with change being driven by camera resolution and coverage, along with frame rates and storage location and capacity. There is a term used in our industry called "bleeding edge" – which refers to the very fine line being drawn between a technology being new, fresh and current but riddled with flaws, errors and omissions; all of which are necessary for evolving capabilities, with some built in risks for those leading the way.
Access this FREE guide to learn how to write a surveillance technology RFP, choose surveillance technology partners and implement surveillance technology. Plus, tips for buying surveillance technology!
The Technology Manager's Guide: Tips for Buying Video Surveillance Technology
The Benefits of Video Surveillance
The capabilities of video surveillance technology can be categorized into five general categories:
Identify: establish identity of individuals beyond a shadow of a doubt – cameras that have excellent image and zooming capabilities
Recognize: cameras that have a high degree of accuracy identifying and separating known individuals and have good detail for general zooming of an image.
Observe: can identify clothing & colors but don't have good detail on digital zoom.
Detect: will find people and sized targets, large enough to be detected but not identified. There is not significant detail with zooming in.
Monitor: will capture general human, traffic or other object traffic flow and/or patters but no detail or zooming capabilities.
Video surveillance technology is used differently based on the needs of an organization or facility. Like any other technology, it can often be used to accomplish what would otherwise require a human asset to do so. One consideration for how technology can help an organization is that it can be used to offset, reduce or eliminate the need to pay a person to watch over your business 24/7/365.
Another consideration for how it can help an organization is by protecting an asset and the people who may visit, rent or otherwise occupy space. For this purpose, there is generally analytics or integration with another system involved. Common applications include capturing events, identifying anomalies, providing real time data to law enforcement and first responders in a crisis event or interfacing with POS or other devices for cash transactions.
The recording and storage aspects of a video surveillance system can be used for limiting liability, proving innocence of an organization or malicious intent of an offender and to determine fault and identity of an offender. It can also be used to capture events where cause and effect need to be understood.
Justifying Surveillance Technology
Unlike many other investments, video surveillance is becoming a technology that is more about what you don't lose, instead of what you gain; especially when you are using it to prevent theft or robbery, defend yourself from an insurance claim or recover from a theft or robbery event. Having the right kind of equipment in these instances can mean the difference in a variety of loss scenarios.
In other instances, the expense can be justified for reducing staff or building efficiencies into your staffing model. For example, instead of having security staff in multiple locations in a building, a single location can be staffed monitoring camera feeds from all locations. It can also be used to fill gaps in an existing security program or plan – addressing a specific security concern.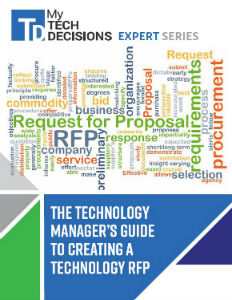 This new guide will show you how to structure your RFP so you get the maximum return on investment for your budget.
The Technology Manager's Guide to Creating a Technology RFP.
From a different vantage point it can provide peace of mind, making visiting or occupying space in a building more desirable; often that can translate into being able to command higher rental and lease rates, higher occupancies or more traffic.
This technology is often used for theft prevention, perimeter control, wander management, recording data, and providing analytics and to the extent a system is designed and installed can help an organization prevent liability, deter thieves, prevent loss, recover loss and mitigate liability. Being able to better manage these aspects of safety and security improves a company's bottom line through higher profit margins, reduced insurance rates and fewer liability claims.
When used for recording data and providing analytics, video surveillance can identify traffic, occupancy, and use – information which can be used for scheduling maintenance, repair and physical upkeep of spaces. This is becoming an increasingly popular use as smart building technology grows more popular.
The Installation Process
All installations are unique and can vary greatly based on location, conditions, system size, types of cameras being used, ceiling structure, existing facility or new construction and many other variables. Additional factors that can impact the installation process include site safety and security requirements like required warm up exercises or areas that require security or staff accompany a technician for confidentiality concerns.
A smaller system can take between 2 to 4 hours per device to install; this doesn't take NVR setup into account. Cable run lengths and ceiling structure (tile or fixed) will affect the overall time, generally 1 to 2 hours. Camera mounting, aiming and focus will generally take another 1 to 2 hours. Exterior mounting applications will vary from 4 to 8 hours.
Typical problems that arise during installation include gaining access to administrative accounts for software installation, having enough IP addresses for new equipment, enough IT bandwidth to support the new devices, access to the building or device locations, unexpected lighting conditions, disruptive noise from drilling and installing devices and having the right mounting hardware ordered. These are all items that can be prevented by holding a job kick off meeting, setting clear expectations and opening lines of communication to be used throughout the project, and conducting a site walkthrough to be sure all obstacles are identified and accounted for in advance.
Prep work is important for successful installation, and the kinds of prep work that are needed include establishing an agreed-on naming convention for installed devices, assigning IP addresses for those devices, having a user account for access, establishing user names and passwords for devices, determining where the NVR/Switches are to be installed, determining cable pathways, understanding where the video is going to be viewed and how the cameras are to be mounted.
Also important is having information for the site and/or job contact. For larger installations, devices can be pre-configured and pre-assembled in a common location as an efficiency measure and then brought to their installation location ready to go.
Information provided by the following from LVC Companies:
Keith Kranz, Sales Manager
Dennis Thiele, ISG Development & Technical Support
Chad Christenson, Foreman Technician
Gary Laborg, Arizona branch manager
Robbie Danko, marketing manager