Mobile, connected home and other IoT solutions company Metova announces the results of their second annual survey, which reveals consumer trends and feelings on IoT adoption. This year's research shows less than 25% of over 1000 people surveyed feel like they have a "good understanding of what IoT is." Yet, nearly 75% of consumers already own at least one IoT device.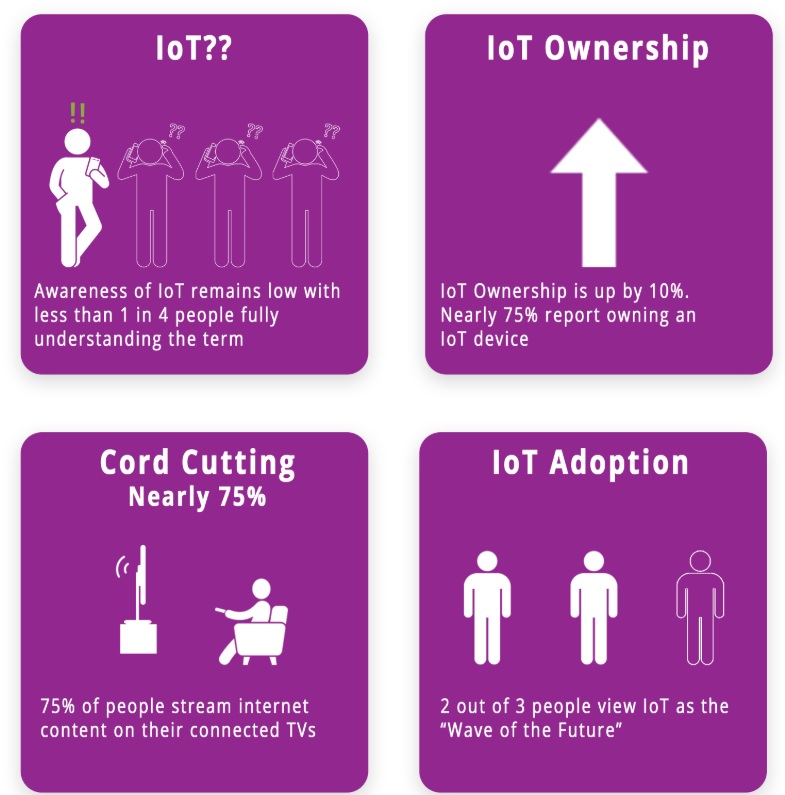 The survey also reveals a growing amount of people view IoT as the "wave of the future," and a growing concern around privacy and connected devices.
In addition, 85% of people would like the ability to monitor their utility usage in real-time with connected devices and would choose a utility provider over a competitor based on that ability if given a choice.
"We see notable growth and adoption of connected smart devices and increased demand for real-time monitoring of utility usage – yet surprisingly most consumers are not sure what the Internet of Things means," said Jonathan Sasse, president and CMO at Metova.
Related: Here's Why a Little IoT In-Fighting Is Good for IT Directors
"As consumers continue to incorporate Internet of Things into their everyday lives, it becomes critical that businesses, both established and new, take note and provide their customers with the facilities, transparency, and convenience they are accustomed to through the use of IoT technologies and connected devices."
Key IoT adoption survey findings:
Privacy issues are a growing concern with nearly 90% expressing a level of concern and a 5% lift of people who are extremely concerned about privacy issues associated with IoT devices
Over two out of three people view IoT as the "Wave of the Future" – a 10% increase
Nearly 75% percent of people surveyed watch TV or video via the Internet an increase of 14% since 2018
The most commonly owned IoT device category (over 30%) is Smart Bluetooth Trackers such as Tile or TrackR a nearly 14% increase over 2018
Nearly 85% would like to be able to monitor their electricity, gas or water usage and cost in real-time using a computer or mobile device with the number of people who "already can" do this doubling
The amount of people who are able to monitor their utility usage in real-time via their smartphone as has more than doubled (119%) with the amount who are interested in this remains high at nearly 80%
Find out more about Metova here