Can high-tech lifestyles go off-the-grid? Yes, according to iOhouse, which is debuting its new 645-square-foot "Space" portable home.
Billed as the "perfect fusion of technology and design," the $413,000 home is completely self-contained. Solar panels and a generator provide the power for electricity, heat and WiFi. It also has its own water and waste management systems that can accommodate two people living completely independently for two weeks, under normal living conditions, before needing to replenish the water tanks and empty the waste.
The self-contained nature of the home means it can be plopped down anywhere and in less than 90 minutes is ready to be lived in, according to the company. It is targeted as a second home, summer cottage or to be used as a personal office or professional studio.
Related: Big Tech Is Developing Standards For Smart Homes
Appealing to the wellness crowd, the 12-meter long x 5-meter-wide tiny smart home is touted as "designed for people who value beautiful, natural locations.
With our integrated technology and self-sustained systems, you can position your new house by a lake or a river, in the middle of the woods or even on the slope of a hill. Meadows or mountains, forests or fjords — live wherever your heart takes you."
The tiny smart home has a smattering of technology, with the real emphasis being placed on the self-sufficient nature of the unit.
The iOhouse Space tiny smart home comes fully furnished with: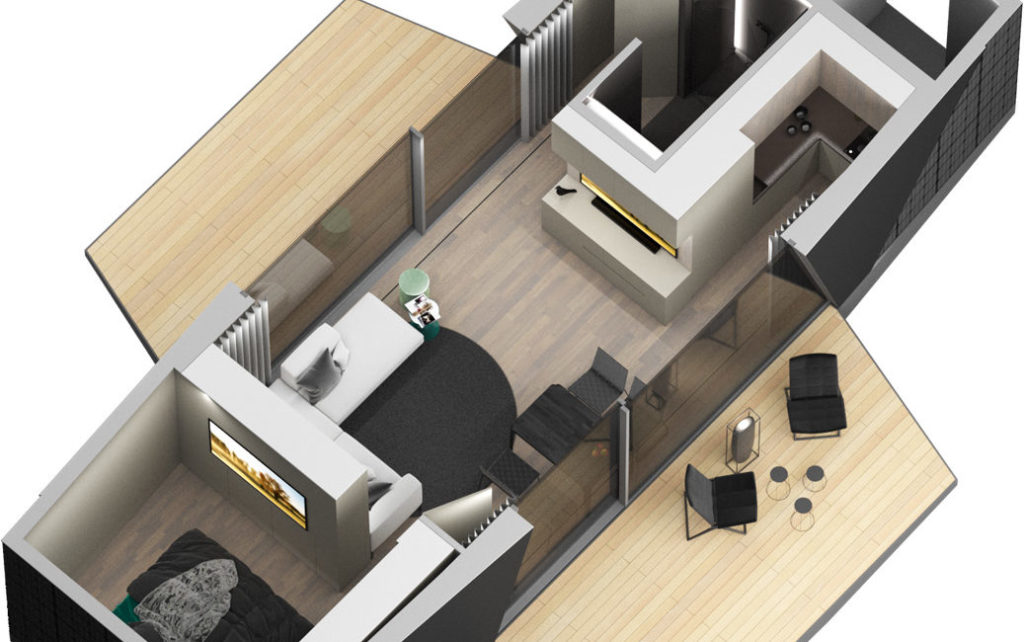 Full control system from Comfort Click
Weather station monitoring temperature, air pressure and precipitation
A 55-inch Sony UltraHD OLED TV AG9
Sony 7.1.2 Dolby Atmos 2x soundbar, plus eight Sony speakers and two subwoofers. There is an upgrade to Polk Audio speakers for an extra fee.
WiFi ready
Lighting through is low-voltage 24V LED
Security system, including smart doorlock from Assa Abloy
Digital network security
Hikvision surveillance cameras
Smoke detector
Hot water monitor
Automatic GPS positioning
Internet-based app control
Sensors and switches from Jung and Siemens
Dishwasher
Gas cooker
Refrigerator
Washing machine
Coffee machine/ hot water & steamer
Water purifier
The building has its own power plant, which can be monitored over the Internet, incl. battery charge, system condition, generator operation and solar activity, etc.
iOHouse, which is based in Stockholm, says, "No contracts, no obligations. The Space by IO House frees you from being shackled to utility networks. The revolutionary design also gives you freedom of location. With our integrated technology you can easily move your house to your ideal dream spot – be it by a lake, a river or on the slope of a hill."
---
This article first appeared on our sister publication, CEPro.com.
If you enjoyed this article and want to receive more valuable industry content like this, click here to sign up for our digital newsletters!