OpenAI  is launching a ChatGPT app for iOS, giving users an easier way to access the generative AI chatbot from their mobile device while keeping it free.
According to OpenAI, the ChatGPT app syncs a user's chat history across devices and integrates Whisper, the company's open-source speech-recognition system, allowing users to prompt ChatGPT with their voices.
The mobile app also gives subscribers to ChatGPT Plus–OpenAI's $20 subscription plan–exclusive access to GPT-4's capabilities, early access to features and faster response times on iOS devices, the company says.
While the launch of the ChatGPT mobile app is beginning with iOS users, the company says an app for Android devices will be coming soon.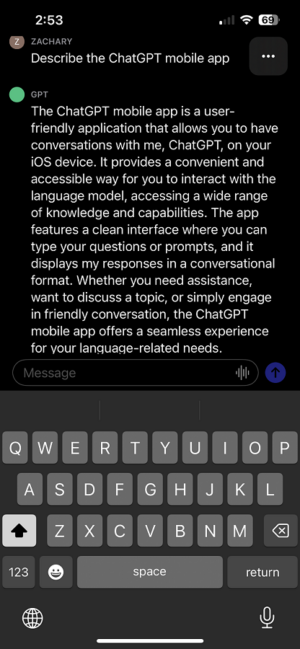 The iOS app offers essentially the same functionality as using ChatGPT from the OpenAI website, including instant answers, tailored advice, text generation, professional assistance and learning opportunities, the company says.
OpenAI will begin the rollout of the generative chatbot iOS app in the U.S., with expansion to additional countries to come in the following weeks.
"With the ChatGPT app for iOS, we're taking another step towards our mission by transforming state-of-the-art research into useful tools that empower people, while continuously making them more accessible," the company says in a blog post.
OpenAI's release of the ChatGPT app for iOS comes amid a wave of new features and updates from OpenAI designed to make ChatGPT more secure and safe, including new data control tools and a teased business subscription package designed to give organizations more control over their data.
With this new way of accessing ChatGPT, organizations may need to further educate and train employees on the use cases and capabilities of ChatGPT and other generative AI, as well as enact other policies around its usage for business purposes as data security has become an issue.
Read our guide, "ChatGPT and Generative AI in the Workplace," for more information on how to manage the use of ChatGPT and generative AI.
If you enjoyed this article and want to receive more valuable industry content like this, click here to sign up for our digital newsletters!