At the virtual 2020 Enterprise Connect, Terry Slattery, a Principal Architect at advanced network consulting firm NetCraftsmen laid out a network automation framework for IT departments considering the switch.
Automation is a promising thought, but also one which enterprise managers are understandably cautious about implementing.
Here is a rough framework for figuring it all out for your company or organization.
Step 1 – Identify goals
C-level exec buy in (improve roi, agility/competitive advantage)

goals: verify network functionality, increase consistency, facilitate troubleshooting

Maintain and improve network security

goals: identify network infrastructure security holes, quickly alleviate problems
Step 2 – Plan transition
People: learned to configure one box at a time, culture change required, executive support and budget
Process: develop automation processes, transition from manual to automation
Technology: new tools required, open source or commercial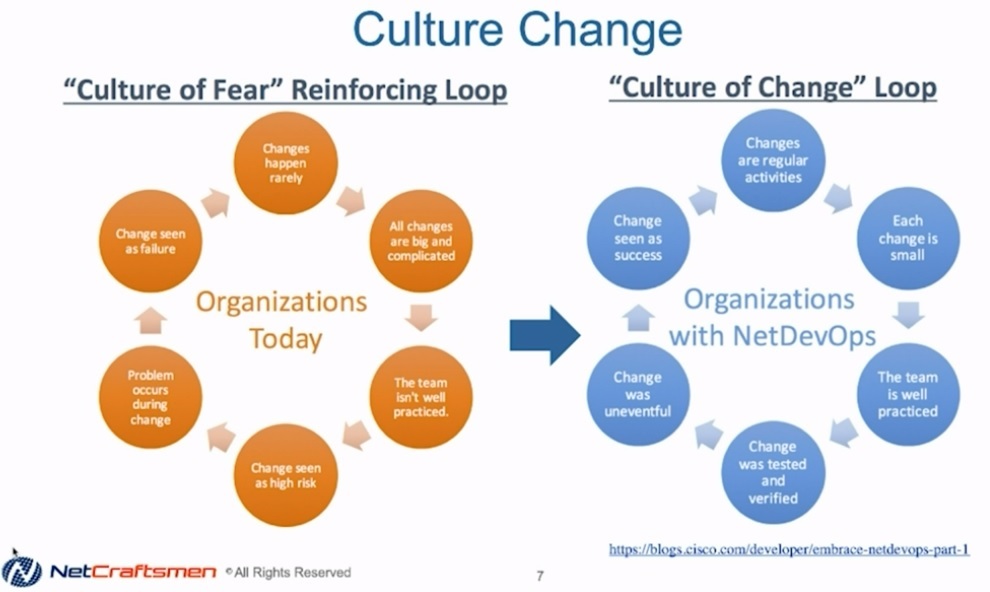 What to use: Open Source or Commercial?
Requirement: at least two people should be fluent in the technology
Open source: total cost of ownership similar to commercial product despite lower cost of entry; longer implementation good for slower orgs
Commercial: higher entry cost, faster, easier implementation
Managing risk
show steady progress without serious mistakes
create/modify processes as needed
it's ok to start with open source and move to commercial (and vice versa); refactoring code improves processes
automation should help the business; don't do it just because everyone else is doing it
Step 3: education
buy-in from entire team is critical
educate team: transition from per-box configuration
learn how to use the tools
reserve plenty of time for learning how to use the tools
Step 4: standardized network designs
Avoiding snowflake designs
unique, complex configurations
difficult automation & troubleshooting
unpredictable results
Using building block designs
standardize configurations, bills of materials, monitoring and troubleshooting
lowers test lab costs because you only have certain parts of network that need to be tested
Step 5: use NetOp checklists
Create lists of network state.
automate verification daily and before/after changes
use a network source-of-truth database
start small and simple, expand over time
Use things like:
interface status & error counters
network neighbors & traffic distribution
routing neighbors & critical routes
Step 6: use testing to reduce risk
Adopt processes from DevOps.
Create a test environment that mirrors production.
virtual, physical, or combo
must match key constructs of the production network
app developers do this to increase quality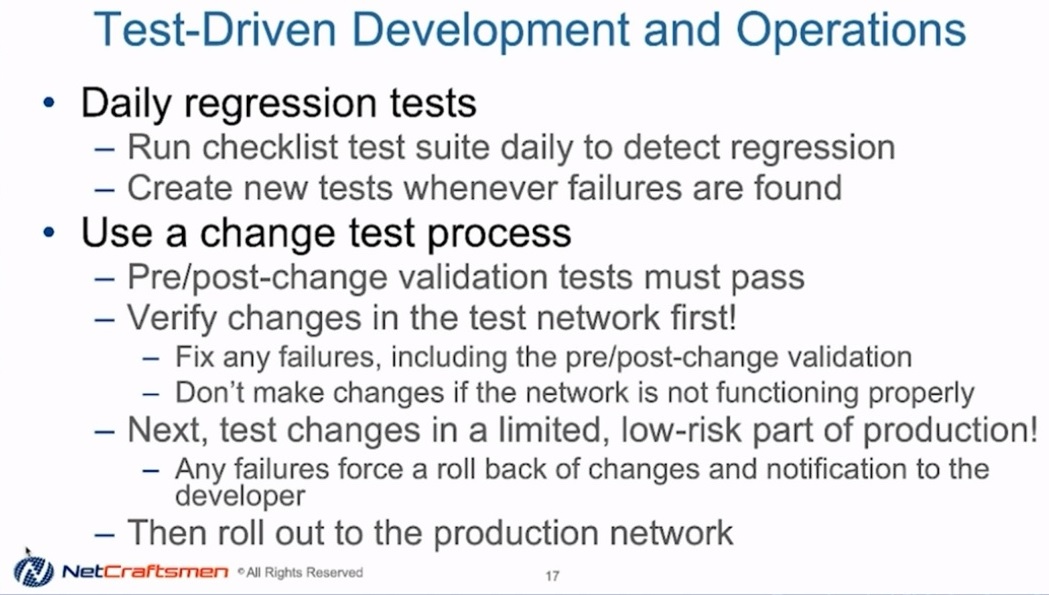 Step 7: Crawl — Simple, Read-Only tasks
Learn how to apply the tools.
Develop aids to operational tasks.
identify exceptions to network standards
monitor configuration drift, know what changed
create a desired network state database
validate that desired network state exists
Determine how processes change with automation, don't automate a process you don't understand.
Step 8: Simple configuration updates
Make simple config changes, NTP, VTY, SNMP, password changes.
Build configs for manual installation.
Develop new processes for automation, creating pre-change and post-change state validation, and developing/using a test environment.
Step 9: Run — Complex changes
Increase complexity of changes:
QoS, MPLS, VXLAN, etc.
comprehensive network source-of-truth
Production use:
automate change testing
convert processes to use automation
Read Next: IT Automation Best Practices for Smoother Adoption

The final step?
Step 10: Extend automation to other systems!
If you enjoyed this article and want to receive more valuable industry content like this, click here to sign up for our digital newsletters!