Think about how computer networks looked five or ten years ago. For many workspaces, especially those under 100 seats, the network periphery connected a few rows of desktop computers, VoIP telephones, and if you were early adopters of wireless Internet in the office, 802.11n access points. Power over Ethernet (PoE) switches and routers afforded network architects tremendous convenience when planning and installing equipment, enabling both power and connectivity to pass through a Cat5 cable.
The first widely-adopted Institute of Electrical and Electronics Engineers (IEEE) standard for PoE 802.3af accommodates a power draw up to 15.4 Watts per port over Cat5 cabling. That's ideal for low voltage devices like the ones commonly found on home and business networks in the recent past.
You may have noticed that some newer network switches are built to a newer PoE+ Ethernet standard, or IEEE 802.3at. PoE+ switches deliver more power per port, up to 30 Watts. A PoE+ switch accommodates the growing power demand of networked devices in the modern workplace. So if you're building out network architecture and deciding if you need PoE+ equipment, you'll want to have an understanding of what the devices require in terms of power draw.
Moreover, you'll want to think about not just the devices you want to network today, but rather, think about what you'll need over the entire lifespan of your network switch. Considering that the typical lifespan of networking equipment is five years, you'll want to plan for the devices you might connect to your IP network in 2023.
Today, you will find a more diverse set of endpoints on a small business IP network than you would have five years ago.
The Growing Power Draw of IP Surveillance
A company that runs video surveillance over its Ethernet connection may have eight or 16 cameras drawing power from a network switch. It has become commonplace to find card swipes, smart door locks, HVAC sensors and control modules connected to a network switch as well, drawing additional wattage.
With that in mind, you need to consider the total power budget of a PoE switch. If you're looking into installing an IP surveillance system, check the data sheet for your PoE switch and look for the total power budget per-device—not per-port. Note that the total power budget of the entire switch is generally lower than the sum of the maximum output per port combined, and that's very important.
For example, a five-port PoE+ switch might have a power budget of only 60 Watts even though all five ports are capable of supporting PoE+. If you do the arithmetic, the switch will not support five devices that draw close to the per-port maximum of PoE+ at 30 Watts. Instead only two PoE+ devices at full power can be supported. Insufficient power to the IP cameras are among the common culprits for video loss and poor camera performance—and that's problematic, especially for the newer breed of power-hungry point-tilt-zoom surveillance cameras–some of which may draw 20 Watts per camera.
Consider then buying a switch with a higher power budget ceiling. It will provide headroom for adding more cameras to your surveillance setup should you decide to do so during the lifespan of the equipment.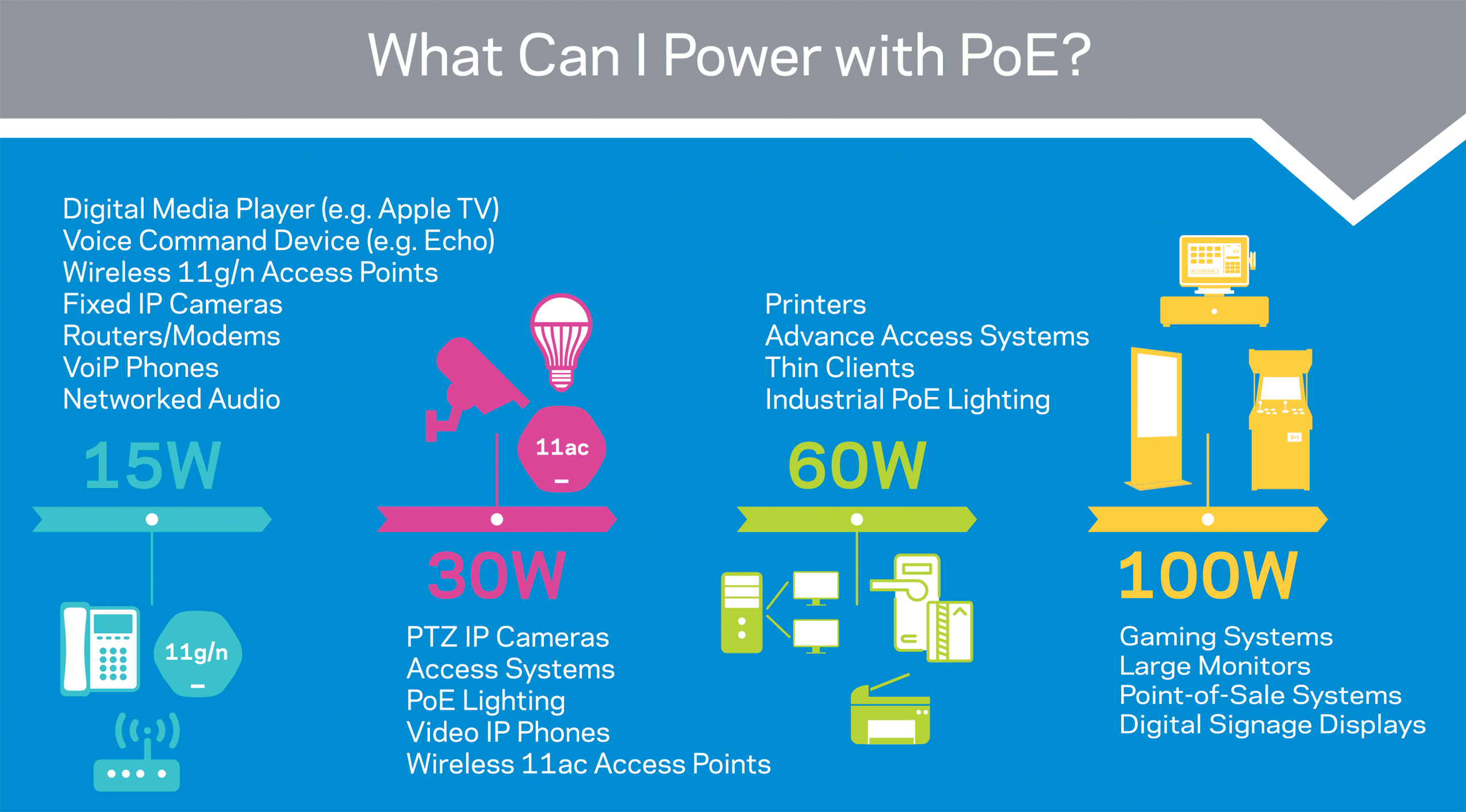 Screens are Everywhere
In conference rooms, hospitality locations, and on showroom floors, small-screen commercial displays add tremendous value and convenience for delivering messaging and information to their respective audiences. The technology allows you to connect displays with a single Ethernet cable, and create and control media from a remote location.
It's not uncommon to find many of the newer displays in the AV-over-IP category with a power draw of up to 25W. That means if you wish to take advantage of the features that digital display OEMs are building into the next generation of devices, then PoE+ is going to be a must-have. If you're thinking at all about scaling up your commercial display profile, you're going to want your PoE switches to accommodate the power draw of more high-definition displays around the workspace, retail floor, building atriums, and conference rooms.
Power-Hungry 802.11ac Access Points
Over the past several years, the market has witnessed the emergence of 802.11ac wireless access points (WAPs) that require PoE+ to enable full functionality. If switches do not deliver the full amount of Wattage to the WAP, the WAP may lose features. For example, all the antennas may not be enabled therefore limiting the bandwidth and throughput of the access point, or security features like W-IDS scanning may become inactive.
While it's difficult to project whether under-powering WAPs causes them to be partly-operational is reflective of any kind of industry trend, it's hard to deny that manufacturers are putting to market wireless equipment that requires higher power consumption. This is definitely something to keep in mind if you plan on scaling up wireless connectivity in your place of business.
Building for the Future with PoE+ Equipment
Any experienced network architect will tell you it's best to consider the future when choosing networking equipment. In the realm of PoE technology, the ideal implementations of the equipment are trending towards a higher power draw. We're seeing this in wireless networking, IP surveillance, and commercial displays over IP.
Ideally, any hardware investment you make today will continue to yield ROI over the entire course of its lifespan. As such, the power draw of the equipment you connect to a PoE network must be considered. For many businesses and organizations, planning accordingly likely means installing one or more PoE+ switches.
This might mean installing a solution in a piecemeal fashion, which is fine. You shouldn't discard PoE switches that are in good working order if they fit your needs as they are right now. However, if you're starting fresh, or plotting a brand new network installation, PoE+ is probably the way to go because the equipment gives you flexibility to add the latest and greatest endpoint powered devices to your network.
Anthony Pham is Senior Product Manager at Linksys.
If you enjoyed this article and want to receive more valuable industry content like this, click here to sign up for our digital newsletters!