According to The Register, Microsoft revamped their Microsoft 365 and Azure Stack programs to accommodate the US Government's special security needs. These programs will be integrated into government agencies as early as this year, giving agencies access to the cloud data sharing and storing functions of the original 365 and Azure Stack without losing the high-level security necessary for government work.
Microsoft will offer three different custom versions of 365 to meet the needs of different government entities. The first is the government community cloud, intended for civilian agencies and local/state governments offices. The other two versions will be used for the agencies that need even higher security features. GCC High will provide services to defense contractors and the DoD will provide the highest security for the US Department of Defense in order to protect sensitive information regarding the armed forces.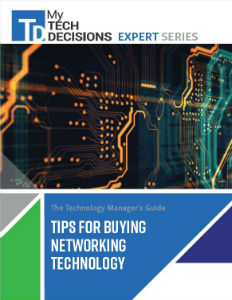 Looking to purchase the perfect networking technology for your organization at the best price? Download our FREE guide to learn how to write a network technology RFP, choose network technology partners, and implement network technology.
Tips for Buying Networking Technology
In addition to the highly secure nature of the new program, Microsoft is also able to quickly update its services to protect against any new threat, whereas the on-premise software that government agencies were previously using often required weeks or months of patching in response to a cyber attack. Josh Rice, general manager for Microsoft Worldwide Modern Workplace, explains "Our ability to dramatically speed up the timeline can result in real ROI savings—and better protected citizen data—for our government cloud customers."
Microsoft will also integrate a new version of Azure Stack into government agencies called Azure Government, which will offer on-premise cloud services, so employees will not have to worry about the security or speed of their internet connection when trying to share or access files. This program will be particularly useful to agencies in more remote areas that want to keep their data local. Azure Government will also allow users to run aggregate analytics to easily detect patterns and anomalies in their data.
Azure Government will be implemented widely throughout federal, state, and local governments in 2018, but Azure Government Secret will only be integrated into two regional agencies this year.  Azure Government Secret is cleared to host data classified under DoD Impact Level 6, the highest level of security in government data.