Google held its annual I/O developer conference this week, with much of the product announcements focusing on new developer tools. However, the company used the conference to announce several new innovations to its suite of productivity tools in Google Workspace, including Google Meet.
These new feature enhancements come as Google and collaboration display provider Avocor are showing off the new Google Meet Series One displays at various trade shows around the world as Google hopes to push Meet further into the meeting room space.
New Google Meet features announced during I/O
According to Google, the company is introducing several new intelligent features to Google Workspace, including automated summarization for Google Docs that uses machine learning models for text summarization. The company says it will bring a similar feature to Google Chat so users don't have to read lengthy conversations to get up to speed.
Similarly, Google is bringing automated transcription and summarizing to Google Meet as well, so users can catch up on important meetings. These new features are designed to help employees stay in the loop and easily reference the discussion at a later time. Transcriptions will be released later this year, and summarizations next year.
The company also announced an update to Project Startline, a new project that combines advances in hardware and software to enable meeting participants to feel like they're together. Google says it has been testing it across its offices to get feedback and improve the technology, but in the process learned some things that it is now applying to Meet.
Those learnings include new machine learning-powered image processing to automatically improve image quality in Meet, which works on any type of device.
According to Google, a new portrait restore feature uses Google's AI to improve video quality by addressing low-light issues, low-quality webcams or poor network connectivity. This happens in the cloud without impacting device performance.
Portrait light is another image quality feature that uses machine learning to simulate studio-quality lighting in Google Meet video feeds, and users can even adjust the light position and brightness.
Other new Google Meet features include de-reverberation designed to filter out the echoes in spaces with hard surfaces, and life sharing to make hybrid meetings more interactive.
Google all in on all-in-one videoconferencing market with new Avocor displays
While Zoom and Microsoft Teams became household names nearly overnight in March 2020, Google has been steadily building new capabilities into Google Meet, which is already entrenched in the K-12 education market with many schools running on Google's operating system and Chromebooks.
Now, Google is making a broader play for the enterprise conference room market, partnering with hardware manufacturers such as Avocor, a maker of all-in-one videoconferencing displays. The companies recently showed off the new Google Meet Series One displays at Google's New York City offices, at which the company doubled down on its strategy of making Google Workspace and Meet the productivity suite that future generations of executives and business professionals will be using.
The devices, developed in collaboration between the two companies, include a 27-inch Series One Desk and the 65-inch Series One Board. Both feature all-in-one touchscreen videoconferencing, whiteboarding and other capabilities running on Google's software.
The Desk 27 is designed for personal collaboration via Google Meet, but can also be used as a desk monitor, laptop docking station and digital whiteboard that integrates with Google's popular Jamboard app.
According to Avocor, the device features an integrated soundbar and mic array with Google's multi-channel noise cancellation technology TrueVoice, an adjustable tabletop stand and wall mounting capabilities.
The Desk 27 requires just a power cord and Ethernet and a USB-C port for laptop connection, which helps improve cable management. When connected to a laptop, users can access all of their files and apps, including everything in Workspace.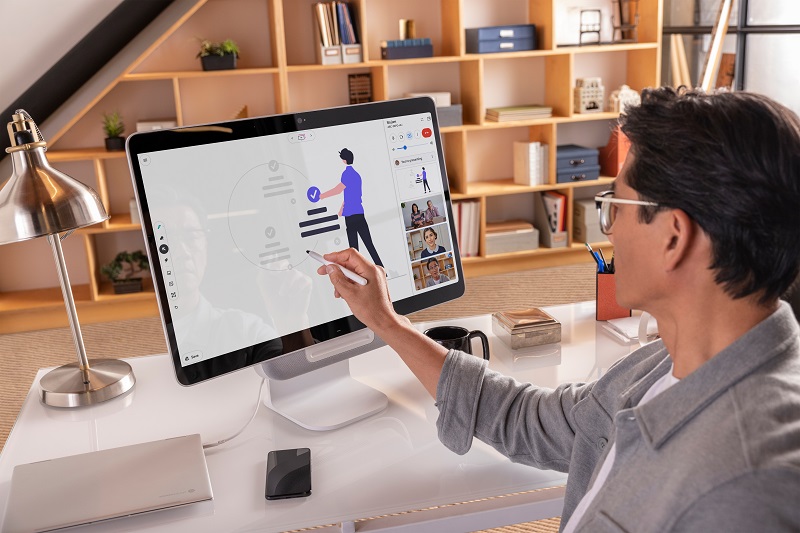 The display can run any videoconferencing app while leveraging the audio and video capabilities with the touchscreen display, digital PTZ camera and soundbar, according to Avocor.
Starting a meeting requires the user to touch either their calendar or the room resource calendar, or they can say "Hey Google, join the meeting."
The wall-mountable Board 65 is designed for small-to-medium conferencing spaces and includes many features of the Desk 27, including laptop connection, noise cancellation, touch capabilities, integrated audio and video features, Jamboard integration and voice activation.
Google's play for the conference room
According to David Rosenthal, Google's global go-to-market strategy lead for unified communications, the company is continuing to pursue hardware partnerships to make a bigger play for the conference room in the hybrid work era.
"The conference room is where the magic is," Rosenthal said at the event. People joining from their computers at home are going to have a very similar experience, regardless of the meeting solution they're on."
With meeting platform providers all innovating quickly over the last two years, it's the conference room that will set platforms apart, according to Rosenthal, which is why Google is pursuing these hardware partnerships with companies like Avocor.
In addition to Avocor, Rosenthal said Google is also looking to integrate with room controllers from other leading conference room manufacturers.
"Partnering with a company like Avocor, which really knows that the conference room layouts are, what the individual end user requirements are and how to deliver partners to work with to get that equipment in and installed … is very important," Rosenthal said.
With Google a leader in the K-12 education environment, the company envisions Workspace and Meet growing quickly as those students graduate and become the business leaders of the future.
"Google has been playing the long game with education for 10 years at this point," Rosenthal said. "K-12 is important because those are the minds of the future."
For Avocor, it was Google's list of improvements it made to Meet over the course of the pandemic as every business transitioned to remote work and relied on videoconferencing that excited the company about working on a dedicated videoconferencing device.
"That's what we're most exciting about," said Dana Corey, Avocor's senior vice president and general manager of Rosenthal's presentation of a long list of feature enhancements. "We want to see three pages of that."
If you enjoyed this article and want to receive more valuable industry content like this, click here to sign up for our digital newsletters!