A recent Business Insider article highlighted how production hell, a term usually associated with production struggles that businesses face, might actually give businesses a leg up on their workflows. At least it does for Tesla, according to one employee.
Business Insider tightened its lens on Tesla, which follows a type of "production hell model" while working on its cars. For example, if Tesla's vehicles aren't currently being mass-produced, engineers might "make calls to suppliers, conduct design reviews," and visit assembly lines in the factory. After evaluating where progress is at, the engineers then use what they've learned to make the technology that is creating the vehicles – or, "the machine that builds the machines" – function more effectively.
According to Business Insider, this production hell, or "less segregated approach," helps Tesla design and manufacture its vehicles more thoroughly: "…at Tesla, an overarching ambition is to remake the entire manufacturing process — so if engineers…who are working to increase automation can communicate more fluidly with designers, Tesla vehicles can be designed with those advantages in mind."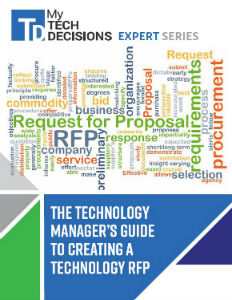 This new guide will show you how to structure your RFP so you get the maximum return on investment for your budget.
The Technology Manager's Guide to Creating a Technology RFP.
Decision makers' takeaways:
Even with all the technology and product advances that large companies like Tesla are making, the trial-and-error process of evaluating workflows still helps decision makers see what processes are helping their businesses thrive, or struggle. Human input is still needed. Based off of Business Insider's look at Tesla's general assembly or "production hell" model, it seems that decision makers, such as engineers, are still focused on the workflow processes that produce better quality products, rather than the quantity of products, which often determines a business's success.
Plus, every business goes through it, and can reach out to peers for help, or to compare workflows with: "It's something that manufacturing goes through," one of Tesla's engineers told Business Insider. "Anytime you do it, it's going to be difficult. But what's really cool here is that everybody is banding around it, while at the Big Three" — General Motors, Ford, and Fiat Chrysler — "it is manufacturing's problem. Here we say, 'No, no, no, it's everybody's problem,' because it's just our third car and it's that much more important," she said. "We're still calling up design to come to the floor.""