Japan is often known for its technological dominance and innovation and what better way to test some of the known advanced technologies than at the 2020 Olympics in Tokyo.
(Note: The Olympics, originally scheduled for July-August of 2020, after being delayed due with global COVID-19 pandemic is now taking place July 23-August 8, 2021 but is being marketed and branded as the 2020 Tokyo Olympics.)
Here are some not-so-surprising technologies that are being tested at the world renowned sporting event:
Self-Driving Vehicles used at Tokyo Olympics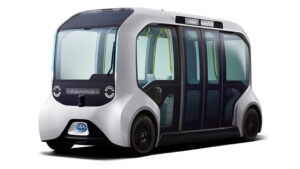 Self-driving and autonomous vehicles have been on the radar for a while, and it's not surprising that self-driving vehicles are being used to run defined routes related to the Olympics, including from the airport to the Olympic village and around the different Olympic venues in Tokyo. Toyota's specially designed e-Palette provides automated mobility for athletes.
The government has deployed about 100 self-driving vehicles, but what's unique about it is that it's not just for the transport needs of the athletes, but it also serves as a foundation for the next era of public transport.
Facial Recognition Systems
Recently, facial recognition systems have come about amid the COVID-19 pandemic as a means of touchless entry or security measures.
Since no spectators are allowed at this year's Olympic event, Tokyo is implementing super tight restrictions. Facial recognition systems are being used to speed up security to restrict unauthorized access and to prevent spoofing at any of the venues.
Facial recognition cameras allow security personnel to record athletes faces and movements at the games, and make it easier to track the movements of those who may be infected with the coronavirus.
Robot Assistance or Guidance used at Tokyo Olympics
Ever walk into a hotel and be greeted by robot, or let alone, help you navigate the hallway to your room or bring you that extra bath towel you requested?
Well, it's not surprising Tokyo is using robots to assist, and guide allowed visitors to their destination. About 8-10 different types of robots are being used to act as representatives for the Tokyo Olympics.
Immersive Live-Viewing
The broadcasting of the games is in 8k resolution making it a sharper, smoother, and a more worthwhile watching experience.
It almost feels are if you were sitting right there at the venue in front of the athletes. The resolution is double that of most 4k technology broadcasts.
Instant Language Translators
When you have individuals from all over the world convening in one place, language barriers need to be avoided as much as possible, which is why Japan has implemented a state-of-the art real time translation system that can be installed on mobile devices. One speaks into the device and then the device translates and converts the spoken words into the targeted language.
Self-driving vehicles, facial recognition systems, robots as guides, immersive viewing technologies, and instant language translation have been around in the last five or so years. These technologies used at the Tokyo Olympic games are a mini-show to the world what advanced technologies are yet to come.
If you enjoyed this article and want to receive more valuable industry content like this, click here to sign up for our digital newsletters!