Sometimes it takes a little nudge to push your business to the next level. Even when you're a well-established company it is of main importance to continuously evolve your business model. BIS, a leading AV and IT integration firm serving the Benelux from its headquarters in The Netherlands, got extra innovation power when it was acquired in June 2017 by France-based Econocom, an organization that specializes in digital transformation and As-a-Service concepts.
BIS already started with AV-as-a-Service offerings in 2016, but it was after joining forces with Econocom that BIS was able to intensify and extend its AV-as-a-Service offerings. In the relatively short amount of time since, BIS reports that it has booked a number of AV-as-a-service successes.
Many AV & IT integration firms are struggling with the transition from traditional product- and project-based revenue models to as-a-service or managed services models with recurring revenue. So we talked to BIS CEO Jean Pierre Overbeek and Econocom NL CEO Yann Toutant about BIS' transition and the impact that they have seen on cash flow as well as customer relationships.
Can you explain what BIS's business was like before it began pursuing AV-as-a-service and what you saw in your market that made you realize that AV-as-a-service is an opportunity for your company?
Overbeek: BIS is a very well-known audio-visual system integrator and IT integration firm in our region in the last decades.
With 240 employees and approximately 5000 installations per year we are considered to be one of the leading AV companies in the Benelux.
Innovation always has been, and continues to be, a major driver in the successful evolution of BIS. One of our strategic objectives calls for us to achieve a specific percentage of annual turnover through innovation.
Just recently, we started to offer AV-as-a-service in order to react more effectively to market needs and stimulate the creation of new market demand.
This initiative was triggered by the emerging generations' clear preference for using products rather than owning them. Spotify and Netflix are perfect examples of this trend in the B2C market. We have now brought this concept to the B2B market.
Looking back in time, within BIS we've experienced every AV development since 1983, when the company was founded. Our ability to adapt and lead to a changing market and emerging needs, have allowed us to grow and flourish.
We were there for the introduction of data and video projectors, the first plasma and LCD flat panel displays, the list goes on and on. Up until 2002 we focused solely on selling individual products, after which, in subsequent years, we added services like installation work and maintenance to our offering.
A few years down the road we changed our strategic course and added modular service programmes (SLA's) alongside our hardware solutions. We also invested effort and resources in IT integration aspects of our audio-visual solutions. This positioned BIS as an AV and IT System Integrator.
We continued our strategic innovation and in the years to come, we for example recruited interior designers.
We strongly believe optimal use of AV and IT integration requires an environment where design, furniture and fittings fully match the application and the user's intended purpose. Our in-house interior designers give us the ability to showcase this.
Our history of constant innovation is reflected by the further addition of digital signage, video conference, collaboration, room management, queuing systems, smart offices, indoor and outdoor LED to our range. Obviously our service programme has also evolved to keep pace with all these developments.
We developed innovative IT services in the area of patch management, security, monitoring and reporting graphical content and widgets for digital signage.
Can you explain the relationship between Econocom and BIS and how it allowed you to create AV-as-a-service offerings?
Toutant: In June 2017 Econocom acquired full ownership of BIS. Econocom designs, finances and oversees companies' digital transformation.
With over 10,000 employees in 19 countries and revenue in excess of €2,5 billion [2016], Econocom has all the requisite abilities to ensure the successful implementation of large-scale digital projects. They are unique in offering a combination of both financial and technical innovation for businesses.
This has led to the development of As-a-Service business offerings, based on a monthly fee that go far beyond the scope of traditional leasing. By taking over BIS, Econocom fulfilled two objectives: acquiring 'execution and servicing power' and adding Audiovisual & IT solutions to their As-a-Service offer.
Exactly that combination of strengths – AV & IT integration skills of BIS together with Econocom's experience in financial and technical innovation results in a game changer in the market.
One obstacle to selling AV-as-a-service is simply understanding what to sell "as a service." Can you explain what your AV-as-a-service offerings are?
Overbeek: Our AV-as-a-service concept is much more than a dressed-up lease agreement (which is what many AV and IT system integrators offer).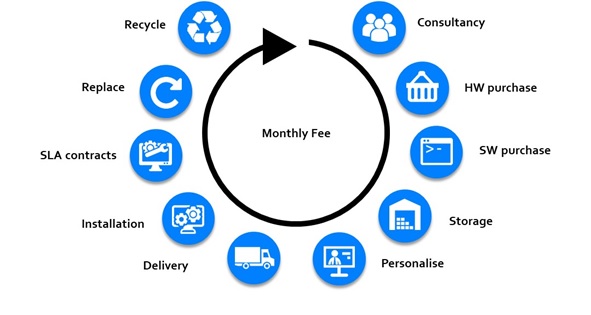 In theory, any customer can purchase any type of order from BIS in an as-a-Service form – ranging from a functionally furnished classroom with an LCD touch screen to a fully equipped control room with video walls, a discussion system, video conferencing, collaboration and streaming technology.
Obviously, our ready-to-use concepts can also be purchased in as-a-service form. For example, a digital reception, a huddle solution, or the Microsoft Surface Hub.
One of the primary features of our AV-as-a-service offerings is that BIS is responsible (and provides up-front finance) for the complete life-cycle from initial specification and procurement to replacement and recycling, and also handles all the administration on behalf of the customer.
Our goal is to offer customers a magical experience by managing the pre-sales phase, actual realisation, the after-sales phase and administrative processing of our solutions as a single "flawless operation."
Is there a particular customer market, a particular type of organization or a particular type of contact within your customers' organizations (such as an IT director) that is more likely to be interesting in AV-as-a-service?
Toutant: In our view, the AV-as-a-service offer is of interest to all types of organization in all sectors. Even so, we know from experience that large corporations, governmental organizations and the healthcare, education and hospitality sectors are the main parties that currently show interest.
As for the decision-makers who are interested in AV-as-a-service within these organizations: we mainly talk to senior management — the CIO, CTO, CFO — and/or IT and facility directors.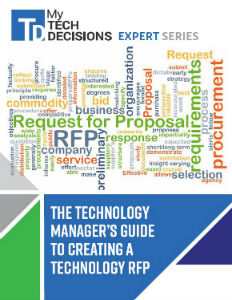 This new guide will show you how to structure your RFP so you get the maximum return on investment for your budget.
The Technology Manager's Guide to Creating a Technology RFP.
Can you describe the impact AV-as-a-service has had on your company's cash flow and revenues?
Overbeek: Each initiative that we take focuses on offering our customers a better service and matching their needs, business objectives and operating processes more closely.
Because the content of our AV-as-a-service offer satisfies a defined and increasingly strong need experienced by a growing group of organizations, we are capable of binding more organizations to our company and also expanding the number and type of solutions offered to our customers.
"Our relationship with our customers has changed and improved. AV-as-a-service requires a much stronger emphasis on consultancy, interaction and evaluation than one-off projects. In addition, a much closer relationship arises in the area of all kinds of services," says Overbeek
This will obviously have a positive effect on our turnover. Furthermore, the growing number of recurrent monthly payments gives us financial stability and budgetary certainty, and contributes to generating a guaranteed positive cash flow.
The great thing is that our customers also experience financial benefits.
They do not have to invest a substantial amount up front and can keep cash available for their core business.
In addition, they benefit from budgetary certainty because they know exactly how much they will spend each month.
We are even able to provide a solution in which we buy the existing AV products and solutions – even if provided by a third party – and design a multiyear asset management solution in which we standardize and upgrade the complete fleet of AV solutions.
In that way we are able to provide the user a far better and up-to-date AV experience which is the same in all of their meeting facilities. The customer benefits from standardized solutions and has confidence that they are able to trust the technology for 100 percent.
Can you describe whether or not AV-as-a-service has improved your relationships with your customers, simply by providing continual service and having more interaction?
Overbeek: Asking the question is an answer in itself. Yes! Our relationship with our customers has changed and improved. AV-as-a-service requires a much stronger emphasis on consultancy, interaction and evaluation than one-off projects.
In addition, a much closer relationship arises in the area of all kinds of services. The recurrent nature of the service provision leads to a personal relationship and a closer bond.
Can you describe any challenges related to shifting your sales and service operations to be able to effectively deliver AV-as-a-service to customers?
Toutant: There are many examples of this because developing a good AV-as-a-service offer, bringing it to market and putting it into operation is anything but simple.
This process demands a great deal of the people and processes, and the administrative organization.
For example, training consultants, account managers, service employees and marketing department staff to expand their expertise. Or setting up a smart administration system for registering all the [contractual] agreements and handling service calls. at customer level. Not to mention optimising the administrative process, both internally and in respect of customers.
In a nutshell, you should only venture down this path if you enjoy change and significant challenges. The risk of failure is far too high otherwise.
What are your thoughts on the future of AV-as-a-service and the opportunities for AV and IT iintegration firms?
Overbeek: We see a bright future for AV-as-a-service and for ourselves as a provider. We are convinced that this development is still in its infancy and will continue to grow.
The AV industry itself seems to be traditional in its thinking and acting towards route-to-market changes and new concepts. Just take a look at what all companies are doing with regards to real estate, company cars, IT integration, multi-functionals, software, etc.
All of these 'assets' are in many cases leased or rented to be able to remain flexible and scalable. Why should AV and IT integration be any different? Especially due to the fact that our solutions need an update within max. three years and an upgrade in max. five years. There is simply no good reason to "own" AV solutions.
Mark our words, within two years AV as a Service is a requirement from a huge part of our customers.
This article was originally posted on TD sister site Commercial Integrator.
If you enjoyed this article and want to receive more valuable industry content like this, click here to sign up for our digital newsletters!