The pandemic has sparked great interest in cloud contracts, given their flexibility and overall reliability.
UCaaS had gone mainstream even before the coronavirus pandemic, which in turn is accelerating this momentum, so that most enterprises are now considering UCaaS and CCaaS (contact center as a service) cloud options.
Enterprises absolutely need a solid contract that has strong enough "teeth" to fulfill any need your company may have and provide enough leverage for "outs" if a service does not hold up to the contract.
A session at Enterprise Connect Virtual 2020 was led by a consultant who has facilitated cloud contracts for clients from 800 – 5,000+ endpoints: Steve Leaden, President of Leaden Associates.
Here are some notes he recommends enterprises take seriously to form solid cloud contracts for UCaaS.
COVID-19 overall winners & losers
Winner: UCC & cloud contact center
Loser: legacy telephony & on-premise contact center solutions
There are issues with licensing, support, etc. that didn't happen for those who moved to cloud, Leaden says. The UCC & contact center adoption model accelerated by 24-36 months — meaning organizations that once avoided WFH now are embracing it as part of standard business practices.
Key UCaaS advantages
Leaden lists the following as the key cloud advantages: no upgrade requirements, full UC suite, MNEC, contact center, security/encryption, licensing models, faster ramp-up time, UC mobility, no end-of-life, lower CAPEX, removal of telecom headache, quicker adaptation to new tech, complexities of UC now managed by vendor.
Hidden advantages:
single dial plan, voicemail transcription
Cautions:
Leaden cautions that costs vary across vendors, there are still QoS concerns, 3-5 year agreements widely, it is very difficult to transition between vendors if dissatisfied, market specialization require you to consider different vertical market requirements, geography, size, etc., more money spent over contract period, varying response times, and that users must own or rent endpoints.
Related: Cloud Computing and Security: The Risks You Need to Know
Why is a really good cloud contract critical?
The "eggs in one basket" theme makes cloud contracts risky, Leaden says. Contract outs in the event of non-performance are difficult to define and can lead to bad blood. You and vendor must clearly agree on everything.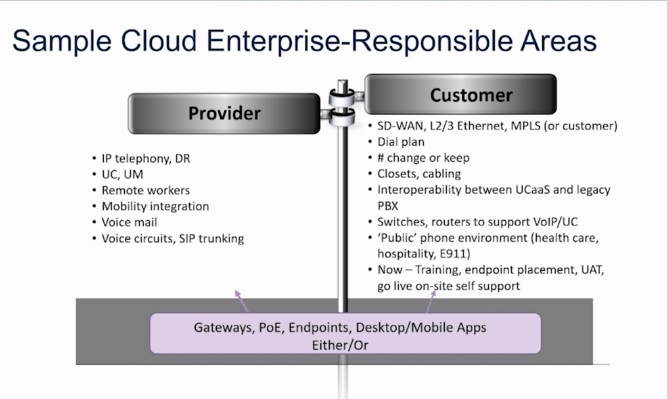 What a cloud contract covers:
Cloud telephony
Cloud contact centers
Unified Comms
Training & admin
SD-WAN, layer 2/3, MPLS network option
What a cloud contract does NOT cover:
IDF closet electrical, space, HVAC, UPSs
data switches, routers
IP addressing schemes
cabling
Failover cable modems
Network assessments
internal or external resources supporting projects
communication with end user customers
Two major components: 
Statement of work: team implementation, features, functions, needs gathering, programming, network assessments, listing of all features
Contract elements: pricing, schedule, term, minimum committments, private or public cloud model, maintenance windows, tools uses to track SLAs, member ownership possibility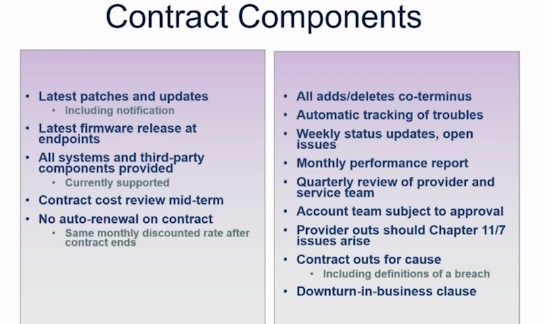 Sample breaches of cloud contracts 
Leaden provided the following examples of contract breaches. Save this image – it might come in handy as you navigate your own UCaaS experience!