ViewSonic announced new additions to the ELITE gaming portfolio. The ViewSonic ELITE gaming line-up now includes the ELITE XG27 gaming monitor, XG05 gaming monitor, ELITE Ally monitor control peripheral, and two new software applications.
The new gaming products and software provide flexibility in a number of situations. But tech decision makers might appreciate the fast response times for situations such as image processing, gaming stations on college campuses, and high-performance hospital displays.
ELITE XG270QG Gaming Monitor
The 27-inch ELITE XG270QG is an IPS Nano Color G-SYNC gaming monitor capable of achieving a true 1ms (GtG) response time, the company says.
With its 144Hz (165Hz OC) refresh rate and NVIDIA G-SYNC technology, this monitor ensures uninterrupted performance for fast scenarios.
The XG270QG monitor also includes ELITE design enhancements; a series of features created to improve organization and elevate a gamer's setup. These enhancements include a built-in mouse bungee, headphone hook, ELITE RGB ambient lighting, and an ultra-thin brushed aluminum base.
ELITE XG270 Gaming Monitor – eSports applicable 
The 27-inch ELITE XG270 is a 240Hz IPS panel that delivers speed and clarity for eSports enthusiasts. The IPS display's ultra-fast 1ms (GTG) response time and 240Hz refresh rate enables smooth screen transitions while offering accurate color reproduction and wide viewing angles.
Related: Video Games are Getting People Interested in Real-World Jobs
The panel is equipped with a 1920×1080 (Full HD) resolution and 99% sRGB color coverage to provide stunning images during gameplay, says the company. The XG270 also supports AMD Radeon FreeSync technology to help minimize screen artifacts and tearing.
ELITE RGB & OSD Software
The first app to launch for ELITE gaming monitors, the ELITE RGB Controller, will allow easier access and control over a compatible monitor's RGB accent backlighting.
Users can choose from different lighting modes or customize their RGB colors from a collection of more than 16.8 million colors for a personalized RGB gaming atmosphere. An OSD software application, the ELITE Display Controller is capable of controlling both monitor display options and RGB ambient lighting modes.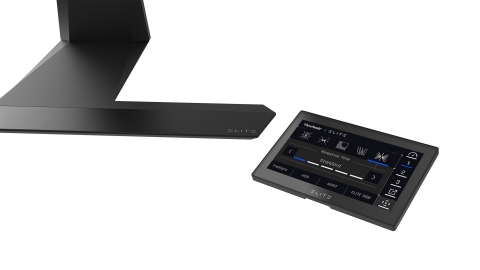 With the click of a mouse, users can customize display modes and change settings without physically interacting with the monitor's OSD.
ELITE Ally
The ELITE Ally peripheral is a USB-connected touch-screen device that allows users to quickly access on-screen display settings, such as game modes, adaptive sync, HDR, brightness, contrast, RGB lighting and more.
Users can fine-tune their experience without touching the monitor or opening their ELITE display controller software.
Currently, the ELITE Ally peripheral is only compatible with select ViewSonic ELITE gaming monitors.