An interactive whiteboard gives you the ability to use a display as a touchscreen device for everything from whiteboarding to collaboration. An interactive whiteboard is a tool that allows multiple people to engage in a collaborative experience using a touchscreen to take notes, annotate content, and more.
Many interactive whiteboards offer on-board programs that help to facilitate sharing and collaboration. They do things that an analog whiteboard simply isn't capable of. In the past, employees would write notes on analog whiteboards and would have to resort to taking photos of the board or slapping "Do Not Touch" signs on it to save their work. Interactive whiteboards remove that hassle – they take the analog notes we're used to and automatically bring them into the digital world. They allow for things to be written down on the surface, shared, archived, and saved as digital content.
Some interactive whiteboard solutions even allow for the integration of mobile devices like laptops, tablets, and smartphones. These devices can be connected directly or wirelessly, and you can easily annotate content that will be mirrored on connected devices. It works the other way around as well – draw on the device and see it mirrored on the display in real time. This allows for another layer of collaboration. Sharing content directly from devices easily allows meetings to progress more fluidly and reduces down time. Then you just send the annotated content back to the devices for later use.
Most interactive whiteboards feature internal processing and programs that allow you to draw over documents, images, and other content live during meetings. Most allow you to easily archive and share documents that have been uploaded or annotated throughout the meeting. These additional layers of interactivity can greatly enhance meetings.
Learn how to implement projection technology and draft an effective RFP. Download this free report for all the details.
The Technology Manager's Guide: Tips for Buying Projector Technology
When making up documents, being able to view and annotate on a large screen that everyone in the room can see is a useful ability. The return on investment for an interactive whiteboard comes from bolstering meeting spaces and facilitating collaboration. An interactive whiteboard allows for effective, collaborative efforts between the entire team.
When the meeting comes to an end, the surface of the interactive whiteboard can be saved as a jpg, pdf, or other document or content form to be emailed and shared with the entire staff. Archiving and sharing what was put up on the display – whether it be a marked up document or simply someone writing out ideas – takes only a few seconds. The electronic file is created and easily shared and duplicated. You can send this content to remote employees, or those that weren't in the office for the meeting for whatever reason.
Sharing ideas through an interactive whiteboard is a way that companies can take an idea to the next level. Companies find a real benefit in the ability to easily share ideas using interactive whiteboards. Not to mention, being able to share and convey ideas in such a short amount of time increases the speed that new initiatives can begin with everyone on board. Saving time saves companies money. Interactive whiteboards are also heavily utilized in the education space to enhance the learning process.
Writing an Interactive Whiteboard RFP
Since there are several types of interactive display board offerings on the market, it's important that your needs and wants be shared in the RFP.
There are two major types of interactive display whiteboards. First is a stand-alone display. This is a display screen that can be interacted with directly. The images show on the screen the same as they would on a computer display or digital signage screen. The difference being that touch is enabled. The other major type of interactive whiteboard uses an interactive projector – most commonly a short-throw projector that will be installed just above the display surface.
In some environments an extremely large display surface is required. In this case an interactive display using a projector-based system would be the best choice.  In some cases real estate constraints will mean that a smaller area is allowed for the interactive display. In either case, share it in the RFP. Give measurements for the physical space in which you'll be installing the interactive whiteboard so that the integrator respondents can determine the best fit for your needs. In addition, mounting can become difficult in certain areas with physical limitations.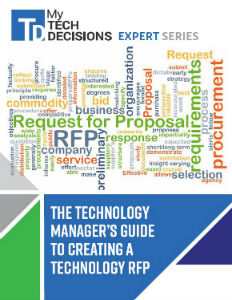 This new guide will show you how to structure your RFP so you get the maximum return on investment for your budget.
The Technology Manager's Guide to Creating a Technology RFP.
Share the ambient light situation of the space as well. In areas with high ambient lighting, a projector-based system may appear washed out and hard to see. In this case an interactive display is likely the only option you'll want to utilize.
Budget can also play a major role in choosing your interactive whiteboard. Most interactive displays are more expensive than their projector-based counterparts. If budget is a concern then make that clear – give the maximum you are willing to spend in order to determine what type of system you'll be able to afford.
Include any specific features that are important to you. If a solution without certain features is a non-starter then the RFP should say so. That way you're not being pitched solutions that don't fit your need.
Implementing Interactive Whiteboards
Most interactive whiteboard technology can be installed and implemented into a room in a reasonably short period of time. A full integrated interactive display that is not projector based can be installed in a matter of hours. Since configuration is quite simple these days, the organization or customer can have their new display up and running and ready for use the same day. Many solutions are stand-alone systems that won't require major programming or wiring. This means faster deployment of the technology.
Projector-based interactive whiteboards may require more time. The calibration process can be more intensive than mounting a display. The integrator will need to ensure that the image fits and that the touch capabilities are working as they should. Even so, in many cases these solutions can be installed in a day or so.
One of the most prevalent issues with these systems comes with ambient light in the room. It's not a problem that is easily solved – it's not a box to check or a programming error that can be fixed. This is why it's so crucial to investigate these issues prior to deploying the solution.
It is important that the wall where the solution will be mounted has sufficient room. Proper mounting and structural support in the wall for heavier displays is important. You want it at an optimal location from a viewing standpoint – if everyone in the room can't easily see the display then the solution loses its impact. Pick a location that is ideal for participants.
From a post-work perspective, most solutions are user-friendly and require little support. Factor in several hours for the installer to provide training once the interactive whiteboard is installed. Follow up training may be required, especially as new employees come into the organization. In this case, a yearly training contract may be a good way to ensure that new employees receive training. These solutions are designed to be easy to use, however, and training will likely be minimal.
Every solution will require a different level of maintenance. Projector-based solutions will require bulbs to be changed out and filters to be replaced or cleaned. They also may need recalibration from time to time. Display solutions won't have this requirement. All of this maintenance can be handled on an as-needed basis.
If you enjoyed this article and want to receive more valuable industry content like this, click here to sign up for our digital newsletters!