The days of top-down communications – the company newsletter, an intranet controlled by HQ, the all-employee emails – are dwindling. As individuals control more of the company conversation and collaborate through tools like social media, SharePoint and Google Docs, they expect to contribute to and interact with content that's local and relevant to them on a daily basis. Welcome to the era of location-based communications.
Tying in communications to a particular locale has been going on for years. An early version of this is the old Turn-O-Matic system. A person walks up to a machine at the post office, chooses which service they need by pressing a button, then gets a paper ticket with a number on it. They watch an electronic board in the waiting area and go to the window the sign tells them to when their number comes up. That's a good system, but pretty limited in its applications.
With the rise of the internet, marketers could read a computer's IP address and figure out its geographical location. This allowed more targeted messaging (you don't want to send information about a sale at Macy's in New York to a computer user in Seattle). Websites also started collecting information on where people go on the web, and Google, Facebook and other companies use this kind of information to send even more targeted ads to end users.
The widespread use of mobile devices also collects GPS coordinates, allowing for even more targeted communications. Today, people think nothing of calling up a map and taking a bird's eye view of what Mexican restaurants are in the area immediately surrounding them. Extra features like this are even integrated into most car GPS systems – you can find nearby gas stations, rest stops, parks and more wherever you are with just the touch of a button. And people using apps like Foursquare and Yelp will often "check-in" to a place once they are physically there, allowing them and those companies to track their movements and interests.
Digital signs can also make use of location-based communications. One way is to display content that is only relevant to the area right around that specific screen. One obvious application of this is digital wayfinding. People use a touchscreen to sort though directories or event schedules to find out where they need to go, then a map is displayed that shows them the way. That's pretty localized and highly relevant content. But you can make it even more so by sending turn-by-turn directions directly to a person's mobile device, so they get exact directions at each stage of their journey through your facility. Depending on the size of the area, this could be done with GPS data or with proximity beacons mounted at intervals in the facility.
Learn 10 key questions you need to ask yourself when writing a digital signage RFP, choosing digital signage partners or implementing digital signage technology. Download our FREE guide now.
Tips for Buying Digital Signage
Another localized signage application is menu boards: placed at or near a food court, café, cafeteria or commissary, the menu board shows all the food and drink options available along with prices. It can also show nutritional and allergy information, and highlight items on sale or menu combo deals. Signs can also be tied into a queuing and ordering system, allowing someone to make their choices and place their order right there at the screen. Then they head to a seat and relax until their order is ready. No long queues to stand in, and no disappointments when they've finally decided on the chicken salad only to find that they are sold out when they get to the counter – the menu board is also tied into the inventory system and updates information in real-time. Some restaurants, notably McDonald's and Wendy's, are even installing self-service kiosks that streamline the customer experience and free up staff to offer more personalized service.
But location-based signage isn't limited to special applications. It's also applicable for everyday communications across your organization. The trick for successful digital signage is the same as for all communication mediums – you have to provide attractive content that's relevant and engaging to the people you're talking to.
A web-based digital signage deployment can cover a vast geographical area, and the main corporate hub can send messages to branches and subsidiaries anywhere in the world. But how much of that information is actually relevant to those people? You have to balance top-down announcements with local communications.
Employees in New Orleans care more about what's happening in their office than what's going on at headquarters in Phoenix. Conversely, people at HQ probably don't need to know that Friday is casual dress day at their New Orleans office. Strict control at the top can be a common problem with large-scale deployments – everything is sent out to everyone, and only a small portion of the content is actually worthwhile to the audience, which greatly reduces the effectiveness of the digital signage. Instead, it makes sense for the local branch where screens are located to drive most of the content on those signs.
The same is true for any kind of organization. People in a university's sciences department don't really need to see messages about things going on in the humanities department, and people going to see the football game want to see player profiles, team standings and stats instead of what's going on in the chess club this week. People going to the local chamber of commerce are going to be interested in local businesses and maybe local planning initiatives, not training opportunities in the sheriff's department.
One of the things that makes digital signage such a powerful communications tool is the ability to target specific locations, screens, or even zones within screens with specific content tailored to various audiences. So, if you need to combine content from different sources, it's easy to do so. It's as easy as creating unique playlists for different content and audiences. You can blend corporate and local communications on screens at the same time with separate content zones or use daypart scheduling to alternate full-screen playlists throughout the day.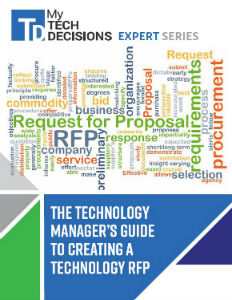 This new guide will show you how to structure your RFP so you get the maximum return on investment for your budget.
The Technology Manager's Guide to Creating a Technology RFP.
You may even have branches in different countries, and while English might be the official company language, displaying a few messages in Gujarati for people in Ahmadabad is sure to be appreciated.
This ability to know exactly where people are and what they're interested in lets you really enhance the audience experience, and also gives your brand more power in the long run. People start to rely on your digital signs for information precisely because it is relevant to them, and they appreciate that. This builds engagement, morale and trust – it shows that someone in the organization has taken the time to curate and create content just for them.
And this is just going to become more prevalent in the near future. In the retail sector, there are already kiosks and digital signs that are incorporating not only GPS information, but voice- and face-recognition software that allows the system to profile the person standing at the screen. If the mounted camera and software notice an adult male, then it can choose messages more likely to appeal to them. If the same set-up sees a family, it can show family-friendly messages and discounts to places like a nearby water park or the zoo.
This same technology will eventually be adopted by all kinds of organizations – businesses, colleges, hospitals, hotels and more. The name of the game in the future is that digital content everywhere – on the internet, on mobile device and on digital signs, will become more personalized.
It's been said that, at its heart, all business is local in nature. Digital signage already allows for a truly localized experience with just a little planning. As communications begin to move from delivering a consumer-like experience to a more personalized one, digital signage is set to help any type and any size of organization engage their audiences, wherever they are.
As the psychologist Rollo May said, "Communication leads to community, that is, to understanding, intimacy and mutual valuing." By weaving your messages into the fabric of the local community, you give your audience extra value, which leads to engagement, which leads to communications success.