A video wall is a display that is created out of an array of multiple individual display elements. While today the term usually refers to a tiled array of either 46-inch or 55-inch ultra-thin-bezel LCD displays, they have often been built out of rear projection cubes or an array of projectors that are either blended or edge-matched on a rear-projection screen. In the future, they will increasingly be built with either direct-view LED or tiled OLED displays
There are many possible goals for installing a video wall, but it usually favors large display size, high resolution, or both. If the goal is simply to have a large display, the content may simply be a single source that is scaled to fill the entire video wall. However, if the goal is extensive resolution, then there is often additional hardware called a video wall controller (also known as a processor) that is required.
A video wall controller takes multiple different input sources and displays them simultaneously on the video wall. The sources can be scaled and arranged very flexibly. While a video wall controller has traditionally been a device with multiple dedicated video inputs (such as VGA, DVI, HDMI, or DisplayPort) the video sources are increasingly streaming in one or more network connections. With a network architecture, the traditional rack-mount of the controller has also been challenged with solutions that have multiple networked devices.
If the intention is to use specific software across the entire video wall taking full advantage of the wall's native resolution, a customized computer system with multiple graphics output cards, or GPUs, may be required. If the wall is large enough and of high enough resolution, multiple computer systems arranged as a cluster may need to be installed. In this case, the end-user should ask the bidding integrators to list their experiences with both cluster-based computing and specialized software utilized to "cluster-enable" the required application.
The Benefits of a Video Wall
The benefits of a video wall may be obvious – there may simply be the need for a very large display in a situation where a single projector simply will not work for some reason. For less self-evident scenarios, the benefits can vary significantly based on the required use cases and workflow.
One very common display use case is in a command and control room or operations center. While covering a wide gamut of uses, they all have at least one common benefit of the video wall: it can show a lot of information at once. The video wall can be large in both physical size and pixel size to accommodate multiple simultaneous sources. A traffic operations center is a great example. They may need to concurrently see a map showing traffic speeds and incidents, various traffic cameras, live feeds from emergency vehicles or snowplows, and weather information.
Another common use case is for group collaboration. Whether in educational or commercial settings, there is an increasing trend away from working as individuals toward working in teams. A video wall can provide a large visual desktop or canvas where content from multiple teammates can be examined. When the content can be viewed side-by-side, teammates can better understand how their content pieces interact. Various options can be compared on the video wall so optimal decision can be made.
Learn how to justify the purchase of a video wall to your boss by clearly understanding how the various uses enhance your team's workflow.
Download this FREE Guide!
Video walls are also useful for creative solutions that support marketing, branding, and retail environments. With proper content, they can be visually stunning and command the attention of your clients. While rectangular arrays can be useful in this environment, the display elements can be assembled in a variety of orientations and configurations to support the designer's vision.
In order to support more novel installations, some manufacturers have developed special LCD displays that are built exactly square or as a narrow, highly elongated rectangle. These different shapes can be combined with traditional HD aspect ratio displays to form shapes and pattern on the wall. Then special processors can reformat the video display correctly accounting for the various display sizes and orientations.
Justifying the Purchase of a Video Wall
The key to justifying a video wall comes back to clearly understanding the use cases and workflows for your teams. The end-user may not write the justification purely in terms of a piece of technology, but instead write about the business needs. Articulate the problems your organization experiences because you don't have the video wall and then identify what those problems cost the enterprise.
For example: It takes too long to get to a decision to release a new product and it costs our company X amount in lost sales because our competitors get to market faster. The video wall will allow the team to look at marketing, sales, and production data at the same time, enabling faster decisions.
Then look at the positive side of the purchase; what benefits will the company receive from the video wall? These may include fringe benefits such as the ability to recruit and retain top talent, or the ability to use the video wall in marketing and social media campaigns.
The exact return on investment for a video wall can vary greatly. It may be purchased with a very common and well understood use case, such as a control room or operations center. On the other hand, the use case may simply be to provide a "wow" factor for a project. In either case, it will be important to understand the pros and cons of alternative technologies as well as potential cost differences. For example, a single projector and screen may cost significantly less, so the end user will need to be clear to understand the benefits of a video wall over the projector solution for the particular application they have mind.
The Installation Process
There are multiple steps to installing a video wall.
First, the selected integrator completes the final detailed engineering. The timing varies with complexity, but typical video wall designs range from a few days to two weeks. The integrator will likely have to coordinate with other trades depending on the technology. A general contractor may need to reinforce the building's wall, or an electrical contractor installs power, conduits, and junction boxes for the AV cabling.
Having the contractors install an in-wall box designed for use with a video wall can simplify cable routing and provide the space needed to mount extension receivers and maintain a clean final video wall installation. Many problems incurred during a video wall installation stem from unexpected facilities issues, so spending the up-front time on engineering and coordination can minimize issues down the road.
Second, the integrator will order the components from the manufacturer; the lead-time for the integrator to receive the hardware may add another 2-3 weeks or more. The actual installation of a typical sized video wall, say 2×2 up to 5×5, will usually take 2-3 days.
The installation of a video wall starts by the integrator carefully measuring where the displays will mount on the wall and installing the display mounts. While most mounts have some built-in adjustability, installing the mounts with precision is critical to ensuring the display elements of your display wall will ultimately create a flush and tight array.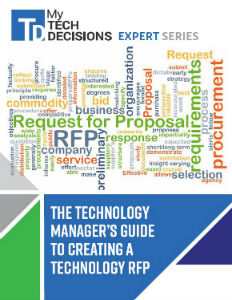 This new guide will show you how to structure your RFP so you get the maximum return on investment for your budget.
The Technology Manager's Guide to Creating a Technology RFP.
Cables will be routed to the wall area and then the display elements will be carefully installed. Often the integrator will first connect, install, and align the bottom row, taking extra care to make sure it is plumb, level, and flush; the remaining rows will then build on the baseline created by the first row.
After the installation, the wall will be powered on and configured. During configuration, the installation team will take proper time and care to color balance, which often involves the use of external color meters to provide objective and repeatable results. If a control system will be used with the video wall, it will be programmed with the desired user interface functions. Finally, the wall will be tested for overall proper functionality.
Once installed and tested, the installation team will provide some training on the new wall including how to perform the basic functions and common troubleshooting tips. Because the clean look of the wall depends on all display elements being identical, the end user might choose to purchase a number of extra display elements as spare parts – this will ensure that the wall can be maintained after the specific model number has been discontinued by the manufacturer.
Consider an ongoing technical services contract to provide for regularly scheduled preventative maintenance visits. The contract may also provide for repair visits and extended hardware warranties for potential hardware failures.
Information provided by Mike Pedersen of Mechdyne.