The Concrete Cowboy bar and restaurant recently opened its latest location in Frisco, Texas at The Star, a 91-acre campus that hosts the world headquarters of the Dallas Cowboys, complemented by a state-of-the-art indoor football stadium, hotel, medical center, entertainment district lined with restaurants and shops, and more.
The Tech Decision
The Star is a popular destination for football fans across the world and hub for nightlife in Frisco. So, while other Concrete Cowboy bars in Texas and Chicago feature displays to entertain patrons, owner Rico Taylor wanted something on a larger scale for this prestigious location that would deliver a serious "wow factor." To get it, he called on his friends at integration firm XYZ Innovative Design, co-owned by Xavier VanHaasen and Abraxas Baker.
The Solution
To dazzle Concrete Cowboy Frisco's guests, XYZ Innovative Design installed seven video walls — for a total of 53 ultra-slim-bezel LED displays — in addition to a Vivitek high-performance, large-venue laser projector. Three 3×3 video walls can each function as one big display, nine individual displays, or five individual displays with one 2×2 wall. A 24-display, four-sided video wall is centered over the main bar in a rectangular pattern, with a 3×3 configuration on each long side and a three-display column at each end.
Sources for the video walls include nine DirectTV receivers, an Apple TV, music videos and clips from a video DJ, and a Vivitek NovoDS digital signage solution. When displaying digital signage, the rectangular bar wall can be used in a wraparound 8×3 configuration, with text and video scrolling around all the displays in unison.
With so many displays, sources, and possible configurations, a primary challenge of the installation was creating a video distribution and switching system that could send source content to any display and would be easy enough for numerous employees to use with minimal training.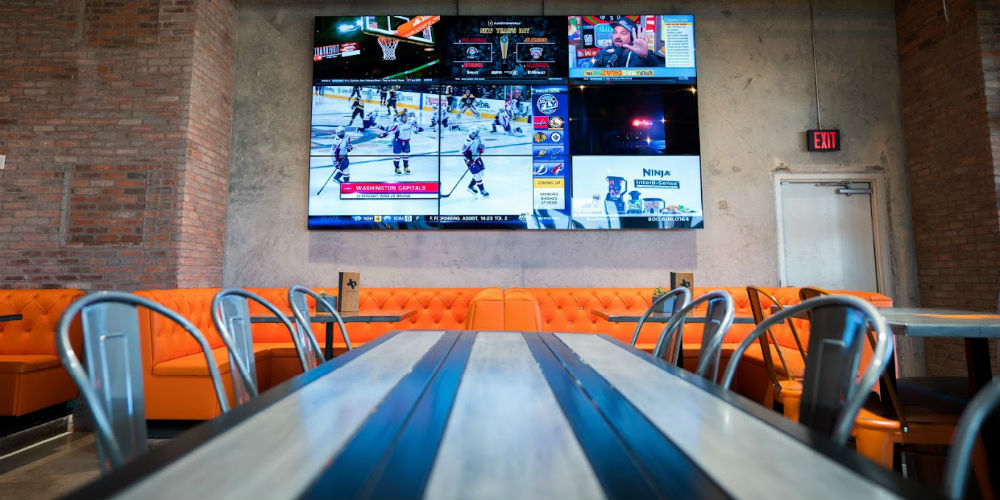 "For IP networking in complex systems such as this, Luxul is our solution of choice because it integrates so seamlessly with other manufacturers," says Xavier VanHaasen, co-owner of XYZ Innovative Design. "In Concrete Cowboy's video matrix, we paired Luxul with Just Add Power's distribution solutions. Together, they allow us to get away from a traditional matrix and make installation extremely simple, almost plug and play."
For video distribution, XYZ Innovative Design installed Just Add Power's (J+P) 3G+ Ultra HD over IP platform transmitters and receivers. Each display, and the projector, is equipped with a small J+P receiver on the back, while sources are connected to J+P transmitters. Designed with a modular approach to video distribution, the platform allows for the easy addition of displays, sources, and even emerging formats in the future as Concrete Cowboy's needs change. XYZ Innovative Design would simply need to add another receiver for each additional screen and a transmitter for each additional video source.
The J+P transmitters and receivers are connected to a Luxul XMS-7048P 52-port Gigabit managed switch, which includes 48 PoE+ ports, a Gigabit RJ-45 port, and 10 Gigabit SFP+ stacking ports for seamless scalability of up to 16 switches (800 ports). The switch's PoE+ ports simplified installation, allowing XYZ Innovative Design to use standard Ethernet cables to deliver both power and high-speed data. Concrete Cowboy employees control the switch and manage displays and sources using an iPad running RTI's RTiPanel app with a custom interface created by XYZ Innovative Design. They can change sources, the channel, video wall layouts, and more, all with one app.
The Impact
For network routing XYZ Innovative Design utilized Luxul's Epic 4 (ABR-4500) Gigabit router, which allows for up to 512 concurrent device routing entries, in tandem with a Luxul AGS-1024 24-port Gigabit switch. For Wi-Fi coverage, the bar is equipped with two XAP-1510 wireless access points, which combine high output power and leading-edge 802.11ac 3×3 dual-band technology with beamforming to deliver data rates up to 1900 Mbps.
With more than one wireless access point, Luxul's XWC-1000 wireless controller with Roam Assist technology was incorporated to provide easy setup and centralized deployment. The AV Series AMS-1208P 12-port, 8 PoE+ Gigabit managed switch allowed XYZ Innovative Design to route a separate VLAN for guest Wi-Fi on a different IP address. Finally, Luxul's XRM-DTZ1 Domotz Pro remote management system was deployed, allowing XYZ Innovative Design to easily manage and support Concrete Cowboy's system and connected devices from anywhere, without having to roll a truck.
"This is a very complex installation and Luxul's PoE switches, with the Just Add Power transmitters and receivers, make everything very simple," says VanHaasen.
If you enjoyed this article and want to receive more valuable industry content like this, click here to sign up for our digital newsletters!