Augmented Reality has made its way into the mainstream lexicon, to date, mostly via mobile gaming. I'm sure most remember the AR game Pokémon Go that captivated the entire nation not long ago. Thought the hysteria has died down, the game is still going strong, and others have joined the AR fray to offer similar experiences.
If unfamiliar, augmented reality does precisely what the name suggests – it adds elements to what you see and hear around you. This augmentation typically happens through the interface of a mobile phone. Point your phone's camera at something, and on the screen you'll see what's in front of you along with digitally imposed content that's added via the AR software. So, you might point at a person and see their name floating above their heads. You might point at a building and see information about its size and height. Or, you might interact with a digital signage screen.
I recently interviewed Paul Alan Silverrstieen, the CEO and President of a company called Imagination Park. His company created augmented reality experiences for enterprise platforms and commercial environments. Right now the company mainly deals in sports venues and retail environments, but in our discussion we talked about the potential for augmented reality in digital signage applications. You can listen to the full interview here, but I wanted to highlight some of the potential for AR as well.
Augmented Reality and Digital Signage
First, let's discuss the role of digital signage. In my experience, there are three main goals when implementing a digital signage solution:
Advertisement – likely the most common application, digital signage is often used to advertise a product or service. Think of the digital signage boards you see when walking through a mall. These deployments are aimed at getting a viewer to purchase something.
Attraction – similar to advertisement, but in this case the goal is to get the viewer to go somewhere or see something. Drive through Connecticut and see all of the digital billboards for casinos, strip clubs, Broadway shows, and more. That's the attraction element of digital signage.
Knowledge – these digital signage deployments aim to get the viewer to learn something. You'll find these types of deployments in corporate offices and higher education campuses, telling viewers about upcoming events, facts about the company or school, and more.
An organization can focus on one or all of these goal when deploying digital signage, but I would argue that any digital signage deployment aims to accomplish at least one of the three. Augmented reality offers the opportunity to further that mission by providing more details.
Let's look at some examples from different environments.
Augmented Reality in Retail Digital Signage
Your company manufactures jewelry and you want to get more eyeballs on the product. You decide to deploy a digital signage system in the center of a number of malls across America. The digital signage runs promotional images of your jewelry with the URL to your ecommerce website underneath. At this point, a viewer would need to take out their phone and visit your website to learn more.
Now let's implement augmented reality into the system.
First, the digital signage system recognizes that a mobile device nearby has downloaded the appropriate app to view the AR. So it sends a notification to the user that there is digital signage nearby to interact with. The user brings out their phone and points it at the digital signage, and a number of things occur depending on what services you signed up for. Here's what's happening on the viewer's phone:
The URL pops out of the digital signage screen and wiggles, with text above it that says "Click Here to Learn More!" The viewer can click on the link and be sent directly to your website. Above the screen there is a box with a promotional video about how the jewelry is made. The user can watch it by clicking. If the user swipes right on the screen, new images with other pieces of jewelry appear. After ten seconds of interaction, a pop-up ad appears prompting the user to sign up for your monthly newsletter. After thirty seconds of interaction another screen pops up prompting the viewer to purchase jewelry right now. Not ready to purchase? That's alright, a coupon appears for five percent off their first purchase, and the user can send it straight to their email. All of this can be done through the application.
In addition, the system is collecting data on everything that happens. How many people viewed the screen through the app? How long did they watch on average? How often did they click on links? Which links did they click? How many newsletter subscriptions were made through the app? How many purchases? All of this is collected and analyzed to give you a better idea of how the AR is working with your digital signage.
Imagine the potential to not only catch a viewer's eye, but actually interact with them as they simply walk through the mall. That's the potential of AR with digital signage. Let's look at some more examples.
Augmented Reality in Corporate Environments
Perhaps yours isn't a retail company. You still have customers and employees. These customers might even visit your office for sales pitches. As they are in the lobby, they see the video wall you installed, with sprawling messages about the company. Add in AR and now the customer can learn even more. They can visit your website, watch videos about your endeavors, learn about your C-Suite executives, and more. By the time you're pitching them on your service they're already familiar with much of what you do.
What about employees? In corporate environments digital signage is used to keep employees engaged. Teaching them of new products, informing them of events and initiatives, and even prompting emergency notification messages in some cases. Think of how AR can help.
Let's say there's a new product launch and you want the employees excited and knowledgeable. The digital signage tells them to take out their phone and take a test about the new product and be eligible to win a prize. The employees simply hold their phones up to the screen in the breakroom and take a multiple-choice test about the new product. After every question there is a short video giving more information. At the end of the test their score is sent to your analytics platform, and they see a leaderboard right on the phone.
Is there an upcoming event you want to make sure people will attend? Let them sign up straight from the AR app when interacting with the digital signage. They can also click a button that will add the event directly to their corporate calendar.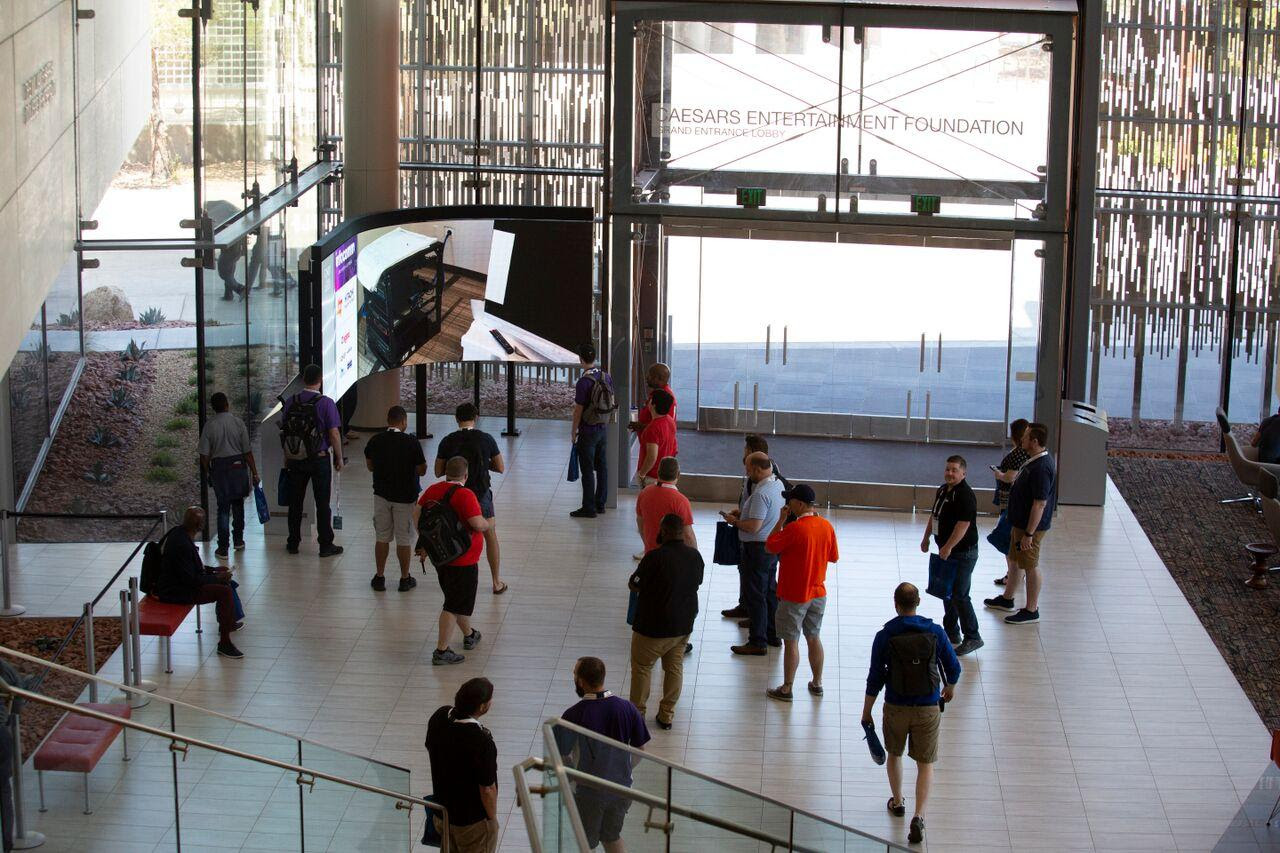 Emergency situation? The digital signage could prompt them to take out their apps, and the AR could show actual arrows on the floor of the building that show them which way to evacuate. Because, while AR has a ton of potential with digital signage, it's already being used in real world wayfinding applications. Speaking of, let's look at Higher Education environments.
Augmented Reality in Higher Education
A higher education campus is sort of an amalgam of many of what we've discussed so far in this article. Its aim is to advertise its own education, attract people to attend the school, and then teach the students that go there.
First off, AR can be used for wayfinding on higher education campuses. I'm sure many of us have attended a campus tour in the past. AR can be the virtual tour guide, prompting viewers to travel to certain areas and then offering more information through videos and articles about the particular area. What about with digital signage?
Digital signage offers an opportunity to interact with people that aren't on those tours. When visitors are on campus, a digital signage screen can give them information they didn't know they wanted. At the campus library, for instance, it can give the history of the school and the library. It can point to research that was done by the school, or famous alumni that attended. It can give information about the average GPA and SAT scores of incoming students. All through the interface of the users' phones. Take it a step further to the idea of ecommerce, and it can even be used as a medium to solicit donations from people on campus.
AR in digital signage can also be used for engagement. An upcoming performance or lecture can be advertised, with videos of those coming to speak or perform. Students could sign up straight from the app. Are there new courses available? Advertise them through the app, and allow students to sign up for them. Sporting events, weather advisories, health concerns – all of these can be better communicated through AR interaction.
As the technology matures, you can even envision AR being brought into the classroom to aide presentations.
Ultimately what AR offers through digital signage is exactly what every marketer is looking for – additional interaction. A longer time viewing the message. Data, analytics, and understanding of the viewer. If you're an organization that has already deployed digital signage solutions, I would highly recommend looking into augmenting them with AR.
If you enjoyed this article and want to receive more valuable industry content like this, click here to sign up for our digital newsletters!