AIDA, which stands for Attention (or Awareness), Interest, Desire and Action, has been the default model for marketing for most of the 20th century, and is often attributed to advertising hall of famer E. St. Elmo Lewis.
Like all hierarchical models, AIDA is based on a stimulus-response assumption. In the retail world, the action is that people buy the product. Advertising efforts make them aware of the product's existence, use well-crafted copy and images to get them interested, and then show benefits to make them desire the product. Another way to look at this is that people learn about something, then feel something, and then do something. When it comes to a new smartphone or burger-of-the-month, this seems pretty clear. But how can we apply AIDA to organizational communications?
The first thing to remember is that internal communications is a form advertising. You may not be "selling" anything, but you are trying to get your audience to act in some way. So, the AIDA model still applies, and is pretty straightforward when thinking about crafting messaging for your digital signs.
Let's say an organization wants to increase participation in their 401(k) plan. The first thing your message needs to do is attract attention to the screens, so people become aware that the 401(k) plan exists. It then needs to get them interested enough to focus on and mentally digest the message. This is dependent on good design and good timing. Make sure you use your scheduling tools wisely to put the message in front of the right audience at the right time. And, you want to craft the message with arresting visuals and clever copy that points out the benefits of signing up to create desire. The message also needs a clear call to action, with specific details as to how to sign up. This should be something simple, like a short URL or a room number to go to. You want them to take that action ASAP, so make it easy. This traditional AIDA example could all be accomplished through a single well-crafted message shown repeatedly, or a campaign run over time to tell a story. The main thing is to always focus on your viewer – how can you make them learn, feel and then do something?
There's a 21st century variant on the AIDA model, introduced by Indonesian brand scientist Bambang Sukma Wijaya, and now used to measure an advertisement's effectiveness. It's called the AISDALSLove model. This stand for Attention, Interest, Search, Desire, Action, Like/dislike, Share and Love/hate. It's the AIDA model with some modern additions, including some post-purchase elements:

A = Attention, people pay attention to the ad
I = Interest, they become interested and linger
S = Search, they seek more information both internally (what they already know) and externally
D = Desire, the additional information makes then actively want what's being advertised
A = Action, they seek out and/or purchase the product or service
L = Like/dislike, they judge the product or service after experiencing it firsthand
S = Share, they express their feeling of like/dislike to others, either directly or through media
Love = Love/hate, they determine their level of satisfaction with the product or service, and continue to share that feeling with others, creating long-term feelings about the product or service, and sometimes also the brand
We still focus on our four core stages from AIDA, but we now have the two new S and L sections to consider. The updated model can still be directly applied to digital signage messaging, whether for retail or organizational communications. We're simply extending the model to include our modern culture of searching and sharing more publicly. Let's explore these new elements in detail.
Search
We automatically think of the web when we think of search – but in the AISDALSLove model, it pertains to both online and offline searches. Today, people know a lot about many things, because they're constantly being exposed to information. They don't necessarily trust what they read automatically anymore. Instead, they sift through what's presented to them on the web, what they already know, what coworkers tell them in the break room, what peers say at trade shows, etc. Oftentimes, they find a small group of what they consider reliable sources, and trust in that for information and recommendations (we'll talk about this more in the Share section below). They then form an opinion after processing all of the information they've gathered.
Our digital signage example encompasses search in terms of longtail engagement. People that have noticed your 401(k) message have registered it at least subconsciously, if not actively thought about it (attention and interest). So, Aparna is not part of the 401(k) plan, but after being exposed a few times to a message about it, she gives it a little thought in her spare time. Maybe she also asks around, looks up the details of the plan on the intranet, talks to people who are part of it, or who don't want to be part of it, and heard their pros and cons. With the combination of digital signage reminders and her own search efforts, she now wants (desire) to be part of it, so she signs up (action). In the old way of thinking, that was it – mission accomplished. But there is still more to come.
Like/Dislike
Now that our viewer has taken action, that person decides whether they are pleased with their decision or not. Some call this stage Satisfaction, while others refer to it as Confirmation or Reinforcement. If it's something like buying a muffin, hopefully that person will go back to the café and get more muffins in the future. If it's a less repetitive task, like joining a 401(k) plan, they still form feelings of satisfaction or dissatisfaction about it. The terms buyer's remorse and customer satisfaction apply, even outside of a retail setting.
She will also begin to form an opinion about the overall brand – the organization offering the 401(k) or the café that sells the muffins. In the case of her employer, after a few positive experiences with their calls to action on digital signs, she may become more loyal to the organization on a subconscious level. She will feel more engaged, more energized and be more willing to do her best for the company. Of course, if she has several negative experiences, then the opposite may occur.
And she will share her experiences. If her evaluation is strongly positive or negative, she may volunteer her assessment to others; if it's in the middle, she may wait until asked by someone in the Search stage before volunteering her views.
And it's not just the organization or facility that she'll begin framing judgements about, but the digital signage system itself. "Wow, I love these digital signs! Without them, I wouldn't have known about those fantastic muffins, I wouldn't have money being saved for my retirement, I wouldn't have known about the on-site gym and I would have missed out on that really interesting training session last week." The brand here is a broad, mixed entity – it's the digital signage, the facility the signs are in and the organization that provides them and their content.
This is one of the reasons it's essential to track ROI at multiple stages of your digital signage process – playback stats, viewer stats, call to action responses, individual message success, and satisfaction with overall communications, the signage system and the organization as a whole. If you only look at how many messages you put on screens, you're not measuring success for any of the AISDALSLove stages. And if you're not paying attention to what happens after the action stage, it can hurt your brand in the long run.
Share
Despite the world being so interconnected, people still tend to believe that they can get a fairly accurate picture of something through a small sample that provides feedback, or through only a few data points. This is known as the law of small numbers, and is a major feature of how people perceive the world around them through the lens of social media. If Cyrus sees only one positive review of a place/product/service, but three negative reviews in a row, he's likely to assume that it's not very worthwhile, despite only having a very small sample on which to base his assumption. And we tend to give the opinions of those close to us (family, friends) more weight than the opinions of strangers.
People share opinions in today's connected world based on how strongly they like or dislike something. For people who have a positive experience, they might share a picture or post on social media, or leave a review or testimonial online. For those with a negative viewpoint, they may leave a negative review or badmouth the brand to peers.
In a limited environment like a workplace or university, sharing can spread very rapidly. The people involved in the organization are likely getting opinions both online (because they likely follow their workplace and workmates online) and offline through conversations. Just think of how quickly a rumor makes its way from department to department, especially if its negative. Your digital signs can help educate viewers and combat misinformation or negative sharing with messages that attract and interest your audience.
But people also have positive opinions from "Have you tried those muffins in the café? They're amazing!" or "I have to say that having that 401(k) really sets my mind at ease" to "I really love working here – I always know what's going on thanks to that awesome digital signage!" That's why it's essential to track and promote positive experiences on your digital signs.
In fact, your signs are one of your organization's best ways to share with your audience. You can recognize achievements, show progress to goals and advertise the organization's results (or satisfaction) with specific projects and teams. Pull in social feeds, publish good reviews, and let people contribute kudos so everyone can see positive feedback and know that they are a part of a strong and liked brand.
Love/Hate
This is the long-term opinion and relationship that a person can form with a brand. After repeated experiences with a place/product/service, and positive or negative reinforcement from others, a person will become either a cheerleader for the brand, or an adversary.
When opinions are this strong, people will actually go out of their way to disseminate them and try to rally others to their mindset. This is especially true of the feeling of love – they become evangelists for the thing they love, wanting to share it with as many people as possible. It also creates a widespread feedback loop, affecting the behavior of others. For example, if Delilah goes around telling everyone she loves the Marvel Cinematic Universe, then other people will talk about it with her, buy her Captain America t-shirts for her birthday and go with her to movie screenings – she's their Marvel-fan-friend.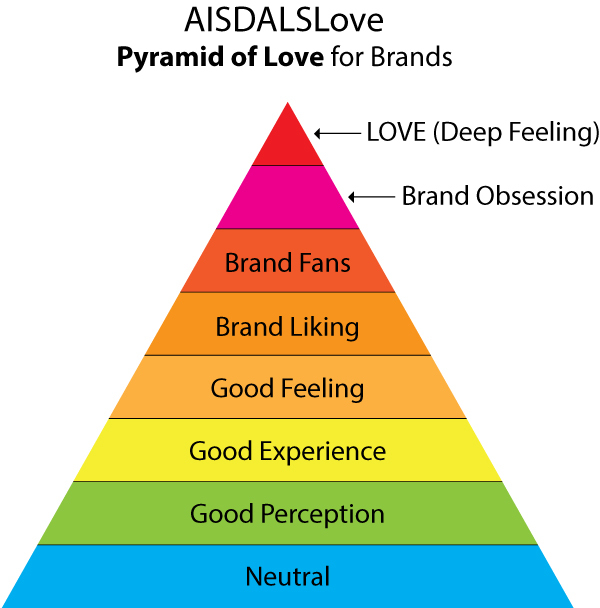 Mr. Wijaya, the creator of the AISDALSLove model, parsed this final element into something he calls the Pyramid of Love. The progression goes through stages, starting at neutral and then moving to good perception, good experience, good feeling, brand liking, brand fan, brand obsession, and finally to a deep and profound feeling of excited satisfaction and belonging. "There is no better way to build such a similarly long-lasting brand loyalty than by continually nurturing brand relationship in order to ensure that brand and consumer remain connected," he said in a 2009 article in ADOI Magazine. Of course, things can go the other way, from neutral to bad perception, experience and feeling; into resentment and finally active hatred. So you always need to be alert and aware of how your communications and brand are being perceived.
Think seriously about rewarding love by creating something for fans and loyalists. This could be tried and true, like a loyalty card at the café (buy 10, get one free), but that's a little sterile. It only really focuses on money, which isn't a great motivator. Instead, why not reward fans with shared experiences, like a food truck visit, fieldtrip to an amusement park or go-cart racing? And be sure to do shout-outs on digital signs. People love to see their contributions on big screens, so you can use your signs to reinforce positive experiences over the long run to maintain a connection with that fan.
Personality is something that people can really get behind. Consider creating longtail campaigns using images, a mascot or cast of characters that represent a clear personality. When it becomes clear that people are engaging with them, gamify some messages with branded swag as the prize. If people seem to just love your Melvin the Janitor messages about how to conserve energy and participate in green initiatives, why not make some shirts or hats, or even screensavers and wallpapers for fans? Others will see these and either already be fans "Oh, those messages are so funny and I just love Melvin", which reinforces your brand among the community even more; or be intrigued ("What is that?"), and the cheerleader who loves Melvin will happily share and prime the newbie to keep an eye out for those message on digital signs.
Wrapping Up
Focusing on AIDA in your visual messaging may increase short-term results, but it's essential in today's interconnected world to also consider long-term engagement and behaviors, moving to the AISDALSLove model. The more useful, interesting, entertaining and rewarding your digital signage messages are, the more people will actively seek them out, and actively encourage others to do so.
This is why it's imperative to have a comprehensive digital communications plan in place, but one that's also agile and responsive to change with your audience's shifting moods, trends, information sources and feedback. The short-term goal of your digital signage messages is for people to flow your call to action. But the long-term goal is to make them fall in love with your signs, your brand and your organization.