Digital Signage Expo (DSE) and TechDecisions are bringing you all of the information you need to enhance corporate communications through digital signage. Just sign up for our webinar – Enhancing the Corporate Communications Experience with Digital Signage!
Taking place on Thursday, February 8th at 2:00 PM Eastern Time, this 30-minute presentation will benefit corporate administrators, technologists and communications and marketing professionals looking to better communicate to both customers and employees through the dynamic medium of digital signage.
With TechDecisions' Managing Editor Jonathan Blackwood as moderator, presenters Penny Carter, Digital Signage Lead for Lockheed Martin, and Cheryl Flohr, Director of Communications for Parker Aerospace, will give you actionable information on enhancing your own corporate communications using digital signage technology.
The presenters will discuss topics including:
The most common applications of digital signage in corporate offices
The benefits of using digital signage in corporate locations
The most important things to consider when planning a digital signage installation
The skill sets required when operating a digital signage network for office environments
And more!
The webinar, taking place on Thursday February 8th at 2:00 PM Eastern Time, will take approximately 30 minutes and will be accompanies by a visual aid presentation. Attendance is 100% free, but you do need to register. Make sure you're registered by clicking this link.
In a large corporation, there are many stakeholders who have information needs. It is the role of the corporate communication team to provide information to those stakeholders in a timely, efficient, and meaningful manner. Digital signage has revolutionized how that communication is produced and distributed, and has become a useful tool that provides an innovative and visually dynamic digital platform for employee communication.
In the recent past, corporate communications staff relied on delivery vehicles such as newsletters, posters, banners and other printed materials.  Meetings, large and small, also served as a way to disseminate information. These methods, while effective, are costly and time consuming to produce, which is why they are not always employed. Today, since many companies are focused on "go green" initiatives, digital signage is a perfect solution, because it reduces the use of printed materials.
Newsletters wait for weeks while editorial teams painstakingly write and rewrite articles, then review and critique graphic layouts, which often results in "old" news when the newsletter is finally printed. Not only is the price of posters and banners costly, but also time consuming and must be installed where employees or visitors can see them, which requires additional administrative time.  If these materials have to be sent to multiple facilities and communicators must depend on others to post them, it can be hit or miss if all are actually posted and up for viewing. Communicating messages in meetings is a more personal approach – but to be effective are dependent on attendees actually being present. Not only that, but the messages themselves may be shaped and spun differently by presenters at various locations, potentially changing what is meant to be communicated.
Digital signage has changed everything. Messages can now be controlled in central locations by communication specialists or, at a minimum, leaders who can be trusted to convey the message accurately (e.g. human resources, marketing, etc.).  Because digital signage combines sight, sound and motion, it now make messaging more powerful and effective, and more likely to resonate with audiences.
Digital signage is instantaneous. Communication can be released quickly and updated as needed. Messaging can be done real time, as events change, reaching intended audiences worldwide, with the same, consistent message, delivered exactly as intended. No delay, no spin.
Digital screens are used in the office and factory, both, for powerful communication. For companies that have a large non-wired workforce, signage can greatly improve employee communications. Metrics are delivered as they are generated, providing incentives for greater productivity. Leadership messages can be sent to individual workstations. Upbeat news and features can be changed out quickly and regularly, to encourage morale skyward. Calendar items are displayed for all to see and note. And when there is a critical message that needs immediate attention – digital communication does the heavy lifting. Real-time emergency notifications can be quickly disseminated.
Corporate communication will never go backward. Maintaining the digital signage network is a collaborative effort with the IT, Visual Communication and Employee Communication teams. The digital method of delivery of all sorts of information is so much better in so many ways, it has been a revolution in the corporate workplace. It will be exciting to see what the next chapter holds!
Digital Signage Expo is the world's largest international trade show and educational conference dedicated to digital displays, interactive technology and digital communications networks, is taking place this year from March 27th-30th at the Las Vegas Convention Center. If you want to learn even more about digital signage, be sure to sign up for the conference and get started on your digital signage and communications journey as soon as possible!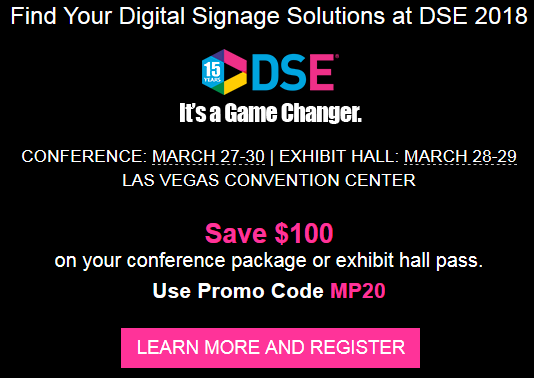 Penny Carter and Cheryl Flohr serve on the Digital Signage Expo Advisory Board and will be co-presenting the 30-minute webinar, "Enhancing the Corporate Communications Experience with Digital Signage," on Thursday, February 8 at 2pm, EST. Registration is free.