Jabra, an audio and communications solutions company, launches the Jabra PanaCast, what the company calls "the world's first smart panoramic-4K plug-and-play video solution certified for Microsoft Teams."
The new product features 13-megapixel cameras that work together as one via core technology embedded in the built-in Jabra PanaCast Vision Processor.
More from the company:
The multi-camera array solution offers a full 180-degree panoramic field of view to deliver a naturally immersive experience – a key element in building trust, driving higher engagement and ultimately achieving better business outcomes faster.

The panoramic video supports equal participation for everyone in a meeting, fostering healthy discussion and true collaboration – despite not being in the same room.
Wall-to-wall video collaboration coverage
With Jabra PanaCast's leading-edge cameras and microphones, fourth-generation stitching technology and Intelligent Vision software, any room can be used to video conference with wall-to-wall coverage in panoramic-4K video.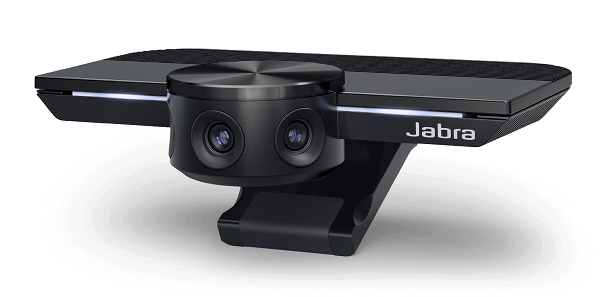 Built-in people detection technology enables system-wide business intelligence by capturing accurate usage and occupancy information.
A Convolutional Neural Network (CNN) to count the number of people in the field of view, up to 39 feet away, and provide numeric data that organizations can use to inform decisions on calendar management, room utilization and resource management, or to automate power management for assets such as TV monitors, lights and video conferencing equipment.
The technology will be available through the Jabra PanaCast API, built for the Windows operating system, and can be used for large areas like classrooms, auditoriums and general gatherings.
Related: Collaboration Tech Fails (And What They Should Have Been)
The solution is compatible with popular cloud-based solutions including Microsoft Teams, Skype, Zoom, Cisco WebEx, Slack, Google Hangouts, GoToMeeting, Unify Circuit, BlueJeans and more, so workers can plug-and-play with their existing collaboration services in seconds using their computer's USB port.
Jabra PanaCast Key features and specifications:
Simple plug-and-play operation with no software required via a single USB cable
180-degree panoramic view seamlessly integrates video from three cameras with real-time dynamic stitching embedded in the onboard Jabra PanaCast Vision Processor
Certified for Microsoft Teams
Picks up every voice in the room with Jabra Speak series
Zero percent wasted space with industry-first, multi-camera array system
Intelligent Vision (AI) products sense, anticipate and adjust automatically so people can focus on their meeting and discussion
Intelligent Zoom autonomously and continuously optimizes the field of view to include everyone in the conversation
Jabra PanaCast Vivid 2.0 automatically adjusts the video properties to optimize the video experience under varying light conditions
The upcoming open and standards-based API provides data for companies and ecosystem partners to build value added services that can help optimize workflows, automate room/calendar management, enable green energy initiatives like automatically turning off unused equipment (smart building capabilities enablement)