TechDecisions spoke with Nancy Knowlton, CEO of Nureva, about what the company will be bringing to its booth at InfoComm 2018.
TD: What can attendees at InfoComm expect to see at Nureva's booth this year?
Nancy Knowlton: We will be focused on several new product announcements:
The Nureva Wall WM408i. This fully integrated wall system is the latest HD-resolution system that Nureva offers.
The Dual HDL300 system. This system extends Nureva's Microphone Mist™ technology to larger spaces up to 30' by 50'.
We'll also showcase the latest functionality within the Span Workspace. The follow me function is a new feature that our customers have been requesting.
TD: Tell us how the Nureva Wall differs from the Span system customers are familiar with?
Nancy Knowlton: The Nureva Wall system is a tightly integrated system that offers multiple advantages over prior systems:
We have taken control of the projection surface through the integration of a 7'6" wide Projected Capacitive Touch (PCT) wall component.
The touch experience on the wall is just like that on a smartphone.
The image is brighter and more uniform, with the same 25,000 hours of carefree operation as earlier systems
The modular design makes it easy for multiple systems to be installed together, meaning that wall systems up to 60 linear feet can be set up for the ultimate in collaborative environments. The image alignment functionality for the system is built in, so there is no user intervention needed at set up or thereafter.
Careful attention has been paid to the installation experience, making it easy for a two-man crew to install a single system in under two hours.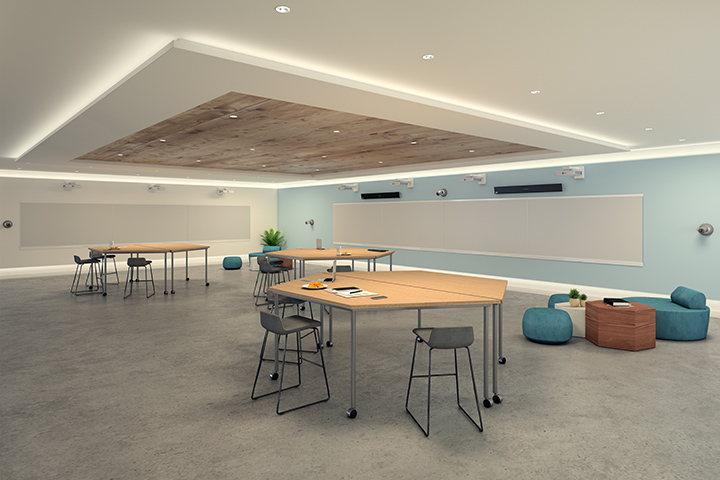 TD: Can we expect new functionality to the Span system?
Nancy Knowlton: Yes, we will be showcasing the latest functionality and previewing some new functionality available in a July release.
TD: How do Nureva's products work together to create a collaborative environment?
Nancy Knowlton: Our products are built for people who want to actively collaborate in a space. They want the freedom to move around the space at our large wall systems or any displays. While our Nureva Wall with Span Workspace and the HDL300 system can work alone, they combine to create that active collaboration environment where creation and collaboration are king.
TD: What does the future look like for Nureva, from this year's InfoComm to next?
Nancy Knowlton: With a robust product offering, validated through the last two years in the market, we are ready to dramatically expand our channel, particularly in North America. That is a key focus for us at InfoComm and beyond. We'll continue to deliver enhancements to our offering over the coming twelve months and deepen our understanding of customer needs.
Visit Nureva's booth N1276 at InfoComm 2018.
If you enjoyed this article and want to receive more valuable industry content like this, click here to sign up for our digital newsletters!