The definition of collaboration technology is rooted in unified communications, but today providers are creating platforms that are aimed at making you more productive throughout your collaborative day. What do you do in your collaborative day? You have calls with people, message with them, and meet with them. Whether internal or external, you don't want any barriers to that type of communication.
Essentially, collaboration technology comes down to gathering the technology that can make you more effective working with people, capturing that day end-to-end, and having it all integrated into an easily accessible location. The point of collaboration technology is to make the technology melt away – it's meant to be integrated and naturally fit into your daily activities.
Collaboration Technology through the Spectrum of Your Day
In order to get a good idea of what technology is associated with collaboration, it's helpful to look at it through the spectrum of your day.
You start the day with your messaging platform. Email is most obvious – you answer the emails you've missed and send out email messages to those you need to start or continue a dialogue with. Then there are the instant messaging platforms that allow you to contact a colleague directly for more urgent or easily digestible information. You find a colleague's name in your messaging application and send them a message, and in turn your name pops up in a chat screen on their unified messaging application. Either way, you're collaborating through text.
This new guide walks you through choosing the perfect collaboration technology for your organization at the best price.
Tips for Buying Collaboration Technology
Next you make a few phone calls. This falls under the UCC (unified communications and collaboration) idea of collaboration technology. Often you'll use Voice over IP (VoIP) technology that allows you to make phone calls through the internet instead of traditional phone lines. VoIP also allows you to direct incoming or outgoing calls to your cell phone. You can have the same number reach you at your desk or on the go by downloading an app to your smartphone that allows the company to forward phone calls from your office line directly to your mobile app. Here you are collaborating through speech.
Then you have a meeting with remote employees in another office. In order to get a more engaging interaction, you employ your videoconferencing solution. You dial in to a separate videoconferencing platform and are able to have a "face-to-face" discussion with team members in other locations. Now you are collaborating through video. You may also be able to share and annotate documents during this session.
Getting More Advanced
Those are the basic layers, but it gets much more sophisticated as it gets simpler. In order to allow technology to melt away, you need to make it work together seamlessly. The convergence of AV and IT has allowed collaboration platforms to become more advanced. Encryption and the ability to search, control and automation of collaboration suites, documentation and more.
Let's go back to messaging. Collaboration technology, at its finest, should unify all of the pieces of the solution. So my messaging app can allow me to search through messages to easily find information. I can type a person's name or a certain phrase and get back all of the relevant documentation through my messaging platform. If I emailed with that person or used that phrase, those will show. If I recorded a videoconference with the person I searched, that will show. If documents were saved during that session and distributed to the group, that will show as well.
How about for phone calls? Perhaps instead of calling multiple people to inform them of new initiatives, you want to do a webcast to clue them in. You invite them to sign in through their VoIP platform in order to listen to what you have to say. You can also screen share in order to show them specific documents and highlight points as you speak. This information is secured through the encryption of your technology so there's nothing to worry about in terms of leaked information.
Related: Interview: Kelly Bousman of AVI-SPL Talks Collaboration Technology
For videoconferencing things can get really advanced. You can employ control and automation technology to make the room one-touch for employees. The room can identify the employee that walks in, identify the device they're using, and stream the device's screen up to the display for in-room collaboration or a conferencing session. The room can integrate with scheduling technology so that when the person walks into the room, the system already knows who to invite to the conference. During the conference itself, you can upload documents to the screen and the system can send that document to everyone involved through the messaging app. You can annotate the content, and at the end of the session the system will send the altered content to everyone involved. Or you can forego videoconferencing and do all of this in an in-room presentation. The possibilities here are really endless.
As collaboration systems get more advanced, they get more integrated. Your videoconferencing platform will send information through your messaging platform and invite people through your unified communications platform. The trick comes with working with the right partner to meet your needs and ensure your systems are working together.
Justifying Collaboration Technology to Higher Ups
Once you've come up with your needs and decided it's time to upgrade your collaboration suite, the first obstacle is getting buy-in from the higher ups. You might fully understand how new technology will help your organization thrive, but that doesn't mean anything if you can't communicate it. Selling it to the directors and/or C-Suite is part of your job.
There's the age-old travel savings. That will always be there. If you're a large enough organization, collaboration technology will cut down on the need for travel. That saves money short-term and long-term, but doesn't guarantee you'll get the best solution for your company. A basic, free videoconferencing service could potentially cut down travel, but it won't help your organization collaborate. Nowadays it's more about building a collaborative culture to drive the engine of the business to be faster, more agile, and more competitive.
A good technology manager will identify the economic denominator – what drives your business and how will this collaboration technology make it better? Tie the technology investment right back to the economic denominator. This way you're translating the technological benefits into executive speak, and you're explaining the benefits in a way the people that determine the budget will understand.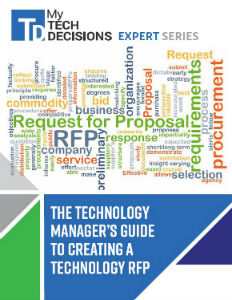 This new guide will show you how to structure your RFP so you get the maximum return on investment for your budget.
The Technology Manager's Guide to Creating a Technology RFP.
Organizations want collaboration to be a utility. Your company doesn't want to be in the collaboration business. They want it to be easy, like turning a faucet and having water come out. They don't want to build full stack experts, they want to work with reliable providers to do that.
As a technology manager I'm looking to build my own reliable stack, or understand what augmentation I need within my platform in order to make it work reliably. Then I have to take those needs and map them to the economic denominator in order to gain approval. It's up to the technology manager to determine the economic denominator of their specific company, but once you do you'll have the ability to sell collaboration technology internally.
The Installation Process
Any installation process for collaboration technology is going to vary from company to company, from system to system. It's such an intricate and malleable integration product that no two solutions will look exactly the same. The install process is a broad one.
If you take an off-the-shelf technology it can take a day or two. Dramatic boardroom installations can take two or three weeks, and the same with meeting spaces. You need to plan for some level or outage, but you want to go big. You're not going to take three weeks for every room. The technology available today can install quicker. So look at timeframe and how much outage you'll experience.
In order to have a successful installation, you need to have solid coordination. Network infrastructure, firewalls, room space, lighting, power – these can all cause problems during the installation phase. Once you put technology in a room, if you didn't plan the lighting right it might not look good. Same goes for connecting devices to the network. It especially goes for fitting the technology into the room. Architectural standards will have a huge impact on the experience of the room. You want the physical and networking aspects to be the best fit for the experience of the room.
You'll also want to educate your end users on the new system. If you don't explain what wires do and why, the users could end up pulling cables out without knowing the problems they're causing. This is why you want intuitive, one-touch solutions – it allows users to get into the system quickly for their time, and keeps them from messing with the system for your time.
Your collaboration suite may be the most important technology in your business. It allows employees to communicate dynamically – to have the same ability for collaboration from thousands of miles away as they do in the same room. Focus on the experience, explain your needs, and choose a partner that can meet your SLE.
Information provided by Lou Chiorazzi of AVI-SPL.
If you enjoyed this article and want to receive more valuable industry content like this, click here to sign up for our digital newsletters!