Last year at this time, I was predicting how the various dominoes would fall as a result of what we learned in the first year of the COVID-19 pandemic. Now, most of the way through a second year of coping with COVID-19 and looking at what 2022 will bring, my focus is on what is known in the therapeutic world as "radical acceptance."
Paraphrasing the definition, "radical acceptance" refers to when one stops fighting reality, stops responding with impulsive or negative behaviors when things aren't going the way one wants them to, and lets go of one's past assumptions that may be keeping one trapped in a past cycle, even if it may be uncomfortable or undesirable to do so.
Many, many, many people have craved a "return to normalcy" once the pandemic ends. Why, you might wonder. One reason might be an inability to realize changes have become permanent. Another reason might be being in a position to lose control that was previously enjoyed. Another reason might be simply being in denial. Whatever the reason, the time has come to apply the concept of radical acceptance. And that is the root of all my 2022 predictions.
This is our new normal. There is no going back.
Surely, the pandemic will eventually wane as enough people get vaccinated and medical treatments become more effective and more widely available. But what we have experienced and learned will not permit a return to the uninformed past ways. The change is permanent.
1. Work is what you do; not where you go.
Yes, I've been explaining that since at least 2014 (when this picture was taken), but it has reached the undeniable state.
The pandemic kept knowledge workers out of their traditional offices for many months, but the world of work did not grind to a halt. Companies continued to do business, and, in most cases, they did so with higher productivity.
Yes, we all miss being with colleagues and co-workers when we want to be, but we've realized that most of us do not need to be in an office to do our job.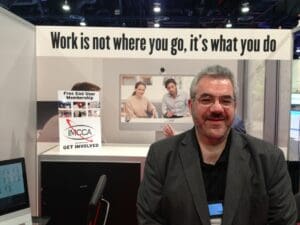 As much as some stodgy CEOs want everybody back to the way they were before, the truth is this: Too many people know the truth now to go back to five days a week of commuting. Even the most conservative firms are now acknowledging that some degree of flexibility is needed for the future.
Their management and they can continue to debate what the in/out formula will be for their organization. Regardless, it is clear that the firms that allow more flexibility will clearly recruit the best workers. We've definitively seen the world is round now. No number of leaders screaming about flat Earth will convince us of it.
2. Hybrid-working formulas will disintegrate
As remote and hybrid work become the norm going forward, some organizations will try to adapt by creating some of those aforementioned formulas (e.g., two days at home, three days in the office) It will soon become obvious that formulas completely miss the point about allowing knowledge workers to do their best job.
One key aspect of hybrid working is allowing the employee to be the judge of where they need to be at any given time. Sometimes, they need to be in an office for multiple days to supervise a project; sometimes, they need to be at a client site or other remote location; sometimes, they can do their job very effectively from a home office. Any attempt to remove the ability to make that call in the employee's own judgment will fail miserably.
Hybrid working requires that we hire good people whom we can trust to do their job. We measure them by results and outcomes, not by hours spent in any given location. If they don't perform as needed, they should be quickly replaced. As a corollary, this should forever put the nail in the coffin of the terrible concept of "stack-ranking." Team supervisors will always strive to have a complete staff of superstars – as they should.
3. Knowledge work is a casual experience
With apologies to those who sell upscale, designer clothes for the office, we've come to realize that none of that pretense is necessary. Knowledge workers can be just as productive in a T-shirt as they are in a three-piece suit. Salespeople can visit their clients in sports jackets and comfortable shoes, not wing tips or high heels.
Pets and the occasional child interrupting a meeting are now more than just OK – they are, in fact, humanizing. The horror we felt just a few years ago when a BBC interview was interrupted by a child has been totally replaced by a sense of joy every time we get to see a colleague's child.
We're all adults. We know not to make the quarterly meeting about our kid's recital. So, I'm sure any interruption will not get out of hand. Our colleagues are OK with us showing glimpses that we are human and have a life. Don't expect that this new casual approach will ever change – people are not going back.
4. Out-of-office messages are dead
As I explained years ago (in 2015), the concept of "out of office" is dead. Unless we are taking an off-the-grid vacation, we are now always connected to our messages, IMs and documents. It doesn't matter if we're in a traditional office, our home office, on a commuter train or on an airplane.
We are just as reachable and just as able to access our work. That doesn't mean we have to choose to interrupt what we're doing to answer a call or a text. We always have chosen whether to accept calls and messages, depending on what we were doing at the time.
The change is our location at any given time is now irrelevant to the equation. When traveling on business, there's no longer a need to create an "out of office" response message. Perhaps we can create a "possibly delayed response" message, but, honestly, we now can reply when on the road as quickly as we did from our desks.
5. People managers need skills
Now that Management By Walking Around (MBWA) is dead, people supervisors will now need to be good at supervising. They also need training on how to do that with remote teams. For far too long, great individual performers (in sales, marketing or whatever) were recognized by promoting them to management positions – even though individual-performance skills and management skills are two completely different things.
Now that a good portion of employees are not in the same building with their supervisors, this will no longer fly. Every people manager will require training to understand the needed skill set. Think of it as any other required training in an organization.
6. Meetings will need to be equitable
Business meetings are no longer things that take place in a conference room; rather, they take place in the cloud. People will join from wherever they are. The huge increase in flexible working that will never completely go away means most meetings will always have at least one participant not in the room.
This means that every aspect of the meeting (whom we see, what we hear, what we share) needs to be accessible to and equivalent for all participants. We have come a long way toward achieving that, but we have further to go. That is especially true when we're connecting rooms and individuals in the same call.
There are room systems on the market today that are smart enough always to show the right shot, and there are platforms that give each person in the meeting the same experience. Look for even more of these features to hit the market and bring us closer to the equity we need.
7. PTZ room cameras will fade away
As camera technology continues to improve, 2022 might well see PTZ cameras fade away. Cameras will have the needed resolution to see the entire space that they're meant to cover, and they will electronically frame the needed shot. Motors will become dinosaurs, giving way to these new E-PTZ (electronic pan-tilt-zoom) systems. Manual zoom cameras will only exist in circumstances in which each one has a full-time operator – that is, in video production. Everything else will be (or will soon be) automated with AI and machine learning algorithms.
8. Home offices will level up
As remote and hybrid work become the norm going forward, people will realize that home setups need to be better than a built-in camera and a set of consumer earbuds. How knowledge workers present themselves to clients and colleagues will significantly impact how successful they are and how successful they're perceived as being.
Standards for the successful home office worker (as were introduced at CEDIA 2021) will be solidified and published. These will include attention to a fixed location, appropriate bandwidth, lighting, audio and video devices, and much more.
9. People will carry mobile collaboration tools that better meet specific needs
If I tell you to put on footwear, which kind you choose depends on your circumstances. Walking on the beach requires different shoes than you'd use for shoveling snow. People will realize that the collaboration tools we use while traveling – headsets, portable USB speakerphones – will also become circumstance specific. Many road warriors will begin to carry a small complement to choose from so they can have the right device if they are sitting at an office desk, calling from an airport or checking in from a sports event. Expect users to become much more savvy about their selections.
10. Virtual access to events will become the norm
The pandemic forced some of the biggest and most significant industry conferences to be virtual-only events. When they made the quite unintentional change, they opened the doors for the disabled and homebound to attend as equals. As in-person conferences return, it is essential that we all gather together to keep this door from ever closing again.
I believe that all conferences that allow for free in-person attendance should also make real-time, equal access to sessions for the disabled free via remote connection. The progress to keep access equal must continue. Many large organizations will commit only to attending/speaking at events that have this access equality as standard.
Conclusion
As these trends play out over the coming year, there are problems that will need to be solved. People coordination for in-office meetings will be of paramount concern. How do we ensure that all the colleagues we need to see on our rare trip into an office are actually there? Clearly, our calendaring and scheduling will become much more important. I suspect most productivity platforms will show what location people expect to be in on any given day.
Then, what do we do about ancillary office services like food? Are in-office cafeterias and eateries permanently closed as unnecessary, given the lower volume of employees? Do firms still offer fitness rooms as a perk if most of the people are remote at any given time? How do we reserve spaces to collaborate – or even reserve touch-down desks if we no longer have a designated space?
Technology and planning will adapt to solve most of these problems, but it will play out for quite a while before it settles on what the new normal is. The only thing that's certain is the radical acceptance I mentioned. Stop waiting for the past to return – it's not happening. Ever.
It bears repeating: The pandemic will eventually wane as enough people get vaccinated and medical treatments become more effective and more widely available, but what we have experienced and learned will not permit a return to the uninformed past ways. The change is permanent.
If you enjoyed this article and want to receive more valuable industry content like this, click here to sign up for our digital newsletters!