Wires and cables are the technology manager's worst nightmare when it comes to connectivity. They're cumbersome, confusing, ugly, and old hat. When a typical employee walks into a conference room without wireless connectivity, they immediately assume that the technology is not state of the art.
In an employee's average day, they have wireless interaction with a majority of their technology. They can charge their phones without a wire. They can use Bluetooth to connect headphones to their device without a wire. They can stream content from their tablets to their TVs with wireless connectivity. You can see why they'd prefer their conference rooms and meeting spaces provide the same abilities.
As a technology manager it's your job to enable employees. That means giving them the ability to use technology to do their jobs better. However, if they don't think the technology is helpful, they won't use it. That means your job hasn't been done correctly.
If you're not convinced that wireless connectivity is the way to go, let's take a look at 5 reasons it's better for your organization to have wireless connectivity than a bunch of cables.
1. Aesthetic
Take a look at the two pictures below. Both of these rooms offer the same connectivity to the displays at the end of the table. The first room offers wireless connectivity, while the second uses wires to allow employees to connect. See if you can spot the difference in the rooms: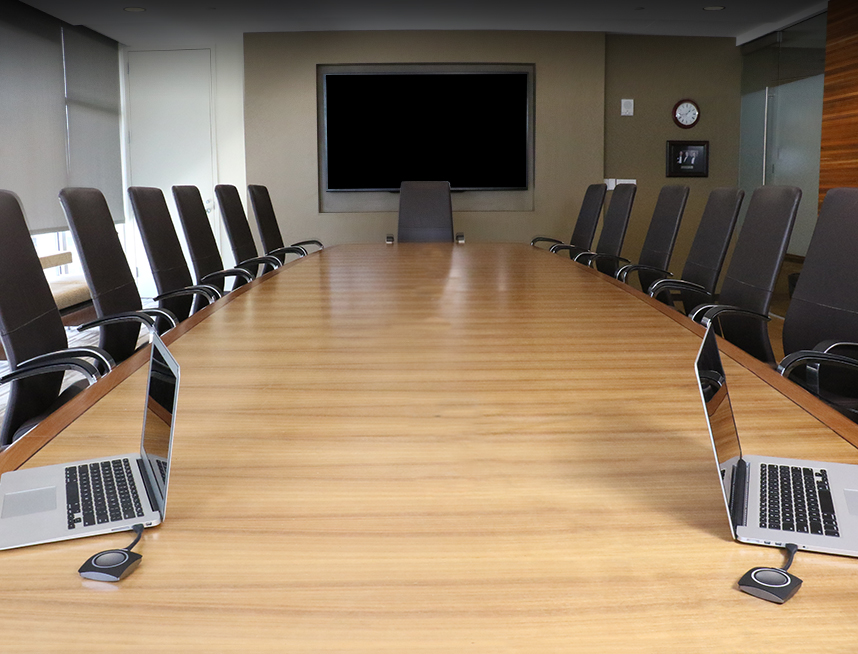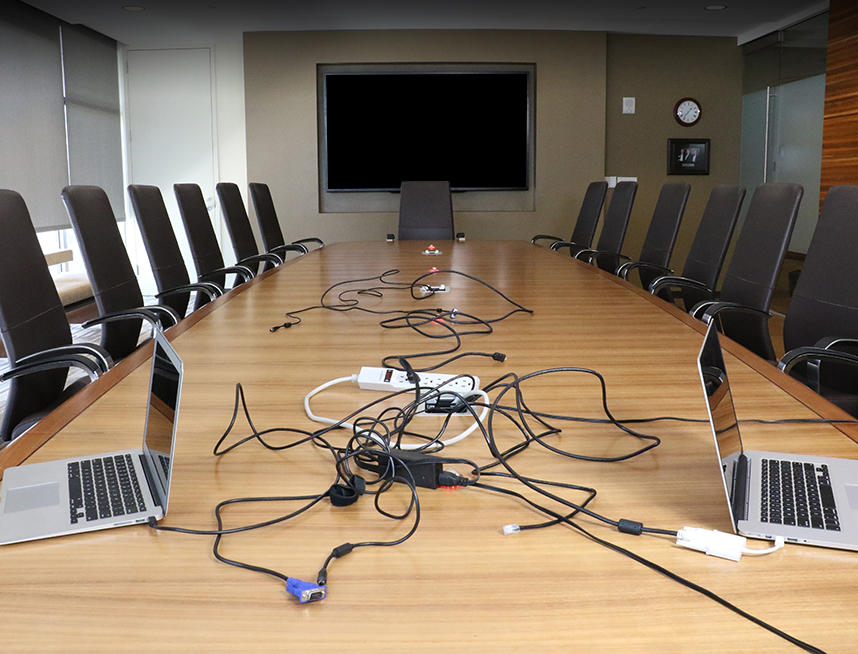 One looks a lot more pleasant than the other, doesn't it?
When organizations create their meeting spaces a ton of time goes into making the place look good. Executives and employees want to be proud of the places where they work. We all want visitors, customers, and clients to be impressed when they visit our office for a pitch or meeting. The look of the space is just as important as its functionality.
Wires and cables take away from the aesthetic of your meeting spaces. They run rampant above and below tables. They get tangled and clumped together. They make an otherwise clean space appear dirty and disorganized. That's not the message your organization wants to present.
Wireless connectivity solves the problem of aesthetic. It allows your meeting spaces to look the way they were designed to look, while still offering the capabilities your staff needs in order to connect, present, and collaborate.
2. State of the Art
First there was cable connectivity. Next came wireless connectivity. Wireless connectivity is the evolved version of connecting to displays in a meeting space.
You wouldn't outfit your offices with analog display digital signage. You wouldn't force your employees to use typewriters instead of laptops. You have Wi-Fi to connect to the internet instead of hundreds of feet of Ethernet cables. So why would you use cable connectivity in your meeting space?
The simple truth is that an organization with wireless connectivity is seen as more cutting edge than its rival with wires all over the table. As a technology manager, the executive suite will be more impressed with a clean, simple wireless connection than the same group of cables they've seen for thirty years.
3. Connectivity Barriers
If you haven't noticed already, the typical employee isn't well versed as to what different cables do. Sure, the IT department has a good understanding. Perhaps you have a few technophiles outside of IT that understand the differences between HDMI and USB cables. However, the majority of your workforce is going to call on you when they can't figure out how to connect their devices.
In many offices you see a mix of PCs, Macs, tablets, hybrids, and even smartphones used by employees for presentation purposes. That means that you could need at least five types of wires at any given moment to enable your employees to connect their devices to a display. Now let's assume that two people might want to connect to a display at the same time. Now you've got at least 10 cables cluttering up the meeting space.
Do you have multiple displays? Well now you've got 20 cables, and 19 of those cables are the wrong ones – do you trust your staff to choose the right one every time?
4. Ease of Use
Let's talk about the laymen employee.
The laymen employee will always seem to choose the wrong cable to connect to the wrong display, and make it your problem when they can't figure out why their laptop isn't connecting to the projector.
That's if the laymen employee understands how to connect in the first place. In practice, they fumble about with each cord, trying to jam them into misshapen ports on their laptops. If you're lucky nothing breaks. Regardless, you end up getting called down to the meeting room. The laymen employee holds a group of cables in their hand, staring at you with puppy dog eyes, desperate for help. So you take the proper cord, stick it into their laptop, and they're ready to go.
A simple solution, but it took ten minutes of your day to help them out. That might happen three times daily – that's a half an hour every day that you're spending walking to the meeting room and plugging in cables.
Wireless connectivity removes these barriers and makes things simple for the laymen employee. The Baby Boomers might not understand the technology. Millennials might have so much experience with intuitive connection that they don't understand cable connectivity any better than the Baby Boomers. Either way, they'll appreciate the ease of use of a wireless connection. Once they try it and see how easy it is, they are hooked!
5. Practicality
Wireless connectivity makes things practical in the meeting room. The right solution will allow employees to plug in and share immediately. One button. No hassle.
Take Barco's ClickShare for example. It's a one-click device that hits every capability you need in the conference room. You simply plug the ClickShare button into a laptop via USB port, click the button to share your screen to the display, and start the meeting.
Let's take a closer look at those capabilities:
No Installation – Nothing has to be installed on a laptop to use this solution. That means you don't run into guests (and some employees) that have to wait fifteen minutes to download the software before being able to connect in a meeting that is already running late.
Wireless – Say goodbye to the days where employees fiddle with cables or can't figure out which one to use.
iOS and Android Apps – A free app for mobile devices allows them to connect as well.
Up to 8 Users on Four Screen – That solves the multiple presenters problem.
Moderation – Control who is showing what intuitively.
Blackboarding and Annotation – Ability to collaborate by interacting with the screen (provided you have a touchscreen display of course).
Image Quality – Two 4K screens can be driven by the same Base Unit
Security – Enterprise-class, configurable security means protection against malware, hackers, and digital eavesdroppers
Wireless connection, ease of use, security and simplicity. That's what your employees need to be able to connect to a display – not a bunch of wires scattered all over the table.
When you're implementing new connectivity technology, consider everything that goes into connecting devices to displays. That means not just the functionality, but the look, feel, and usability of the system. Make sure you're getting technology that everyone – from the savviest technology user in the company to the least – can use.