The University of Delaware Office for International Students and Scholars (OISS) has experienced tremendous growth. Now serving an average of 5,000 international students, scholars and dependents each year, the OISS department has grown from a team of four people managing five programs per year to a team of nearly 20 professionals managing 100+ dedicated international programs.
The Tech Decision
Given this growth, a paper-based registration and advising system wasn't efficient or sustainable. The University of Delaware OISS office chose Terra Dotta's international students and scholars information management system to offer a streamlined and automated registration and advising process for international students with reliable compliance standards based on SEVIS best practices.
As advocates for the University of Delaware's international community, the OISS department sought a specialized technology solution that focused on the challenges of managing international student programs and compliance. Delivering top-quality service is the OISS team's number one priority and drives all other office initiatives.
After a review of three solution providers, Terra Dotta was chosen for its specialized focus on international education software as the technology was built for and by international higher education professionals. Terra Dotta was well aligned with the university's functional needs to offer a better registration and advising process and reliable SEVIS compliance standards.
The Solution
The OISS team launched Terra Dotta in August 2017 after data integration with the university's student information system, a sandbox development and production site, and a comprehensive launch communication strategy with tutorials and workshops for students, faculty and administrators. Some of the implementation success factors included securing campus wide support and collaboration; including IT from the early stages of the RFP process to ensure implementation and integration success and gaining feedback from international student representatives.
The University of Delaware OISS' use of Terra Dotta's international students and scholars information management system enables Delaware's international students and scholars to log into an individualized profile via a cloud-based portal to complete critical steps, from form completion to recommendation requests, in one central, paperless location. OISS advisers can also log on to offer services to the international community, including scheduling automatic email reminders to complete specific tasks and optional alert communications through text messaging to smartphones.
Through Terra Dotta, UD's international students and scholars have the opportunity to participate in UD OISS learning modules to build their understanding of U.S. academic culture, immigration requirements and much more. This creates an environment for more effective advising services and facilitates a smooth and easy process for maintaining students' immigration status. In addition Terra Dotta has helped automate SEVIS processing in real time, which helps mitigate the risk of data entry errors and provides compliance protection for the university as well as all international students and scholars.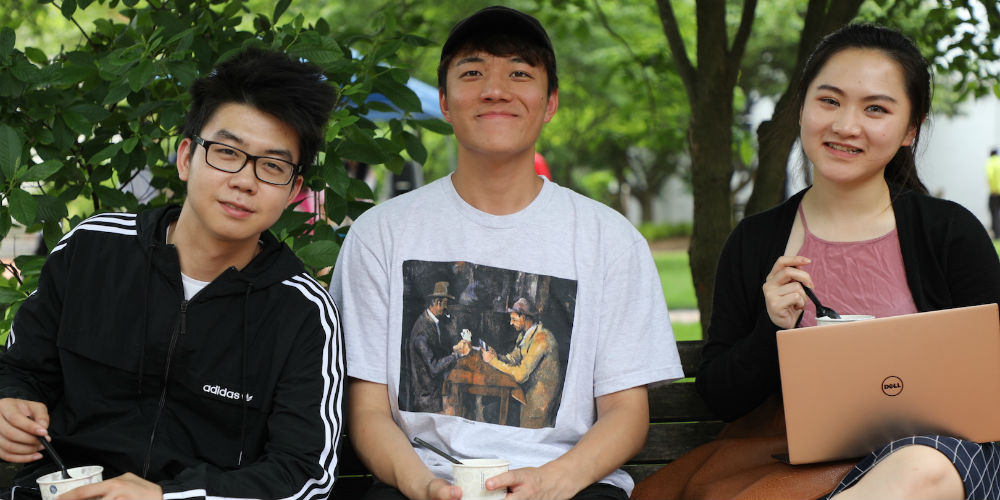 Implementing Terra Dotta has allowed the UD OISS office to spend more time on program development and priority advising services as the technology has automated tedious manual processes such as scanning and completing forms. In fact, moving to a paperless registration workflow reduced the process from weeks to days. Orientation productivity improvements have also been significant as students can now self-upload documents. OISS has used the Terra Dotta system to track the number of applications and form requests handled by staff. This reporting provides a better understanding of the staff work load and traffic flow into the office, and in turn, allows UD OISS to allocate appropriate resources and support as needed.
These productivity improvements have enabled new program innovation as well. To provide new international students with a smooth transition and a more welcoming campus environment, UD OISS is using Terra Dotta to implement a scalable international "buddy" program. Utilizing resources readily available in the Terra Dotta stock report library, OISS is constructing an application that matches international and domestic students based on similar interests and majors. Using a 5-star rating system on a matching questionnaire and demographic information, the Terra Dotta buddy matching program will support buddy compatibility and greatly reduces the staff burden usually associated with pairing students of like interests. OISS has engaged a team of student leaders to guide the process and will launch its first international buddy program this summer to serve more than 600 incoming international students.
The Impact
The UD OISS' use of Terra Dotta has had positive impacts on the university's international community of students and scholars as well as faculty and staff, and has yielded significant productivity improvements for the UD OISS.
For UD international students and scholars, automating the international registration and advising process as well as SEVIS compliance provides faster, more effective visa support and document services. This includes streamlined SEVIS reporting and automated immigration alerts and communication to students, allowing them to focus on their education instead of becoming consumed by their visa status.
Terra Dotta also enables dedicated student/scholar profiles via the cloud based online portal where students can review current and past applications and programs. Using the solution, UD OISS can offer increased support to students for their transition to American society and culture through pre-arrival support and orientation and targeted communication and alerts – all geared to improving the international student experience.
For the UD OISS office, the productivity and compliance benefits have been significant. Reducing the burden of high-volume data entry on staff while increasing SEVIS compliance and reporting and efficiency has enabled a transformation in the programs and services the office can now develop and offer the UD international community. This helps boost UD's competitive advantage among international students and increases overall enrollment and retention.