The University of Arizona Health Science Innovation Building (HSIB) is an integrated nine-story tower including a multipurpose presentation and performing arts center, dozens of meeting and huddle spaces, a medical simulation, recording and debriefing center, filming studio and centralized broadcast booth.
The Tech Decision
Level 3 AV had been an AV integration partner for the University of Arizona on multiple new construction, and renovation projects.
The University of Arizona sent out an RFP to a select group of AV Integrators for this Design-Assist-Build project. Level 3 Audiovisual was selected as the AV Partner for the state-of-the-art HSIB.
The tower is newly constructed and consists of a performing arts and multi-purpose space called "The Forum," seventeen classrooms, a thirty-room standard patient examination training floor, a medical simulation "black box" venue, administrative work spaces and conference rooms, seventy meeting rooms, a filming studio, simulation control room, and more.
Level 3 AV collaborating with the University Office of Planning Design and Construction. Various stakeholders from a number of colleges, the Biomedical Production team, and the General Contractor were part of the decision-making team.
The major challenge was to create an audiovisual system that operated as a single system. Every audio and video signal needed to be accessible from the broadcast control room for lecture capture, VTC, recording, streaming and centralized control.
The Solution
The major highlights of the HSIB are the dual single-mode fiber optic backbones to support the building-wide integrated systems. The building acts as a single system, with all signals available anywhere.
The network system is fully redundant with dual fiber trunk ports per edge and stacked switch. Netgear M4300 10G LAN with eight switches comprising a stacked 10G core, with roughly twenty edge 10G fiber trunked 1G S3300 switches. VLAN management is in place supporting control, QLAN and Dante network segments. This network runs on a Crestron control network with six 3-series processors.
Audio in the building relies on QSC Core 5200 processors with various QLAN amps and IO distributed throughout. An auxiliary 8-channel wireless microphone cart can patch into any teaching podium via Dante to instantly add more channels of microphones for events requiring them.
The video system is built on an Evertz MMA 10G AV-over-IP network, with a core 128-port switch fabric and dual 64-port switch fabrics. The hybrid nature of the MMA 10G system supports HDMI and HDSDI seamlessly, making it perfect for the large number of signals and varying formats needed in classrooms and studios. The system supports hundreds of inputs and outputs with imperceptible latency, and features support for 4K throughout the system. The matrix is also fully non-blocking, so any video input can be routed to any destination through the broadcast system.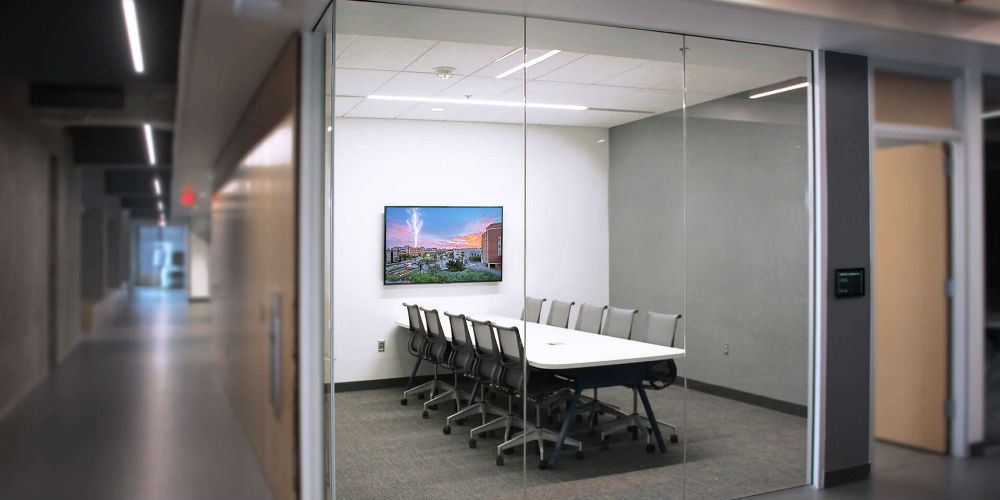 In The Forum, a dual-sided Absen LED video wall retracts from the ceiling, flanked by Renkus Heinz steerable column arrays supports a central presentation stage.
The classrooms combine and divide using automated partition sensors. The classroom systems were standardized to create a seamless transition between spaces. Each classroom consists of various displays, from eight-projector rooms to single-projector rooms. Teaching stations with access to a PC or laptop connection feature Mersive Solstice wireless sharing, with soft codec conferencing from the device. Full integration into the audio systems are available as well, with Sony PTZ cameras and Shure wireless mic systems provide lecture capture and conferencing. Creston graphics engines provide room control and preview monitoring at the stations, and active learning classrooms feature combinable screen systems with full routing ability of the sources to any and all displays.
As for the CAE Learning Space medical simulation system, hundreds of PoE endpoints including microphones, speakers, cameras and video encoders comprise the system. There are a dozen debriefing rooms for playback of recorded content, and a curved video wall in the Simdeck control room capable of monitoring and controlling any simulation of mannequin vitals.
The centralized broadcast booth consists of ten computer workstations with custom Shuttle PCs and Datapath SDE capture cards that can stream and record any signal in the building. Dial Tricasters with NC1 expanders share all inputs over NDI protocol.
The Impact
The multidisciplinary facility provides classroom systems supporting Zoom conferencing and Panopto recording. What makes this system so unique is the fact that the entire building functions as a single system, allowing any signal to be distributed and routed to anywhere in the building. The building systems rely on a robust and dedicated infrastructure of fiber optic cabling and leverages 10-gigabit networks to connect and manage everything.
The end users are positioned to tackle any request thrown at them from an event perspective and can record and stream content from basic lecture capture to a professionally produced event on broadcast switchers and production equipment.
While the building has not yet been moved into, there have already been events hosted in the Forum space. The customer is very pleased with the results and flexibility of the system.