The U.S. Army Corps of Engineer's Engineer Research and Development Center (ERDC) in Vicksburg, Mississippi recently enhanced its headquarters building.
The Tech Decision
The objective of this upgrade was to educate visitors on the role of the ERDC and learn about government research.
ERDC enlisted the services of M3 Technology Group, an audio-visual integrator based in Nashville, Tennessee, to create a unique audio-visual experience not seen in other government facilities.
To maximize appeal to visitors, M3 created a dramatic atrium display environment. The new display environment contains an immersive pavilion and mosaic video walls all driven by RGB Spectrum's Galileo video wall processors.
M3 Technology chose the Galileo processors for their unmatched display layout flexibility, ability to output to multiple walls, and superior image quality.
The OLED Video Wall Solution
The Galileo processors receives feeds from digital signage players, media servers, and PCs with custom-created content.
In the immersive pavilion, a single Galileo processor outputs this content in portrait orientation to two OLED video walls; a 2 x 5 video inside the structure and a 1 x 4 video wall on its exterior.
Two additional Galileo processors drive 32-foot high 15 monitor mosaic video walls presented vertically.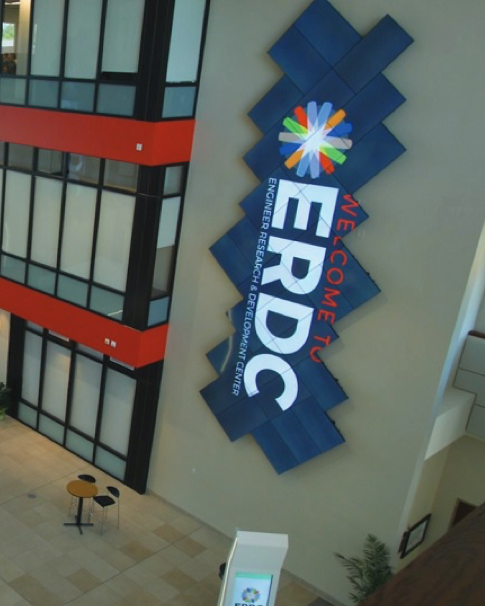 The mosaic video walls posed particular challenges. First, the images feeding the displays needed to be rotated in a variety of angles.
Secondly, the processors had to support two different display sizes, 55 and 45-inches, intermixed in the digital signage mosaic.
Thus, the processors had to scale the output for each display and properly align them to form a seamless image.
The result is stunning. Galileo produced a seamless, contiguous visual across the multi-screen mosaic with dazzling visual appeal.
The Galileo processor supports inputs and outputs at up to 4K resolution. The processor offers the flexibility to output in rotated and portrait orientation and display content in any size windows, anywhere on the video wall.
Display layouts can be changed instantly to focus on particular areas of interest. Operators can select preset display layouts, switch and route sources, and size and position windows.
The Galileo processor works with all types of video walls: an image overlap capability is available for projector-based video walls, custom timings accommodate the special resolutions of LED walls, and bezel compensation optimizes viewing with LCD video walls.
The Impact
The Galileo processor delivers real-time throughput and superb image quality, unlike other PC-based systems that can drop frames or cause image tearing. Its solid-state drive and dual redundant power supplies add an extra level of reliability.
Related: How to Justify Direct-View LED Display Costs
Advanced features include a unique "wall mimic", whereby the entire video wall or any region of interest can be encoded and streamed for live viewing elsewhere, HDCP content protection, scripting for third party system control, and automatic IP stream discovery for RGB Spectrum's Zio AV-over-IP encoders.
The Galileo processor is the ideal solution for conference rooms, security operations centers, control rooms, command centers, entertainment and sports venues, boardrooms, education, corporate lobbies, and digital signage.